2017 was an exciting year for construction and building management with developments and innovations in new technologies, mobile apps and artificial intelligence.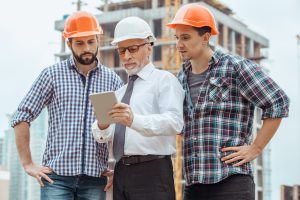 A best practice of any professional is a time to reflect back on accomplishments and failures in order to prepare for a more productive, efficient, successful year ahead.
What are your goals for yourself and your team? We prepared five ways to wrap up 2017 and five action items for getting a jumpstart on 2018.
5 Ways to Look Back at 2017: Reflect, Recharge and Recognize
Have you scheduled in some time to assess and celebrate what you and your team were able to achieve in 2017? How about some time to rest and recharge? This list of five items can help you get started on wrapping up the year.
1. Celebrate your successes in 2017
Did you and your team: complete a huge project, survive and recover from a natural disaster or equipment failure, adopt technology to improve your productivity, prepare an emergency plan? Pencil in time to review those accomplishments for lessons learned and to identify key drivers for your continued success.
2. Invite your team out to lunch or happy hour
Include a few minutes to thank each person for a specific contribution or highlight how they add value to the team. To keep it light, ask people to share their funniest story about a facilities management service request.
3. Schedule well-deserved time off to relax and recharge
Do yourself and your team a huge favor by taking some time off to recharge before 2018 kicks in. Can't take a full week? Take a day or two off before and after Christmas and New Year's Day. Encourage your team to do the same.
4. Take time out for a laugh
Check out the 60 Best Construction Funnies / Fails on Pinterest or the Friday Funnies blog posts on Facilities Executive. Here's a seasonal laugh to get you started: A Few of a Facilities Manager's Least Favorite Things. Then share the stories with your team.
5. Thank your best vendors for their excellent service
Let vendors know you haven't missed the fact that their services have been provided seamlessly and flawlessly. They'll remember your thoughtfulness when you reach out for their services again in the future.
Kicking Off 2018: Assessing, Looking Ahead and Planning
Get a jump-start on 2018 by assessing where your construction or facilities team can make the most impact through improved planning and productivity or by launching new initiatives. We created the following list based on industry insights highlighted in the AIIM survey eBook: Information Management for Facilities and Operations: Knowing Your Gaps is Key to Catastrophe Preparedness.
6. Identify opportunities to streamline operations in 2018
Industry Insight: Construction ends with a building that is well managed. However, in a recent AIIM survey, we learned that less than 50% of facilities teams have current as-builts for every building. What about your team?
Action: Schedule a date to start collecting and organizing current versions of every as-built for all of your buildings, with renovations and remodels included. Make the project manageable by organizing your work by building and setting target completion dates for each building.
7. Create an emergency preparedness plan or update your existing plan
Industry Insight: Building owners take note! Just 14% of Facilities Teams surveyed stated they were prepared for an emergency or catastrophe. Are your facilities teams in the 86% that aren't prepared?
Action: Add this important initiative to your team goals for the year with target completion dates and start researching specific compliance requirements for your industry. There's a great deal of work to be done to create or update a comprehensive plan and communicate the details to all relevant stakeholders.
8. Adopt cloud print services to support geographically distributed teams
Industry Insight: In the AEC industry, sharing documents electronically between geographically distributed teams is now mainstream. Is your company realizing the savings and efficiencies of accessing a global network of production facilities?
Action: Equip your geographically distributed teams for being even more responsive to clients. Research your options for a one-stop print solution and lock-in a target implementation date in Q1 2018 to maximize the impact on your annual budget.
9. Define succession planning, staff training and development priorities for 2018
Industry Insight: On average, 29% of Facilities Team workers are 55 years or older, which means you could have someone on your team potentially retiring this year. How are you preparing for this reality?
Action: Assess your team and schedule time on your calendar to start building out a succession plan. Get started by documenting knowledge that may currently only be held by one person.
10. Organize the Plan Room—Wait, there's a better way.
Industry Insight: Nearly two-thirds of Facilities teams store critical building documents locally, where there is risk of loss or damage. Less than half of all important facilities information is stored digitally.

Action: Sure you're used to the pain of spending time searching for paper documents; but there really is a better way. Get a jump start on productivity for 2018 by adopting technology solutions to transform your operations. Digitize all building information, implement cloud-based storage, and enable anytime, anywhere mobile access.
BONUS: These 5 resources will equip you for achieving even more in 2018.
Discover other highlights from the 2017 AIIM Facilities and Operations survey:

Information Management for Facilities and Operations: Knowing Your Gaps is Key to Emergency Preparedness eBook

.

Get started on succession planning and optimize your onboarding process with the strategies presented in

Brain Drain: 5 STRATEGIES to Safeguard Building Information due to Employee Changes

.

Streamline your document management processes by implementing one or more of the solutions presented in

Building a Digital Document Workflow for the AEC Industry

.

Check out

5 WAYS Facilities Apps on iPads Supercharge Productivity

to find out how integrating technology into your operations will raise your team's efficiency and effectiveness.

Make sure you have addressed 7 critical functions in your emergency planning if you're in healthcare facilities management by r

eading Emergency Preparedness: Critical Planning for Healthcare Facilities.