An overwhelming majority (99%) of facilities leaders of both large and small teams agree that technology will become more important to their team's success in the very near future. Facilities decision-makers see technology as a useful tool to improve productivity, customer service, and emergency responsiveness.
Despite the consensus regarding tech's value, some facilities teams adopt more technology than others, and many haven't adopted any tech at all.
To answer our question of why some facilities teams adopt technology while others don't, we conducted industry research among our readers.
Facilities Technology Trends and Buying Best Practices
To find the answer to this question, we surveyed 229 facilities decision makers who had been involved in the purchase of technology in recent years. The industry research also revealed trends and best practices. Then, so that facilities teams all over the nation could learn from the successes and failures of their peers, we compiled that research into a research paper titled, Facilities Technology Trends & Buying Best Practices.
Key takeaways from the survey findings:
There are five critical factors that lead to a significantly increased likelihood that a facilities technology purchase will be successful.
Larger facilities teams purchase two times more technology than smaller teams even though both face the same budgetary challenges.
Most facilities teams prioritize technology that improves productivity (80%) and/or customer services (65%).
Facilities teams could complete up to 30% more work orders if their document search capabilities were improved.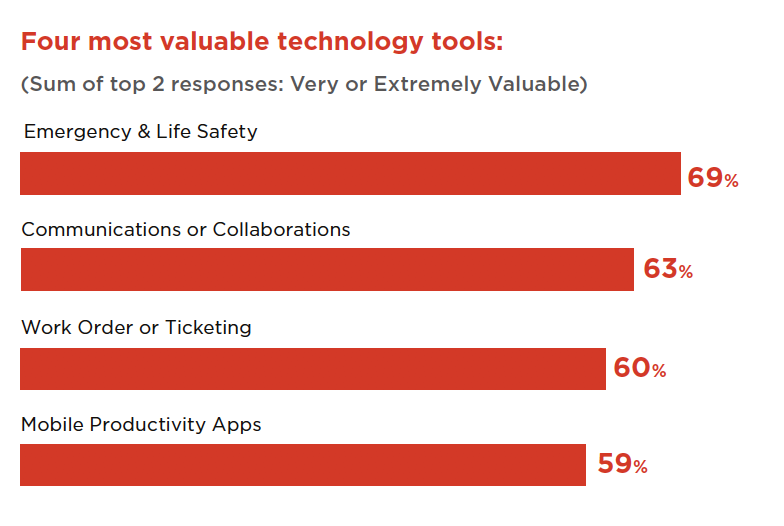 Practical Applications and Tech Purchasing Strategies
As important as the study's findings, are the practical applications and takeaways we gleaned from those findings. New research also includes:
Top most valued technology for facilities management
Best practices for buying technology
Do's and don'ts of buying technology
Use cases of facilities directors who have insights around purchasing facility software for their teams

About the Research: Building On Collective Knowledge
ARC conducted this survey of facilities, maintenance, and operation teams in September of 2018. The data referenced in this study was compiled from 229 surveys.
This study follows up on 2017 research which was compiled into the ebook, Information Management for Facilities and Operations, by AIIM.org in partnership with ARC. That research found, among other things, that facilities teams could be more productive and better prepared for emergencies by leveraging mobile technology.
In many ways, this year's market research builds upon our previous findings—which reflects our ongoing commitment to helping facilities managers work smarter. For full access to this year's research, Facilities Technology Trends & Buying Best Practices, download the 2018 Industry Research report today.