Today's go-to toolbox of facility managers is a smartphone… and the tools inside are mobile apps, which are changing the way facilities teams work.
Which mobile apps are best for your organization?
Figuring out how these apps can help you solve the daily 5,000 thousand-piece puzzle that is facility management, so it's well worth your time to separate the best facility apps from the rest. To help you identify the best options, this article will break down the different categories of facility management apps.
Computerized Maintenance Management System (CMMS)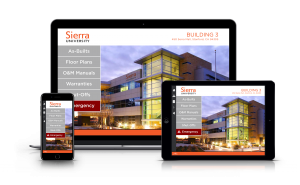 Facility teams started adopting CMMS solutions in the early 90s, but mobile apps have made them even more effective. CMMS serves as a critical component of Computer-Aided Facility Management, or CAFM, software that was first implemented in the late 80s.
The concept of a CMMS is simple: to help technicians conduct maintenance more efficiently.
The system tracks work orders, establishes maintenance schedules, and monitors inventory levels. Technicians can rely on the most basic CMMS to establish priorities and allocate inventory and labor for any given maintenance task.
A more advanced CMMS may have additional features that help you manage related tasks like purchase orders. And thanks to the development of mobile CMMS apps, technicians and their managers can leverage these features from the convenience of their phone.
Benefits: Manage work orders efficiently and maximize equipment lifespan.
Visitor Management Mobile Applications
For a facility manager, visitor management is a Catch 22. On the one hand, good security demands that facility managers know who is in the building. Yet, if the efforts to secure the building impede on the visitor experience, there will be complaints.
Visitor management apps provide the critical balance needed to provide a secure, convenient visitor experience. Cloud-based visitor logs, digital sign-in sheets, ID badges, and notification systems are a few of many features that these apps offer.
Plus, because visitor management solutions are available as a mobile app, facility managers can track visitor activity from any device. Managers can even receive notifications when certain guests enter the building.
Benefits: Improve the visitor experience for your building without sacrificing security.
Mobile Workforce Applications
Because facility managers and their employees are often spread out among buildings or remote locations, managing the facilities workforce is ripe for inefficiencies. Mobile workforce apps provide a solution to this problem by improving transparency, communication, and analysis.
With these apps, technicians can clock in on their mobile device and managers can track employees with activity alerts. Management can also periodically pull up reports that provide actionable insights into opportunities to optimize existing workflows.
Benefits: Streamline administrative tasks for employees and improve communication between team members.
Workplace Management Apps
Workplace management apps are designed to help facility managers make the most of the workspace they manage for their building occupants. These apps help you tackle simple tasks, like booking a conference room, and more sophisticated tasks, like analyzing space utilization.
According to John Anderson, CEO of PeopleCube, "If you walk into a building, typically 40 to 50% of the real estate is not being used on a given day." With workplace management apps, you get real-time space utilization information that can help improve the widespread inefficient use of workspace. This centralizes communication for workers and facility managers, allowing for a more flexible workspace.
Benefits: Avoid wasting valuable workspace and improve the productivity of building occupants.
Information Management Apps
Newest to the industry, information management apps help facility teams seamlessly access, update, and share all their data to improve every aspect of their operation. Designing, constructing and managing a building produces mountains of information. That information is often stuffed into a planroom where it has a significant, negative impact on productivity. Studies have shown that the average facility employee spends almost 20% of their day searching for information.
Whether you need record drawings, warranty documents, or emergency plans, facility information management apps put all your data within reach. The very best of these facility management apps contain powerful search and indexing features that enable anyone with a smartphone, tablet or computer to access information at the touch of a button.
Information management apps become even more powerful when you integrate them to capture data from other mobile apps.
Benefits: Find building information faster than ever, which is especially important when faced with emergencies. Streamline compliance, training and renovations with team-wide accessibility on any mobile device, online or offline.
Getting Started with Facility Management Apps
The common thread with all these apps is that they provide facilities teams the information they need to make better decisions. Whether it's information on visitors, workplace utilization, maintenance, or employee activity, it's all data. Information management apps like a mobile facilities dashboard are a logical place to start because they provide a central repository in which you can store data.
To see how mobile facilities dashboard make storing critical building information so simple, get started with an information management app or watch the video below.