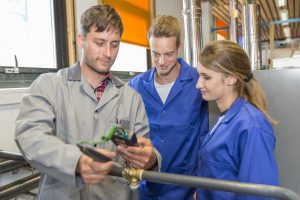 Employees want digital skills, and in the United States, they're willing to spend a median of 12 hours per month to attain those skills. So why are facilities technicians still wasting valuable time—up to 30% more than they need to on work orders alone—doing something as tedious as searching for information?
The answer is complicated. But pointing fingers won't solve the problem. Instead, let's explore what facilities executives can do—based on data and observation—to accelerate the improvement of the FM industry's digital skills.
Executives Must Lead Cultural Change
Accomplishing something as ambitious as upskilling employees for the new era of business requires culture change, and that starts at the top. Yet 70% of CEOs are concerned that their senior leadership team's digital skills aren't up to par. As Tom Puthiyamadam, Principal of PwC puts it, "It's hard to move a ship if the captain and the main crew aren't steering the direction they've asked everyone to go."
Facilities executives can't expect a single technology to instantly transform their organization. Sure, it can act as a catalyst for change, but it's up to people—both executives and employees—to integrate technology into their organizational culture to see a real, lasting impact.
Rethink Traditional Training
To leaders seeking to generate more interest and buy-in among their employees, the PwC study recommends reframing traditional ideas of what it means to train. Specifically, they suggest:
Setting urgency for the need to adopt a continual learning mindset.
Providing real-time feedback and support to help guide employee development.
Building learning into the job.
Providing multiple options for learning to support different learning styles.
Considering non-financial incentives for learning.
The idea behind many of their suggestions is that traditional methods for learning are too static and inflexible given the current workplace's pace of change. Moreover, doing things like building learning into the job and offering non-financial incentives (such as recognition) allow employees to learn while still being productive.
Strategically Incentivize Learning
This was mentioned already, but it bears repeating with additional context because studies show that people fall into three groups in terms of what motivates them to learn new digital skills. The groups, their motivations, and their percentage of the whole are as follows:
Group 1: Motivated by curiosity, improved efficiency, better collaboration and teamwork. (34%)
Group 2: Motivated by status, such as a promotion or other form of recognition. (37%)
Group 3: Motivated by individual achievement. (29%)
Perhaps not everyone at your organization will fall neatly into these groups, but it's worth taking the time to understand what makes your people tick. Armed with that information, you can build a more effective incentive system that motivates people based on what's important to them.
The Time to Act is Now, Especially in the Facilities Industry
A 2018 report from the World Economic Forum (WEC) estimates that by 2022 more than half (54%) of employees will need significant training with more than a third of that number (35%) needing at least six months' worth of effort.
Another WEC report shows that the private sector in the United States will need $4.7 billion to "reskill 25% of all workers in disrupted jobs with a positive cost-benefit balance." Moreover, the "US government could re-skill 77% of workers expected to be displaced by technology" with an investment of $19.9 billion.
Additionally, we've written in the past about the large portion of facilities managers who are nearing retirement. All this to say, the data shows that an increasing number of employees will need to learn new skills in the new economy. And there's an opportunity for both the private and government sector to invest in (and reap the benefits of) their employees' development.
Understand that this is happening now and it's time to act.
Choose Technology that Meets Business Goals While Challenging Employees
In the facilities industry, with work order requests, deferred maintenance tasks, and emergencies pulling you every which way, it feels like time is never on your side. That's what makes it that much more important to build your employees' digital skills without significantly hurting their daily output.
To accomplish that, choose tech tools that deliver the most important benefits, which according to industry research are (in order of priority):
Improved team productivity
Better customer services
Reduced operating costs
Choosing tools that deliver these benefits will help employees gain familiarity with modern tools while also helping your department achieve important business goals.
From One FM to Another
As soon as he was hired, Rich Steiger, Facility Manager for Orange County in Florida, started to show us what it looks like when an FM commits to upgrading his technicians' skills and integrating technology into day-to-day operations.
By starting small, introducing electronic timesheets, then moving to a new inventory system using barcodes, and then digitizing the department's paper records, Steiger transformed his team.
To read more about Rich Steiger and get inspired to put the strategies we've highlighted in this post into action, download the PDF or watch the video for Steiger's full story.