Emergency Management
Over the past 20 years, environmental hazards—from wildfires to hurricanes—and the damage to life and property that follows, has led to a heightened awareness of the importance of emergency management.
Unfortunately, man-made threats have also been occurring more frequently and with greater severity. And while more widespread recognition for the benefits of emergency management is a step in the right direction, there's more work to be done.
Administrators, managers, and staff in any and every type of organization must be trained to prepare for, respond to, and recover from emergency situations.
Towards that end, ARC is proud to sponsor a FREE webcast presented by Command Solutions and hosted by Facility Executive Magazine.
When: Wednesday, Oct 10, 2018 11:00 AM – noon PDT
Listen in as former professional firefighters from Command Solutions review the challenges facilities of all shapes and size face before, during, and after an emergency.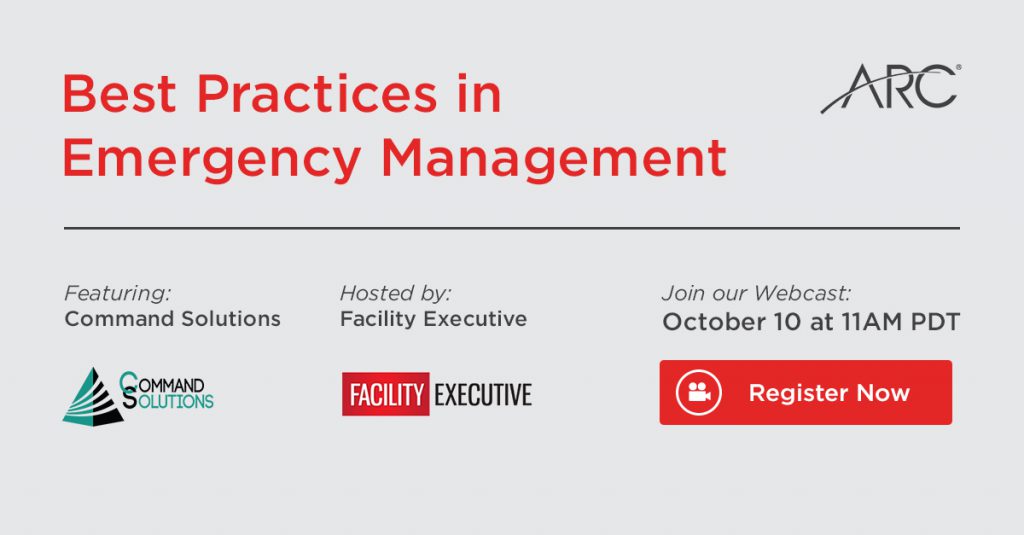 During this webinar, you'll learn about:
Emergency planning issues
Response issues
How to fill the gaps in an Incident Action Plan
Benefits of seeking professional services to create the plan
How a highly effective plan means a better return on investment (ROI)
About Command Solutions
Command Solutions is owned and operated by a group of retired Professional Fire Chief Officers. After more than 30 years of responding to thousands of emergencies and disasters, they set out to address the one common issue among the victims they helped: lack of preparation.
Today, they train administrators, managers, and staff members from any size and type of business or organization how to effectively prepare for, safely respond to, and recover from situations of any magnitude.