Attendees at a recent Campus Security webinar were the recipients of an high-energy and information-packed presentation by Bryan Warren, President, War-Sec Security. He delivered one fact after another about the safety and security exposures healthcare facility teams must manage when patient surge events occur.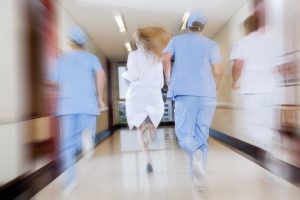 Patient surge events occur when a public health emergency drives a sudden influx of people requiring emergency treatment to a healthcare facility. These events will stretch the capabilities of even the most efficient hospital with regard to safety and security.
During the webinar, best practices and resources were introduced about how to best prepare for, respond to, and manage patient surge events. Warren said the best preparation starts at the design stage of new buildings and must address security-sensitive areas.
Security-Sensitive Areas Exposed During Patient Surge Events
Hospitals are unique in terms of number of security sensitive areas that are common to them:
Emergency Departments
Labor and Delivery Units
Behavioral Health and Detox Units
Pharmacies
Nuclear Source Material Storage Areas
Medical Records / Personal Health Information (PHI)
Radiological Source Material
Business Offices
Critical Infrastructure Areas such as the mechanical room or communications center
Patient surge events produce the perfect distractions for criminals to enter and exist hospitals with ease. Whether it's pharmaceuticals, cash, raw materials to make a Radiation Dispersal Device (dirty bomb), child abductions, or – the most lucrative of all – Personal Health Information (PHI) / Electronic Health Records (EHR), the potential for criminal activity is significant.
Hospitals Lack Readiness for Patient Surge Events
The American College of Emergency Physicians (ACEP) produces a Hospital Preparedness Report Card based on survey responses. Warren displayed a map of the United States that revealed a disturbing number of states where hospitals and other healthcare facilities are struggling – even failing – in their readiness to respond to emergencies and or patient surge events.
At this point Warren paused and stated that "preparation is key. You need the right technology and a force multiplier that can fill the gap when additional resources are not readily available." Technology available on mobile devices can be the vehicle that delivers building and emergency information in a few seconds: emergency protocols, response plans, shut-offs and other essential material.
During the remainder of his presentation, Warren introduced and described the resource materials he recommends that hospital facility managers use to draft and finalize their patient surge event preparation plans.
Safety and Security Planning Resources
The first resource Warren introduced is the Security Design Guidelines for Health Care Facilities, produced by the International Association of Healthcare Security and Safety (IAHSS) that:
Apply to any healthcare facility
Address security upfront and early during design
Focus on what should be done – a checklist (not how or why)
Are clear, concise, reasonable, and cost effective
Provide a security emphasis with an emergency management focus
There are several keys to making a difference in plan quality and thoroughness:
Develop a comprehensive security plan that includes a consistent application of security safeguards
Align security plans with the building's life safety plan and regulations as set forth by the state or other entity that has jurisdiction in the local environment
Ensure that plans are risk-appropriate – ask a qualified security professional to conduct a security risk assessment
Identify the organization's designated security representative who can review and approve the design plans.
Finally, all safety and security plans should encompass the 4 D's of Physical Security: Deter, Detect, Delay, and Deny.
Follow the Crime Prevention To Environmental Design (CPTED) Principles and make sure your plan covers:
Highly sensitive areas – pharmacy, radiological security storage areas
Clearly defined and assigned public versus staff areas for interior perimeters
Include areas that segregate visitors
Building Perimeter
Property Perimeter
The On the Safe Side Toolkit is a grant-funded project for emergency preparedness and public health emergency response. With a file size of less than 100MB, this Microsoft-based kit allows you to create customized preparedness plans. Visual planning tools offer the ability to add photos and pdfs into Word template.
The Joint Counterterrorism Assessment Team (JCAT) created the Healthcare First Responders Toolbox in 2018 to to help local law enforcement agencies understand what they may face or encounter in a healthcare facility. For example, if an officer is entering an MRI area, their weapon should be holstered. Otherwise, it could be ripped out of their hand and cause danger such as injuring someone or damaging equipment.
Warren did make the observation that if attendees are using technology – similar to what ARC Facilities offers, it's remarkable what has been done with CAD drawings, etc. New technology offers more robust capabilities for responding quickly to emergencies such as patient surge events and sharing information with first responders.
Hospitals Must Remain Open During Emergencies
Warren wrapped up his session by reminding attendees that public health facilities and hospitals are part of a community's critical infrastructure. As a key support system for the communities and populations they serve, these facilities must be equipped with adequate resources, expertise, and safeguards for their protection.
Other industries are not automatically impacted when a significant community-wide event occurs. Chances are that it won't affect the mall. Schools can be shut down and parents contacted to pick up their children.
That option does not exist with a healthcare facility since it must be open and operational while remaining a safe environment for people to enter. Any safety and security plans must take into consideration the emergency management aspect of a patient surge event.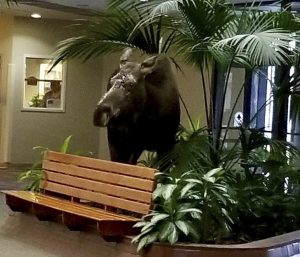 Warren ended his presentation with an amusing anecdote about a moose wandering into a hospital building in Alaska's largest city. While the best constructed security plans can't anticipate every scenario, they will cover most.
Conclusion: Use Tech to Retrieve Plans When Speed Matters
As Bryan Warren pointed out, preparing and responding to a patient surge event requires a great deal of to ensure the safety of patients, visitors and staff as well as the protection of security-sensitive areas of the hospital.
He also mentioned that the latest technology, such as ARC Facilities, can be instrumental in streamlining the process – especially when it comes to accessing plans during a patient surge event or other types of emergencies that can occur at a hospital.
When you're building out those patient surge event preparedness plans, make sure you schedule a demo of ARC's information management platform as part of the process. Ensuring that your comprehensive response plans are securely stored in the cloud and accessible from any mobile device when you need them is a key component of complete preparedness.