As a partner of the International Facility Management Association (IFMA) we're excited to be a part of the mission of the 2018 IFMA World Workplace conference in Charlotte, NC, October 3-5. #WWPChar18 #facman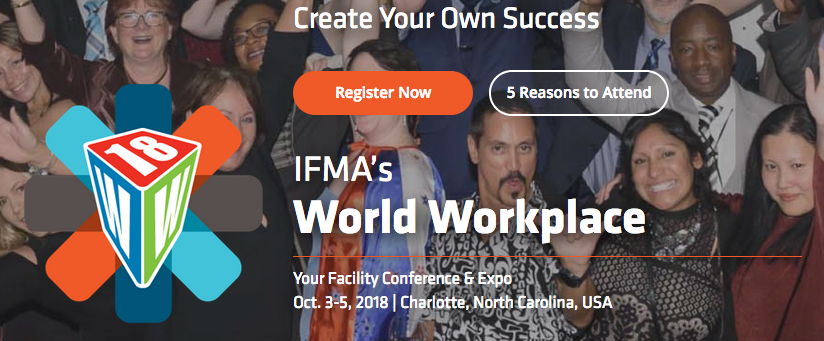 This year's theme, "Create Your Own Success," happens to fall directly in line with our mission to provide facilities teams with the tools they need to proactively manage their information.
Chances are, whether you're cruising the expo floor, listening to a speaking session, participating in tabletop exercises, or attending a networking event, you'll find us there. But to make sure you do, here's our exciting agenda for this year.
We're excited to be sponsoring this tabletop exercise during which facility managers will participate in a disaster simulation. For this exercise, participants will have to make split-second decisions and deal with the consequences. The facilitator of this exercise, Bob Mellinger, CBCV, is the founder and president of Attainium Corp., which delivers business continuity, emergency preparedness and crisis management services. In addition to the exercise, there will be a review of emergency principles and a guided discussion about what participants can take away from the exercise.
Wednesday, Oct. 3 (11:30 a.m. – 5:00 p.m.)
& Thursday, Oct. 4 (9:30 a.m. – 1:30 p.m.)
Visit Us on the Expo Floor at Booth 918
Come visit us at Booth 918 to try your hand at the prize wheel, test-drive our Mobile Facilities Dashboards, and talk to our reps to discover how our facilities management technology can improve productivity, emergency preparedness, and more at your organization.
Thursday, Oct. 4 (5:30 p.m. – 7:30 p.m.)
The Charlotte Mixer
Triple C Barrel Room
ARC is sponsoring the Charlotte Mixer, a networking event for IFMA members and FMs looking to wind down from two busy days on the expo floor. The event will be open to members of all 5 IFMA chapters in the Carolina's. This will be a great opportunity to meet like-minded professionals and exchange innovative ideas.
Friday, Oct. 5 (8:00 a.m. – 9:00 a.m.)
Mobile Movement: The Technology Behind the Next Facility Management Transformation (Speaking Session)
Room 205
Our own Todd Moore will be presenting at this speaking session designed to help facilities, engineering, and maintenance teams discover a new way to manage the information they need to do their job. Attendees will learn efficient ways to maintain a cloud-based central information repository. And they'll discover how they can use that central repository to streamline team collaboration for improved emergency management and strengthened compliance maintenance.
We look forward to seeing you there!