Wall Graphics with Custom Design by ARC Denver
In early January, the walls of ARC's Velocity Sales Center in downtown Denver underwent a radical redesign. To design, print, and install the graphics, Stacy Peck, Director of Inside Sales, teamed up with ARC's marketing department and Riot Creative's Denver location to get the job done in time for the 2018 Sales Kick Off.
It was a multi-office effort spanning across state lines. The marketing team and graphic designers in ARC's headquarters in Walnut Creek, CA, worked with Peck on the concept and vision; the local Riot office in Denver printed and installed the wall graphics.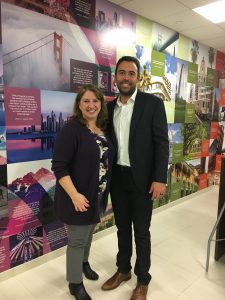 The Vision
The vision centered around a variety of wall graphics aimed at conveying the spirit of ARC's optimistic future within the context of a rich company history. The design had to speak to both the office's occupants and their guests while remaining true to the identity that ARC has built over the past thirty years.
Vibrant Imagery and Inspiring Words
To create the graphic below, designers stitched iconic images of regions and cities across the country between dozens of customer quotes. And while the images shown stretch from coast to coast, tinted circles connect to showcase ARC's unified focus on the customer.

Inside Sales Rep, Teddy Roy, described what it feels like to see the graphic each day: "I feel proud to walk in every day knowing that we're changing people's lives by changing the way their organizations operate."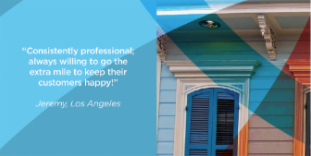 As much as this office design was about ARC, it was also about the unique challenge that Stacy and her team have set out to overcome. They go to work each day intent on showing the world a better way to design, build, and operate their buildings.
Fittingly, as soon as team members walk into the office, they're reminded by a wall graphic that reads, "We are not here to be average."
Stacy told us about the moment she revealed the design to her team…"I didn't tell them—it was a surprise for them. When they walked in they weren't sure it was their office because of all the color and how different everything looked. They were super excited. What an amazing thing."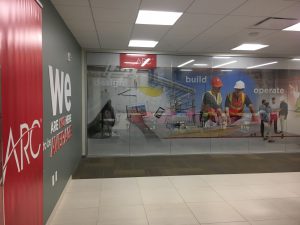 Phase II in the Works
The new office design has impressed outside guests as well. "Everybody that comes in is just blown away," Stacy said.
And while the inside sales office has been transformed by this joint effort, there's still more to come. In phase two, the concept that ARC came together to design for the lobby and reception area will be extended to the entire office.
If you'd like to see more examples of amazing work like this, head over to Riot's Inspiration Board to browse pictures of their various office design projects.