As the national projects director at ARC®, I'm sharing this exciting story about how the latest technology to the construction industry has helped California-based contractor, SubZero Constructors, expand its sales territories and add talented employees in diverse locales.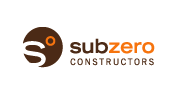 For refrigerated storage contractor, SubZero Constructors, implementing ARC® Projects into the firm's operations has helped it to more effectively manage multiple ongoing projects simultaneously. Though these projects are spread across the continental United States and as far away as Alaska, ARC's cloud-based project management system has enabled SubZero's teams across the country to work together almost as if they were all in the same office.
After learning that ARC's new construction app might benefit the contractor in the market for a new project management solution, SubZero asked the local ARC team for a demonstration. The firm tested out the many features of ARC Projects during a 30-day free trial subscription period.
Robert Herzog, of SubZero Constructors told us: "Once I tried it out, the features made the work so much easier—once the set of plans is uploaded, you don't have to do that work again. In the past, we'd uploaded documents to an FTP site, which was time-consuming. Now I can keep multiple versions in the same folder, as well as the latest version."

ARC Projects also helps the contractor with plotting, Herzog said. "I try to make a constant effort to keep drawings up to date. And now we can send that information quickly—with just the push of a button".
One of the earliest SubZero Constructors projects facilitated by the new software was the Preferred Freezer storage facility in Lynden, WA. A high degree of technical detail made this plant a complex job, but ARC Projects helped to simplify it by smoothing communications and drastically reducing the potential for errors in plans.
Early on, SubZero Constructors also used the software for documents for a large meat processing plant—the Sugar Creek plant in Cambridge City, IN. At the time it adopted ARC Projects, SubZero was finishing a multi-year contract for work on the plant. The project was complex because of its size—418,000 square feet—and because of design specifics. The plant has multiple levels and also unique features such as windows from which to observe processing operations.
Having state-of-the-art project management technology in use immediately streamlined design workflows at the Sugar Creek plant, which expedited work on the project.
"The superintendent in the field at Sugar Creek was able to get the documents much faster, which made the last portion of that project a lot smoother," Herzog said. "I currently have 20 projects uploaded on the application".
By helping SubZero Constructors to simultaneously manage many projects much more efficiently, ARC Projects has saved the contractor time. Tasks that took hours or days now take a fraction of the time they once did. Using ARC Projects also has helped SubZero Constructors to expand its sales territory, while adding talented employees in various places.
"We're hiring people everywhere—we have a project manager that works from Atlanta, GA. Being able to quickly upload and send documents to him makes it much easier now," Herzog said. "ARC Projects can be a great advantage to companies with remote offices."
It's exciting for all of us at ARC to hear these success stories. If you'd like to share your story, or ask questions about our iPad® dashboards for projects, feel free to reach out to me in the comments here.