In the aftermath of 9/11, the Joint Commission introduced—among other significant changes to its emergency management standards—the Hazard Vulnerability Analysis. The Hazard Vulnerability Analysis (HVA) is defined as "the identification of hazards and the direct and indirect effects the hazards may have on the hospital."
This analysis is meant to serve as one of the first steps taken by emergency managers implementing the "all-hazards approach" mandated by the CMS. Still, in the 17 years since the introduction of the Hazard Vulnerability Analysis, the Joint Commission hasn't provided a standard methodology for conducting an HVA.
To be sure, identifying hazards specific to individual healthcare facilities is not one-size-fits-all. In fact, some might argue that providing a standard, rigid methodology for an HVA would be ineffective, given the wide variety of risks that are specific to geographic region, facility type, and many other factors.
That said, over the years, experts have identified several key tenets of successful emergency planning. One of those key tenets, which I'll discuss in this article, is to include facilities managers and technicians with hospital engineering backgrounds during the HVA.
Modern Emergency Planning Requires Diverse Perspectives
In their report, Strengthening Hazard Vulnerability Analysis: Results Of Recent Research In Maine, the authors found that, given how important and sophisticated healthcare emergency planning has become, it requires a more diverse set of perspectives. Based on their findings, the authors explained that staff with varied backgrounds tended to focus on different—but equally valuable—aspects of hazard analysis.
For example, facilities managers or engineering staff, because of their engineering backgrounds, would focus on the building itself. Conversely, staff with public health training focused more on the community. Clearly, in today's environment, where hospitals play a critical role within the community during an emergency, both of these perspectives are invaluable to the planning process.
The authors of the report concluded that a diverse set of perspectives, including facilities management staff, should be included during a Hazard Vulnerability Analysis.
Case in Point: The 7 Critical Functions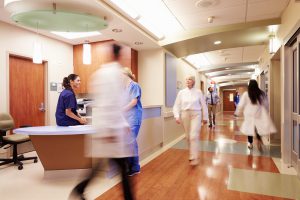 In a paper titled Emergency Preparedness: Critical Planning for Healthcare Facilities, we reviewed the seven functions, as identified by the National Fire Protection Agency, that must be protected for a hospital to continue providing care.
Unsurprisingly, facilities managers possess intimate knowledge regarding many of these critical functions. The paper provides a clear example of the importance of the facilities and engineering department's role in a healthcare facility's emergency planning process.
For example, no one but facilities and engineering teams have such an in-depth understanding of how to control access to and from the building; back up essential utilities; manage exterior building connections; establish backup communications systems, and more.
Failing to involve facilities and engineering teams during the HVA means missing out on information and perspective that is critical for an effective emergency plan. Especially today, given the important role that functioning hospitals play during a natural or man-made disaster. Hospitals that can keep accepting and treating patients—even during a crisis—will be instrumental within the entire community's response to an emergency.
Moreover, without facilities team's input, emergency managers may fall short of the Joint Commission's expectation that hospitals function as an "integrated entity within the scope of the broader community."
Where to Start with Facility Managers: Communications
As an emergency manager, inviting new perspectives can be overwhelming. Fortunately, the seven critical functions provide a guide from which you can start to build momentum with your facilities staff. Invite representatives from the facilities team to provide their input on the hazards you've already identified and the effects of those hazards on the seven critical functions.
For a full list of the seven critical functions, read this post on healthcare emergency preparedness.
However, a good place to start is with communications. According to the Department of Health and Human Services, 89 percent of hospitals affected by Hurricane Sandy cited electrical and communication failures as substantial challenges to their emergency response.
Along with input from facilities teams, ARC's Facilities Platform can help drive a more robust emergency planning process. Through automatic syncing of information, texting, and sophisticated search capabilities, the platform will allow facility and emergency managers to communicate more effectively before, during, and after an emergency.
Plus, because the platform is available as a mobile app and the information is saved locally, your plans will be available on your phone, tablet, or computer even without internet access. For more information about ARC's Facilities platform, book a demo today.
Related
Healthcare Emergency Preparedness Starts With These 7 Critical Functions
Four Key Takeaways from Command Solutions' Emergency Management Webcast
ARC Emergency Mobile Facilities Dashboards Win 2018 Campus Safety BEST Award