With 150+ locations, it's easy to get dedicated local customer service including shipping and delivery anywhere.
ARC Large-Format Literature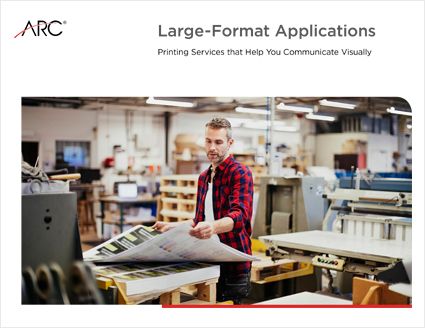 Large-format applications for any
industry or environment
Click to download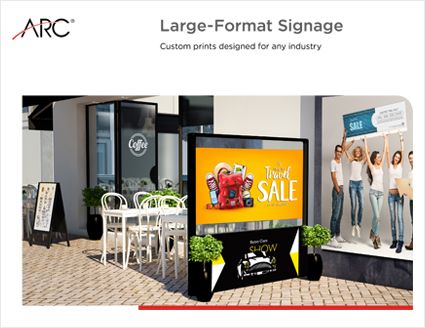 Advertise and promote your
business with large-format signage
Click to download
Our customers love us, read what they
have to say about us
Houston
I love this company, they also get my prints out on time and are very helpful and professional! Highly recommend to anyone
St. Petersburg
These guys saved my day! Printed 3 sets of color blueprints in less than an hour:) THANK YOU SO MUCH!!!!!
Chicago
The most efficient service. Staff is awesome! A big shout out to Jack! :)
San Antonio
Ed Perez does a great job with our sign stickers that are a hit at our store. We are very appreciative of the service he provides for us. We can\'t thank ARC enough!
Morrisville
Recently I had a sizable print job I needed on a very short timeline. ARC not only stepped up on the original project but also pushed to get out a few last minute revisions so the project could be completed on time. Huge thanks to the staff at Morrisville for stepping up in excellence and taking away the stress of wondering if my project would be complete in time. Thanks again!
Ontario
ARC is the best at printing and scanning large documents fast!
Elmsford
Always excellent, professional, and expedient service. Thank you Chris and Derrick!!!
Ontario
Everything was great and Alex customer service was great…
Ontario
Great service Fast delivery Excellent costumer service Two thumbs up
Ontario
Printed and delivered my job to Public Works. Saved me from having to drive 1.5 hours to deliver myself.
Ontario
Service was quick and great!
Mobile
Very helpful in accommodating a quick turn around. Pleasant to work with.
Gaithersburg
The print services are consistently excellent. Since I started with my company, over 10 years ago, I have been using ARC for all my outsourced printing needs. I have always been 100% satisfied with the quality and timeliness of the product and the service. Any time that I haven\'t been clear with my request, I am always contacted to clarify. They staff has been the best. I have never been dissatisfied with anything you have done with my orders.
Pasadena
Thanks Keven! You guys always come through for us – I've sent stuff to ARC locations all over the country, and Pasadena is the best one that I've worked with.
Sacramento
Everyone at the Roseville location were amazing in communication, professionalism and service. I could not recommend them more highly!!
Denver
Amazing! That is all I can say. You all have always gotten us huge drawing sets even on short notice and Steve always delivers them with a smile! We think you guys are fantastic!
Farmington
Quick, easy, and pleasant! Very accommodating and allowed us to make the deadline! Really appreciate it.
Oconomowoc
Outstanding service. Nice guy.
Morrisville
I have used the team at ARC for many many years now, and they are the best in the business. They\'ve definitely helped my business grow and are a valuable member of our networking team. We honestly couldn\'t function as well without their assistance and customer service!
Los Angeles
Juan Carlos, Oscar and Angel. As always, thank you for your continued service, support and especially for turning around Job 68933 on a RUSH basis today. I really appreciate the ARC Team and all your support for SCE! Have a great weekend.
Chicago
Very helpful, efficient and prompt. Turned out perfect!
San Antonio
AGAIN - GREAT SERVICE OFFERED BY ROSA AND STAFF - ALL ITEMS ORDERED HAVE BEEN GREAT!!!
Farmington
Les and the team always exceed our expectations, wish every company was this efficient.
Austin
Alex Parma is a true gentleman and goes out of his way to provide top shelf service to his customers. A true asset to ARC.
Farmington
Timely and excellent service.
Farmington
Les was awesome and so helpful!
Thousand Oaks
The Thousand Oaks branch of ARC is great! Louie has so much experience in this business and you can always trust what he says. He also gets things done faster than he estimates usually. They are so pleasant to work with!
Farmington
Excellent service, always helpful and accommodating
Toronto
Thanks once again to Steve and the downtown team at ARC for generously supporting the YWCA First Stop Woodlawn Women\'s Shelter kitchen renovation initiative. We really appreciated your help over the last three years with the project and the boards that you printed to show the residents at the shelter the plans for the proposed resident and staff kitchen are outstanding. Thank you so much for making sure that they were delivered to the shelter in time for the meetin...