Shakespeare's dialogue, 'The world is a stage, and men and women are merely players' is a motto most tradeshows live by! This metaphor indicates that the tradeshows are the platforms and the brands are the players.
In the tradeshow graphics world, businesses compete to stand out from each other and catch the attention of their audiences. Since numerous branding and creative specialists are active in numerous organizations globally, it is essential for organizations to go to a tradeshow with their best foot forward in 2023. This means brands must know the creative tips and tricks to make a lasting impression on their target audience in a sea of sameness while differentiating from the competition.
Make no mistake; this is not an easy feat. Nevertheless, it is not impossible!
Today's article will illustrate 7 tips to stand out in tradeshows graphics and grab the attention of the audience a business wants.
Why are Tradeshows Graphics Important for Businesses?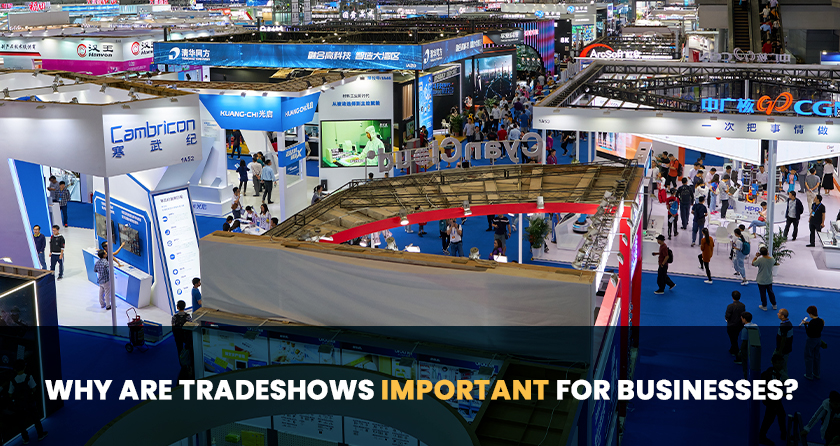 There are many reasons! Companies that attend tradeshows or conferences strive to generate new business leads, for new products and services and build team professional development. If a company approaches its tradeshow activities correctly, it can accomplish all of this. Unfortunately, most brands do not, and then wonder why they failed to generate any business opportunities despite spending thousands.
To achieve a positive return on investment from any tradeshow, there are many factors a business must consider. When determining whether one generated any new business at a show, the most obvious metric is whether any leads were generated. It is that simple.
On that note, let's get to the main part of this article:
7 Tips and Tricks to Stand Out From the Competition with Your Tradeshow Graphics
1. Out-of-the-Box Tradeshow Booth Design
Custom tradeshow booth designs are the most effective way to beat the competition. Brands with standout booths that reflect their true personality and unique positioning, leave a lasting impression on audiences.
A unique booth design helps a brand stand out at the show and create a distinctive advantage. By displaying them at a tradeshow, organizations can help the audience identify their booth from the crowd. Businesses can instantly distinguish a fancy brand from the competition by investing in a unique, bespoke booth that reflects the brand's personality.
2. Stand out with Creative Graphic Backdrops
An organization's audience can identify its' brand in a crowd of competitors through vibrant and creative tradeshow graphics. Graphics that stand out at a show increase visibility and validate market position and authority.
Graphics and other visual content enhance the company's key message as well as give the tradeshow display a distinctive look. An audience's memory is kept long after a show if the graphics and messaging have strong content and appropriate images. Decide which demographic is most likely to be attracted to the graphics of the tradeshow booth by collaborating with booth designers and companies.
3. Banner Stands that Entice
Keeping up with market trends is important for brands and companies, as well as tradeshow booths. Be youthful and in-trend with your displays, incorporating elements that are appealing to the younger crowd while complementing the brand image. Due to outdated technology and methods, most brands fail to connect with their audiences. It is always a good idea to use the most current technology in the market.
Additionally, businesses can become more creative with their tradeshow booth designs by using the latest technology available. Don't have the budget to hire a speaker but want to give a presentation to the attendees? Alternatives to lounge seating include audio-visual presentations. Is a brand interested in real-time ambiance? By using a medley of Virtual Reality and textured backdrops any brand will make its audience venture the same.
4. Posters that Stun and Sway
Beyond readability, a consistent design and poster are essential for a tradeshow booth. Using two to three typefaces consistently will make displays and promotional materials look more consistent (one for headings, one, or two for body text).
The colors should also be consistent throughout the promotional materials – a single scheme should be used. It fits the brand's identity while maintaining a consistent style on the poster.
5. Let the Social Media Hype Begin
Connecting with the crowd online is a great way to stay relevant and on-trend. Your business can market and promote its upcoming tradeshow online and on media platforms relevant to your target audience. A variety of age groups and locations are now included in the internet surfing group. Announcing the show on social media and extending invitations if possible is a good way to let them know about it. In the run-up to an exhibition, this can be a valuable tool for creating interest in the booth.
6. Get, Set & Market Right
It is no secret that the brand that markets right is the one that brings the most consumers to its doorsteps. The first step to doing this is choosing the best firm that flaunts a team of designers suited for crafting unique tradeshow graphics.
To find this company, search for firms that provide the best tradeshow graphics, banners, stands, and designs that replicate a brand's needs and image to its best potential.
Once you find a list of suggestions, set up an interview and look for teams that have skills such as:
Years of market research
Has mingled with the audience to find their needs
Flaunts creative design skills (check for catalogs, previous work, etc.)
Once you find a company that suits the design and marketing needs of the brand, hire them and get the business tradeshow ready to its best potential.
7. Find a Good Spokesperson or Mascot
Good graphics take a brand a long way in a business tradeshow! However, for the extra kick, it is a good idea to bring in a mascot for the business or a good spokesperson. This person can engage the audience and explain your business and its unique perks in a definitive manner.
This would help the business's audience understand its values and interpret these in the best way possible.
Now, make sure to pick the best spokesperson by finding their communicative skills, conversational flow, and phonetics. Moreover, the person should be a positive human that is able to draw in people with engaging words and body language.
Parting Words
The article concludes with the 7 ways to stand out and own a tradeshow regardless of the business niche. By implementing the following and choosing the best printing enterprise, any business can become the next face that dominates a tradeshow.