As digital technology has advanced, its impacts have gone well beyond the digital world. 
Case in point: environmental design. Today, thanks to continuing advances in application versatility, print quality, and design thinking, the discipline of environmental graphic design is in a constant state of flux.
But what's next? To answer that question, we hosted a webinar featuring experiential architecture expert, Craig Chinn, and environmental graphic design expert, Joshua Huckleberry. 
Craig Chinn is Principal and Founding Partner of Architecture Design Collaborative, one of Inc. 5000's fastest-growing companies in America. Joshua Huckleberry is a Senior Project Designer at Ware Malcomb. Evan Gaydon, Regional Sales Manager at Riot Creative Imaging facilitated the discussion along with Huckleberry and Chinn 
The webinar is available on-demand if you'd like to watch the presentation, or you can read the recap below.
Environmental Design Trends
Gaydon began the discussion by asking Chinn and Huckleberry about the trends that they've been seeing in environmental design. 
Huckleberry, who serves many corporate and real estate clients, highlighted the way that property owners and corporations alike are using the integration of media and lighting to bring their brands to life and engage their audience.
The Instagrammable Moment
Environmental designers like Huckleberry focus most strongly on engaging with their audience.
This focus and the role of social media in business and personal life has created opportunities for Huckleberry and his design colleagues to create what they call 'Instagrammable Moments." These moments, though they appear spontaneous, are set in motion by carefully assembled environmental design elements.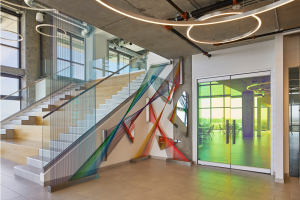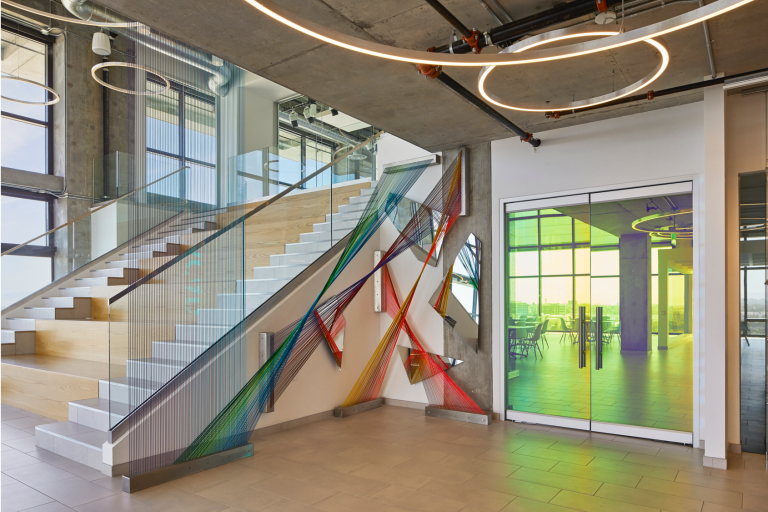 As these moments appear on social media, brand awareness spreads. The design becomes a recruiting tool. And the perception of the companies and properties that harness these moments improves.
Huckleberry presented the image here and described how the string sculpture is carefully integrated with the lighting and mirrors surrounding it to create a distinctive moment for occupants to enjoy and share on social media. 
The Flexibility of Going Bold
Chinn discussed the trend in the retail world that's been enabled by advances in print quality and application versatility: flexibility. Unlike in the past, when less advanced equipment couldn't cost-effectively produce quality prints, today, environmental graphics can be used as "temporary architecture," as Chinn called it.
This means that his retail clients can go bolder than they've ever gone. After all, with the ability to simply replace—for example—a wall graphic without causing damage or major expense, retailers can simply switch their design out if it's not working. 
The Business Use Cases for Environmental Design
The trends we just mentioned have expanded the potential of what's possible with environmental design. But another part of what's driving that expansion, of course, is the value that the new wave of environmental design is bringing to businesses of all types. 
Engage Employers, Employees, Potential tenants
As the competition for top talent gets tougher and tougher, thoughtfully designed office spaces have become a key recruiting tool. In fact, in a survey by Wakefield Research, workplace design and environment were as important as office location for 71 percent of Millennials and 63 percent of the general population.
In addition to its role in corporate office spaces, Chinn and Huckleberry explained that environmental design also plays an important role in attracting retail and multifamily tenants. By creating a distinct sense of place catered to a certain audience, environmental design creates more value for tenants and more revenue for property owners and managers.
Create and Reinforce Your Brand
Chinn emphasized the need, especially in the retail space, to go bold with graphics, color, and media to create those Instagrammable moments that Huckleberry referred to earlier in the discussion. And there's a real business reason Chinn encourages his clients to go bold.
Because those moments aren't just going to be in your space; they'll be on social media, they'll be backdrops to your events and mixers, and they'll be part of every building occupant's experience. In all these different places, the colors, graphics, and media will be creating, reinforcing, or reestablishing your organization's brand.
Moving Forward With Environmental Design
In addition to what was recapped here, Craig Chinn and Josh Huckleberry, along with Evan Gaydon, ran audience polls, showed examples of their work, and discussed some of the more technical aspects of the design trends they introduced. 
For that full discussion, download the on-demand webcast now. And if you're feeling inspired by all the new and exciting things happening in the world of environmental design, take a moment to learn more about the printing services from ARC that bring these designs to life.