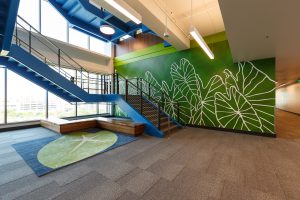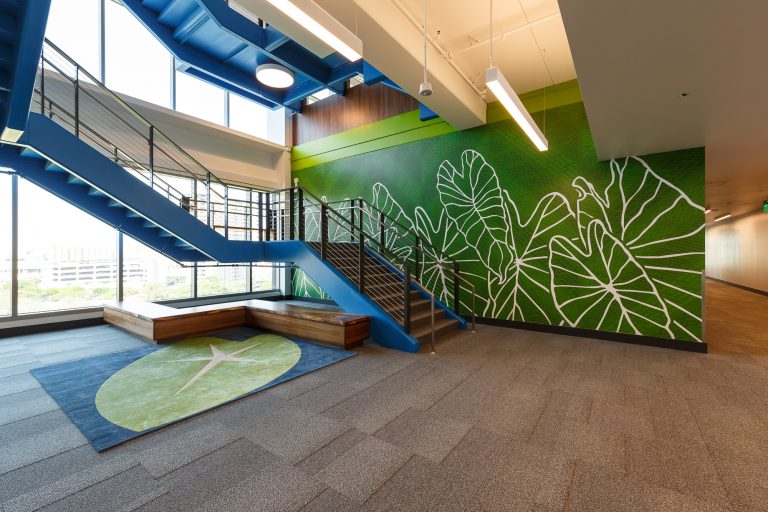 When American Savings Bank (ASB) set out to add the first new office building in downtown Honolulu in nearly 25 years, they wanted to do it in true ASB style.
That meant creating a modern workplace while paying homage to the history of the land on which the 11-story, 373,000-square-foot campus was to be built. 
It also meant creating a space designed to promote a culture of openness among the more than 650 ASB teammates who—until the campus's completion in early 2019—were in five different locations across the island of Oahu.
So in November 2018, as the new campus was nearing the end of construction, ASB announced their partnership with Native Hawaiian designers, Sig Zane and Manaola Yap.
Local Designers, Storytellers Come Together at ASB
"One of the unique features of our campus is its pre-cast concrete design, which allows for wide, open-floor layouts and high ceilings on each floor," explained Beth Whitehead, EVP and Chief Administrative Officer of ASB. 
She continued: "With this design came several large walls…blank canvases to tell our brand story." 
ASB partnered with several local designers, including Manaola Yap, whose designs have graced the runways of New York Fashion Week, and Sig Zane, an icon of aloha wear whose art has been sought out by the likes of Louis Vuitton and Hawaiian Airlines.
Of course, someone had to coordinate the distinctive styles of these incredible designers into a cohesive visual story. To accomplish this, ASB partnered with BLKCoral, a multidisciplinary design firm run by Nikole Nelson, a designer who brought 20 years of art production and design experience to the project.
Faithful Translation
Yap, Zane, Nelson, and other local designers were tasked with capturing this major milestone for ASB through an artistic lens.
But the application of the art – such as the patterns Manaola Yap hand-carved onto bamboo laths, and digitizing them into bold, vibrant prints, required a high level of production expertise.
Nikole Nelson at BLKCoral, through previous experience, knew she could rely on ARC to faithfully translate these impossibly detailed designs, so she brought them in on the job.
And ARC proved her right.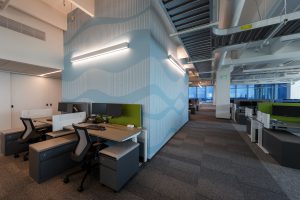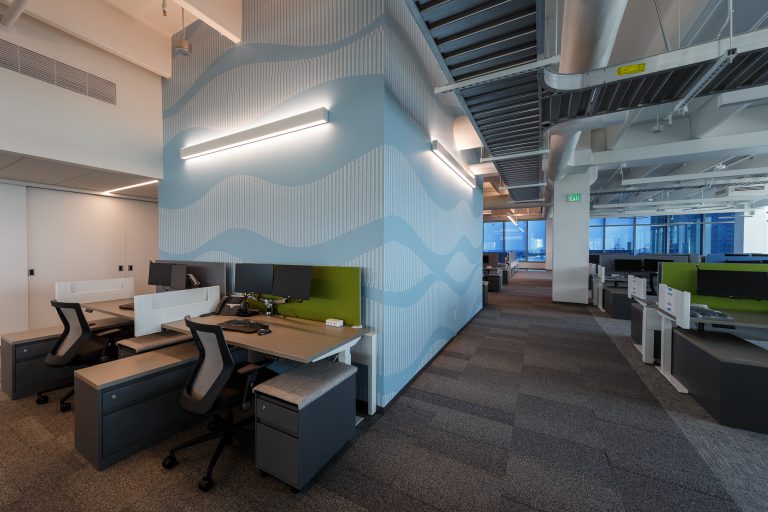 "ARC worked hand-in-hand with the designers' teams to ensure that the artwork was handled with precision and care throughout the printing and installation process," Beth Whitehead said.
This precision and care allowed ASB to use the designs—which had been significantly scaled up—to create floor-to-ceiling Copy Center wall wraps (pictured right), to provide privacy on conference room glass walls, and to give visual impact on several signature walls throughout the building.
Graphics, Custom Artwork… and then Some
ASB originally contracted ARC to install the custom artwork, but as ASB learned more about ARC's services, the scope expanded, explained Whitehead. "We broadened the scope to include everything from art plaques and gallery walls to wayfinding signage throughout the building."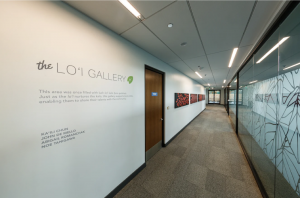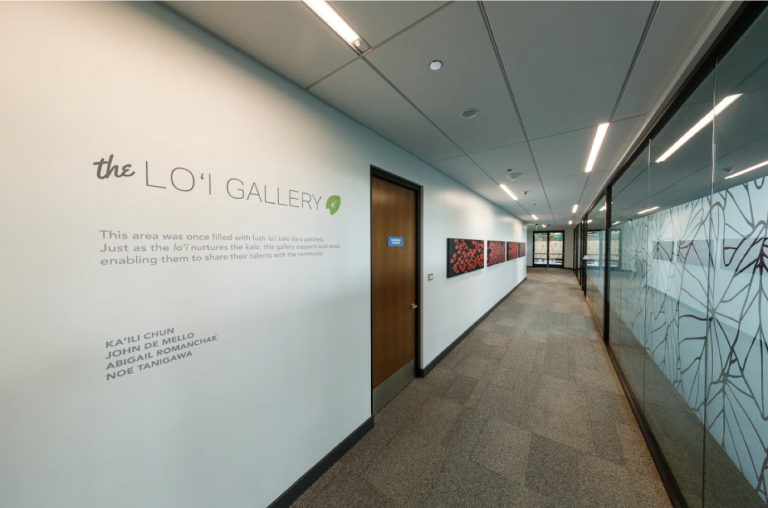 One of those gallery walls (pictured right) is on the first floor—it's called the Lo'i Gallery and it houses a rotating collection of art from local artists that currently includes Ka'ili Chun, John De Mello, Abigail Romanchak, and Noe Tanigawa. 
A Place that Feels Like Home 
For the teammates at American Savings Bank, the new campus represents much more than the building itself. It is about ASB's unique and fun culture, bringing the whole team together, and better serving their customers and the community. 
"It was important to us that the building truly reflect our brand—one that is unstuffy, innovative, fun, and creative," Whitehead said. "By working with ARC, we were able to bring our Campus to life, transforming it from a new building to a place that truly feels like home."