What is HIPAA Compliance?
Like many other industries, the healthcare industry has also started embracing the paperless environment. In 1996, the Health Insurance Portability and Accountability Act (HIPAA) was enacted to ensure the privacy and security of Personal Health Information (PHI).
HIPAA's security rules specifically address the digital version of protected health information.
The PHI refers to an individual's identifiable health information. For example, the information can be-
A person's past or present mental or physical health condition
Individual's healthcare provision
Past and present provision healthcare payment of an individual
Common healthcare information may include names, SSN, addresses, birth dates, email ID and phone numbers
When it comes to ensuring compliance, most healthcare organizations rely on HIPAA-compliant document scanning services to turn their paper-based documents into searchable and instantly accessible digital information.
To ensure perfect HIPAA compliant scanning services, ARC uses rules related to the e-PHI-
Ensures the utmost confidentiality, integrity and availability of e-PHI Identify all the potential threats to the security and integrity of e-PHI and take the best protection measures
Protection against unauthorized access to the e-PHI
Ensures that all employees are aware of the HIPAA rules
Now, you might have realized one thing how HIPAA has impacted the choice of document scanning and imaging services and this is where ARC's HIPAA compliance record management solution offers these key benefits for your organization-
What are the Benefits of HIPAA compliance with Document Management?

Confidentiality:
The HIPAA security rule defines that PHI or Personal Identifiable Information (PII) should not be disclosed or accessible to an unauthorized entity. ARC converts all your HIPAA-related documents into highly organized and searchable indexed files and securely stores them in a HIPAA-compliant cloud platform.
Integrity:
According to HIPAA standards, the data or information should not be altered or destroyed in an unauthorized manner. This means you can store the digitized records in the cloud and maintain instant access to the electronic records. ARC uses the advanced OCR technology to convert all the texts in an image to indexable and searchable information.
Improved and streamlined medical collaboration:
More Office Space:
Using the office space to store medical records is a costly affair. ARC's cutting-edge document scanning service allows you to free up office space so that you can use it for some other valuable purposes.
Better Customer Experience:
Medical administrators can easily access health or insurance-related information from a HIPAA compliant and searchable record management repository. Scanning and digitizing the paper records brings all the necessary information to a digital platform.
Why Choose ARC's HIPAA Compliant Scanning Service?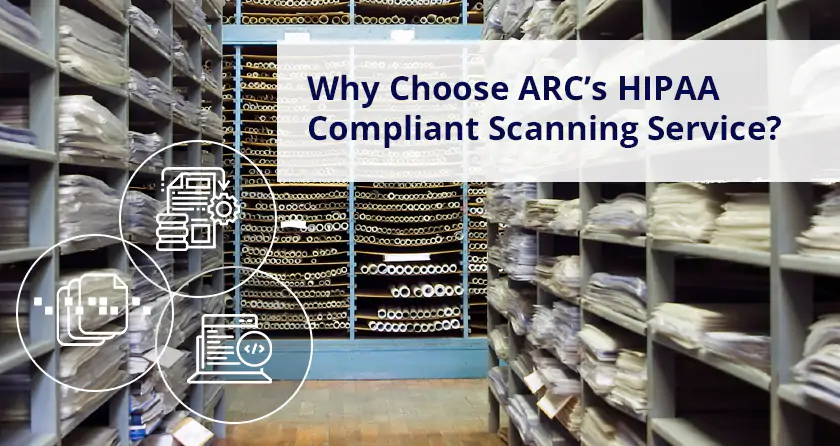 Secure Physical Property:
ARC boasts more than 140 service centers across the US and Canada. Each center is equipped with card access, visitors sign-in systems, data access control and 24/7 video monitoring.
Cutting-edge IT Infrastructure:
We ensure data and image encryption so that only authorized parties can access it, thus, eliminating the chance of data breach.
Highly Trusted and Compliant Process:
When it comes to helping you meet your HIPAA requirements, our audited workflow, trained staff and robust technology always ensure the best solution for you.
Efficient Disaster Recovery:
It's almost impossible to make your healthcare organization completely disaster-proof against fire, flood, fire, etc. Any such disaster can destroy all your paper documents. However, with ARC's HIPAA-compliant document scanning service, you can safely store all your documents digitally in a secure cloud location so that you don't have to worry about getting your documents destroyed due to any disaster.
What do ARC's HIPAA services include?
Our staff either can bring all your paper documents to our HIPAA-enabled ARC service center for conversion or our HIPAA-trained employees can visit your site to do the same.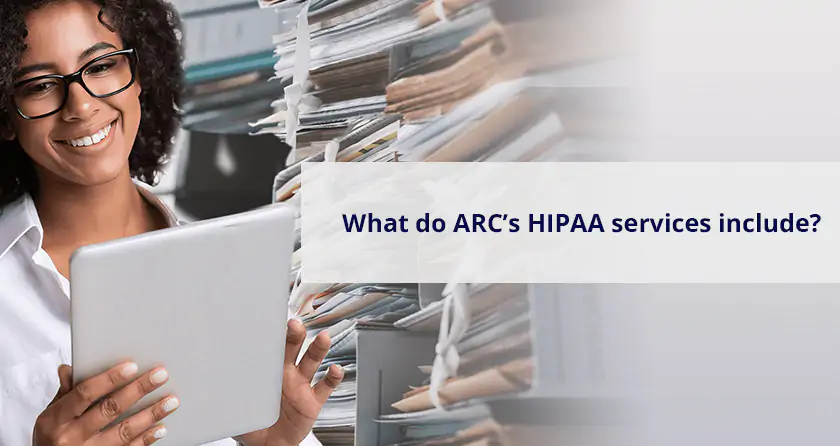 So, what are you waiting for? Stay away from penalties due to non-compliance with HIPAA, while enjoying a paperless environment with ARC's HIPAA compliance records management service.
FAQ
Is Scanning HIPAA Compliant?
When it comes to remaining compliant, HIPAA requires that document scanning services and medical facilities should have a streamlined and proper data backup plan. It also requires a disaster prevention and recovery plan that enables organizations to have easy access to protected medical information.
How to scan bulk documents?
Scanning bulk documents without any professional help is a cumbersome job as it requires technical skills and high-end scanning tools. This is exactly where ARC's HIPAA compliant document scanning by the box plays a crucial role as it allows you to have a standard box of documents at $199.00 only.
Where can I scan sensitive documents?
Either our team can go to your site to scan all your sensitive documents or we can do it at our print center.
What is the nearest document scanning service nearest me?
With more than 170 print centers across the US and Canada, ARC ensures that it has the nearest document scanning and imaging center near you.
Read More –