This article was originally published on the SKYSITE Blog.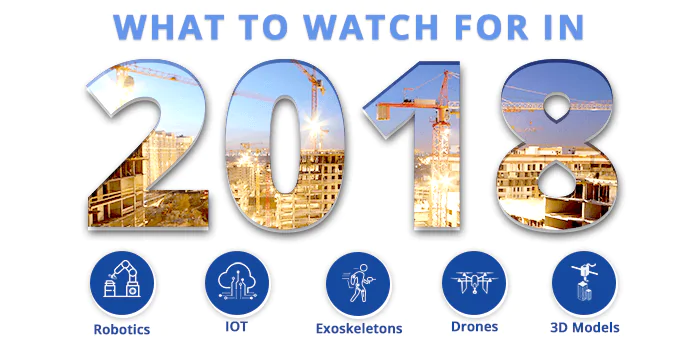 In the last 60 years, productivity has doubled in most industries, yet the build trade has remained flat. Why? Investment in technology. Compared to 18 industries, construction and building management comes last in technology spending. Things are about to change—here are the top tech trends expected to disrupt the industry in 2018.
Robotics
Manufacturing has employed robotics for decades. Still, the construction industry has been slow to adopt this technology. But times are changing. Already, we've seen a robots that can tie rebar that can tie rebar and lay thousands of bricks per day. Sam and Hadrian X, as the bricklaying robots are named, far outpace humans who only lay about 500 bricks per day.
These are just the first in a string of technological advances that will streamline processes, alleviating some of the demands caused by recent labor shortages. Robotics also has the potential to improve worker safety by eliminating the need for humans to lift heavy materials and equipment.
Even with the increased use of robotics in 2018, many companies will be slow to adopt, given the risk of relying on emerging technology.
IoT
What sector hasn't been revolutionized by IoT? While the construction sector has been slower to adopt than others, the industry is beginning to embrace IoT. As a result, early adopters are seeing benefits like improved worker safety and cost reduction. Staying connected is the name of the game for 2018 and productivity is the prize.
Equipment armed with interconnected sensors now enables operators to collect data such as fuel and fluid levels, equipment temperatures, usage hours, and more. This instant communication between equipment and operators means less downtime and improved maintenance decision-making.
On-site wearable technology, such as tech-enhanced safety vests, smartwatches and health trackers, provides health and safety benefits to workers. Biometric wearables monitor workers' vital signs, and alert safety managers to workers at risk of exhaustion or overheating. In addition, sensors in wearables reduce risk by tracking workers in the field and alerting them to job site hazards.
Mobile and cloud applications, probably two of the most widely adopted technologies, are now being used in the field for just about everything, including:
Project management
Time tracking, estimating, and invoicing
Construction document management
Material and print ordering
Collaboration
Drone control
Resource tracking
These industry-specific apps, such as construction project management software, improve communication between the office and construction site by enabling real-time collaboration with tools that create markups, RFIs, punch lists, and submittals.
In fact, it seems these apps do just about everything except the actual building. For 2018, look for a consolidation to fewer apps with more functionality.
Exoskeletons
In recent years, there has been a lot of buzz about exoskeletons in the military and medical fields. Now they're beginning to take off in construction. These mechanical suits help workers lift heavy equipment, machinery and supplies. This allows workers to use heavy equipment with less exertion, helping to prevent job site injuries caused by fatigue.
While a full-powered suit may be years away, unpowered exoskeletons are available today. Recently, we heard a presentation from Ekso Bionics that explained how their solutions use counterweights, metal tubing and a harness to transfer the weight of a heavy object down through the suit to the ground, thus reducing the stress and strain placed on the body.
With a variety of safety and health benefits, look for increased adoption of exoskeletons in 2018.
Drones
In the coming year, using drones to survey work sites will become the norm, not the exception. These unmanned aerial vehicles are cheaper than manned aircraft and faster than human surveyors. But they are much more than glorified cameras; they efficiently collect data, complete safety inspections, capture project progress and more.
Some companies are even using drones to monitor logistics, deliveries and the workforce. And builders are converting drone footage into 3-D pictures for comparison to architectural plans.
What's next for unmanned aerial vehicles? Look for enhanced communication between drones and construction project management software. And, make sure you are in compliance with FAA rules and regulations.
3-D Model Videos
The saying goes, "seeing is believing." Imagine being able to see your construction project come to life. Now, 3-D model videos help you do just that by providing visualization of a construction project. It gives architects a better idea of the look and feel of the building. And GC's can use it to check for potential problems and issues during the construction process.
This is beneficial not only for the architect and general contractor, but also for the client, as they can see their building come to life. Look for more 3-D models to help transform 2-D screens into a virtual reality experience during the coming year.
Three to Watch
The good news for 2018, is there are plenty of advances underway to increase productivity. In addition to the technologies above, here are the honorable mentions we are keeping our eye on for 2018:
Modular and prefab building
3-D printing
Autonomous vehicles and handling of materials
What Will All This Mean in 2018?
With so many innovations, the construction industry is well-positioned to address the labor shortage, rising material costs and worker safety. Technology is transforming the construction industry and 2018 will see more reliance on tech at the job site. Companies that don't adapt risk falling behind.