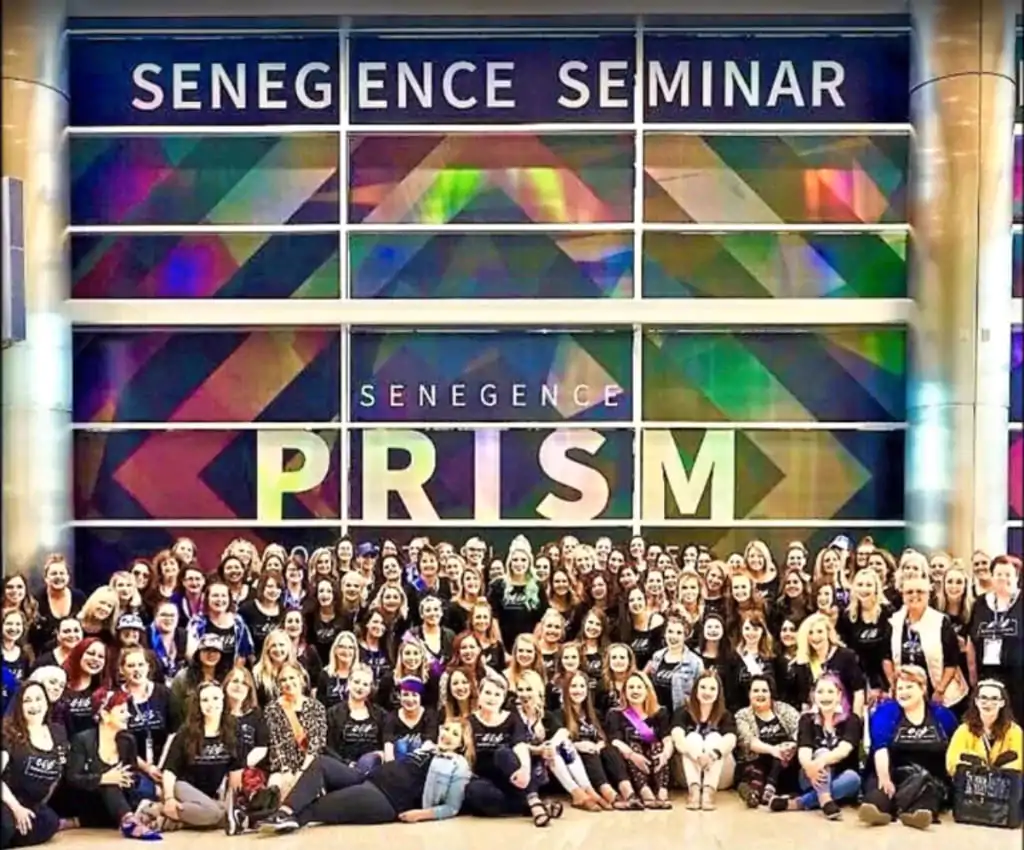 In late April of this year, Riot Tulsa printed, cut, and installed 10,000 square feet of graphics for windows, walls, floors, bass boats, tents, coolers, golf balls, and more.
The owner of SeneGence International, Joni Rogers-Kante, placed the order for graphics and signage to deck out the entire Cox Event Center in Tulsa, Oklahoma where she hosted her annual training and recognition event, "Prism of Possibilities."
Over the course of four days, approximately 8,000 women attended the event to learn, share ideas, and take hundreds of thousands of pictures in front of beautiful event graphics now posted across social media channels.
Riot Ramps Up for "Prism of Possibilities"
Three weeks prior to the event, multiple Riot Service Centers were printing graphics simultaneously. When it came time to assemble the graphics, Riot's crew had the materials in place in just three days.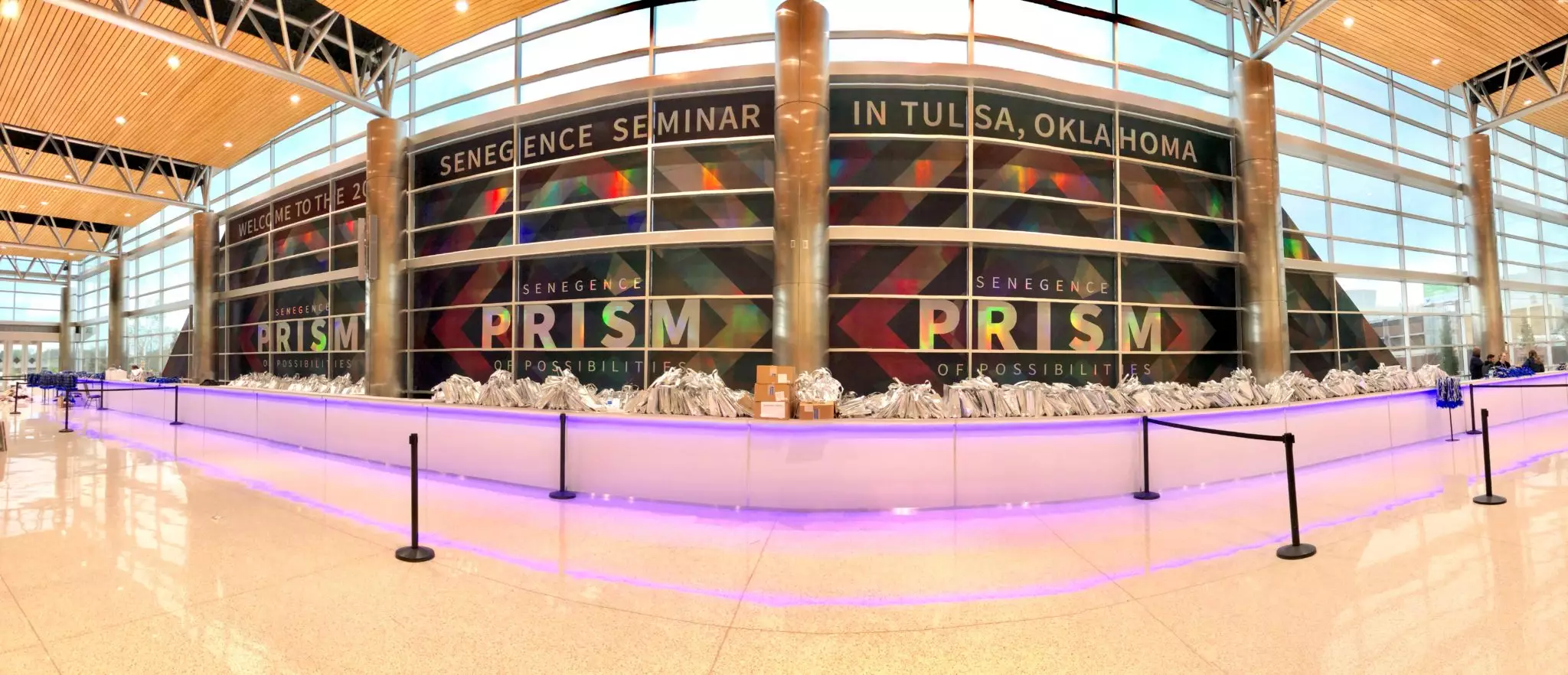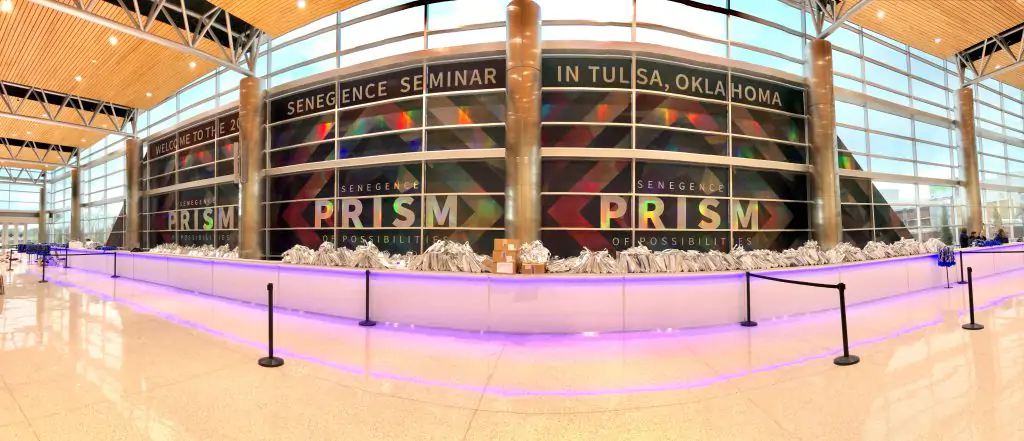 Pictured above, the centerpiece of the show was a huge bay of windows. Riot printed holographic material backed with black vinyl to execute this unique design. Rogers-Kante was astonished by the final product and it was an immensely popular spot to take pictures.
Simultaneous Fishing and Golf Fundraising Events
In support of the Make Sense Foundation, which raises funds for a variety of social issues, Rogers-Kante held a bass fishing event and a golf tournament. Of course, Riot made sure everyone was fishing and golfing in style with a variety of custom graphics for those events.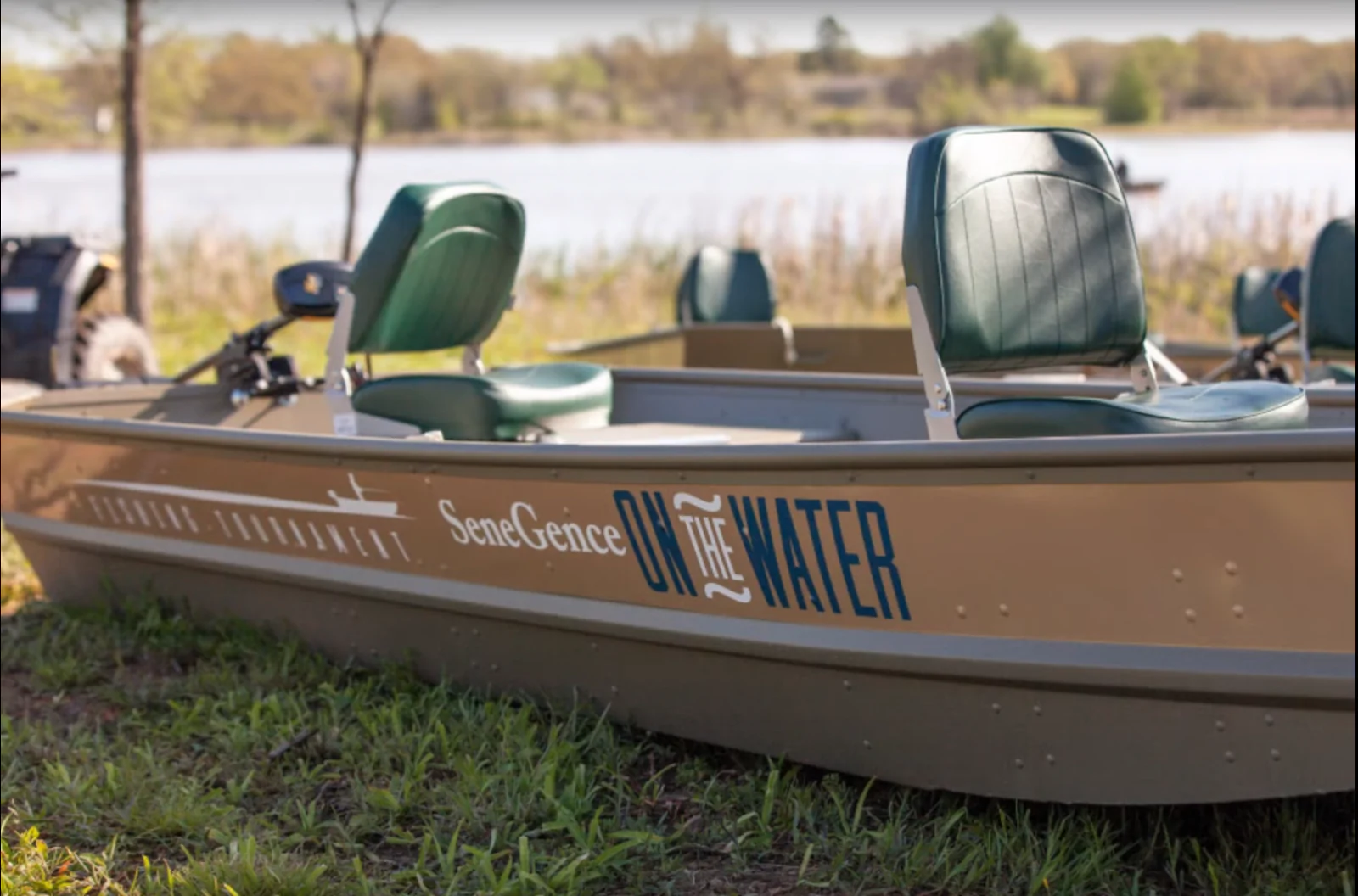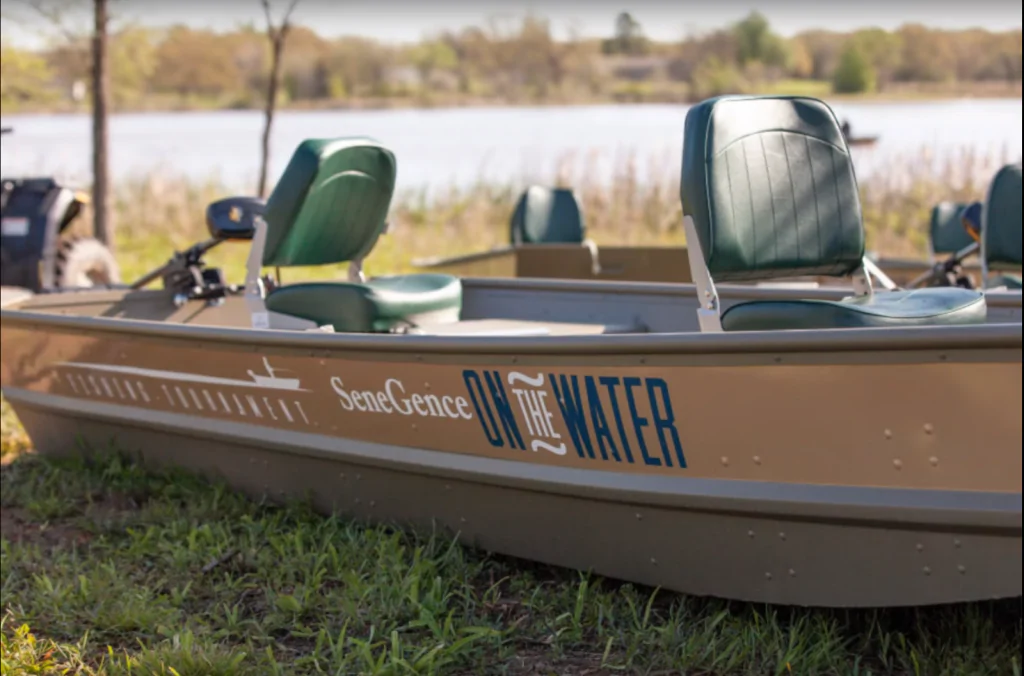 Riot printed and wrapped 19 bass boats for the fishing event. In addition to the bass boat (picture above), there were branded coolers, tents, and signage created for SeneGence and other sponsors of the event.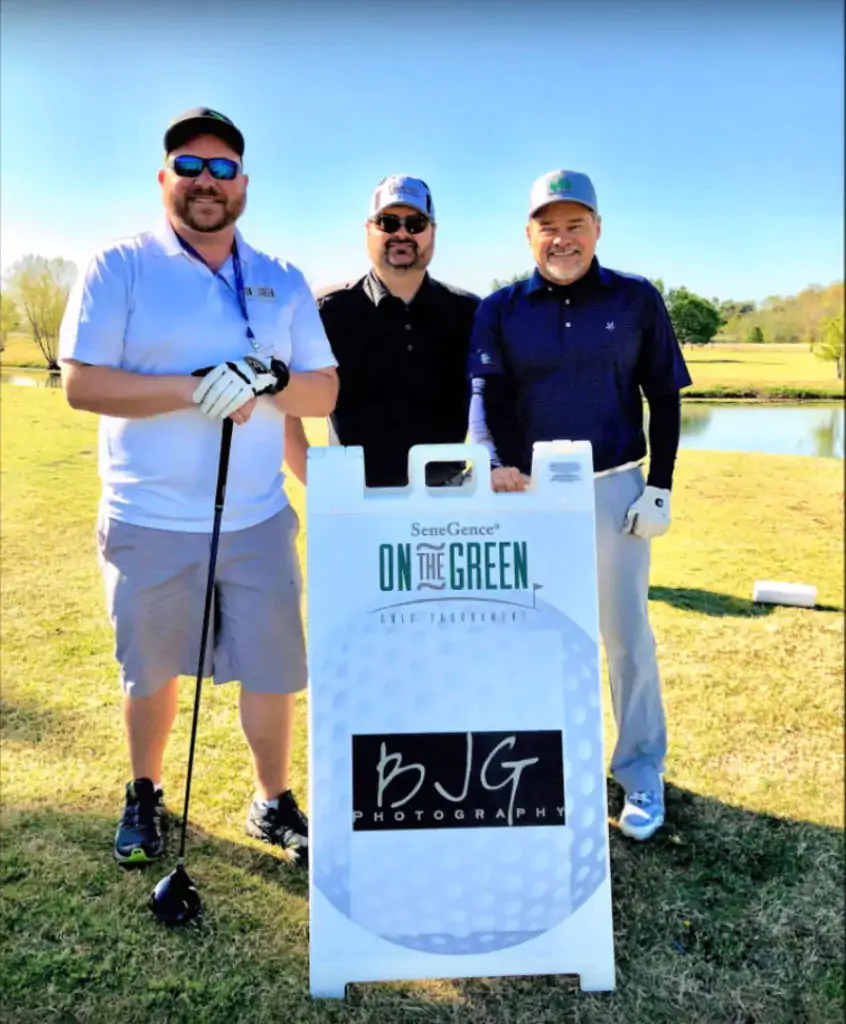 The golf tournament, "On the Green," featured branded A-frames (pictured above), golf balls, tee boxes, even divot repair tools. But the event wouldn't be complete without the "Trailer Park" party.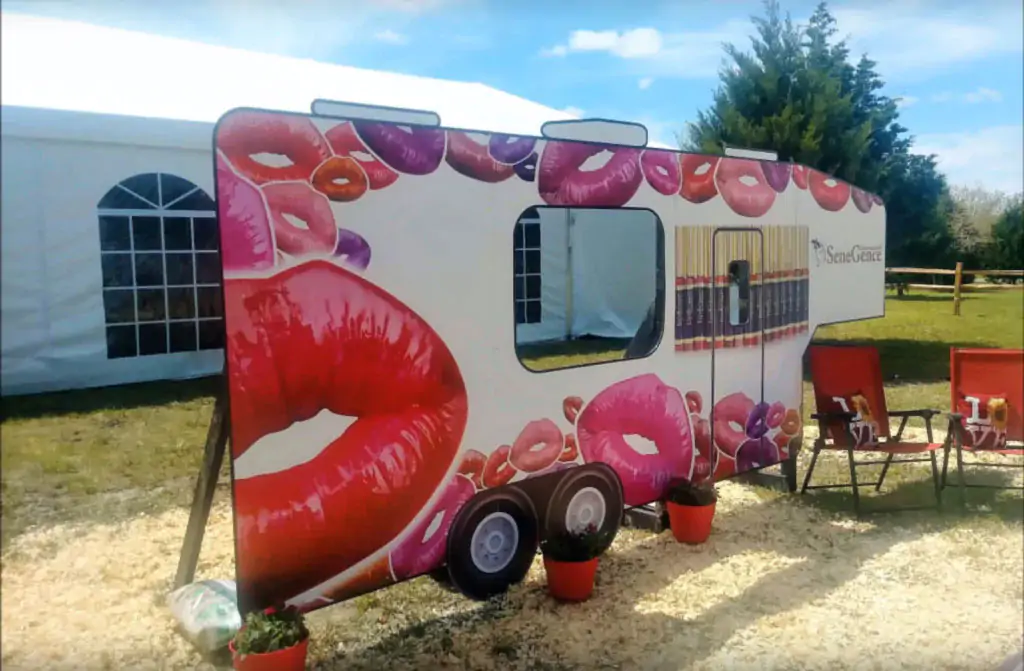 Many of SeneGence's top sellers were invited to Joni Rogers-Kante's ranch where she hosted her "Trailer Park" party. To pay homage to Rogers-Kante's trailer, which she uses to travel around the country, Riot built a replica that was used as a backdrop for thousands of distributor photos.
In the End
Following the event, Riot deployed their team once again to disassemble everything. But the designs aren't gone, as they've been shared all across social media by SeneGence's distributors.
"Prism of Possibilities," was yet another successful partnership between Jerry Garland at Riot Creative Imaging and SeneGence International. Beyond that, though, it was a great example of what it means to partner with Riot.
It wasn't just the print and logistical prowess that made this project possible. Riot's dedication to excellent service allowed Rogers-Kante and her team to take a completely hands-off approach to graphics and focus on hosting their thousands of loyal distributors.
Feeling inspired? Take a look at more of Riot's incredible graphics.