Let's say you have a box of documents that you need to be scanned so you can get rid of the paper, save some space, and make the documents available to your employees over your network. You call the provider, they come to get the box, scan the documents, provide you with a digital file of the documents, and then bring the documents back or destroy them for you.
Pretty straightforward stuff.
But what if documents get lost during the process, or even the whole box goes missing? Or what if the information in those documents is shared – inadvertently or illegally – with someone who shouldn't see it?
How do you prevent something like that from happening? What insurance do you have against that possibility?
First, of course, is the reputation, credibility, and expertise of your scanning provider. But even then, mistakes can be made.
That's why securing the chain of custody of your documents is so important.
A "chain of custody" is a chronological record of the sequence of who has possession and control of your documents as they move through the process of leaving your office, traveling to a service center, being stored, being prepared, being scanned, and ultimately being returned to you.
When you're shopping for scanning services, make sure your chosen vendor not only offers to record the chain of custody but that you understand it every step of the way.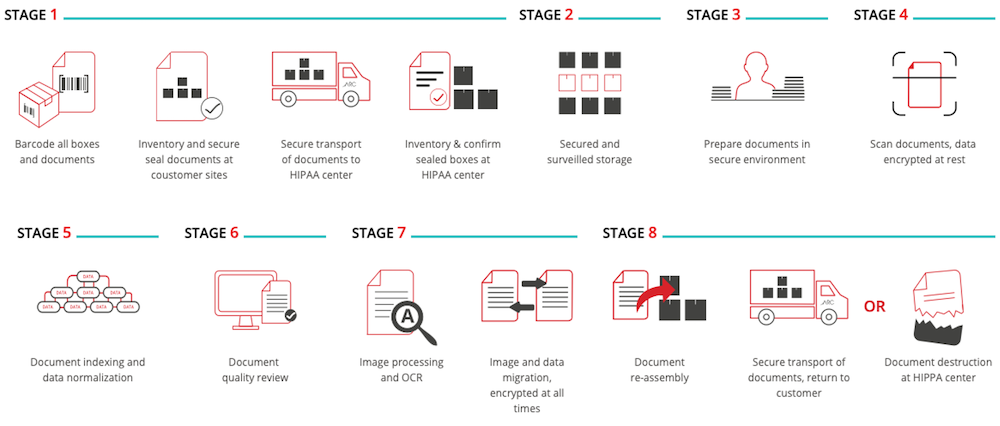 At ARC, we've been trusted to handle documents from governments and municipalities, human health services organizations, utilities, and companies of all sizes from SMBs to Fortune 500 members. Therefore, we have developed a strict process for maintaining control of the chain of custody and proper stewardship of the documents, so you don't have to worry about where your documents go – or who sees them – once they leave your facility.
Our process is 100% Best Practice in the protection of your records. If you're considering a document conversion process that takes place outside of your offices, make sure your provider is keeping your records safe at every stage of the process. Here's a handy guide to help you ask the right questions when you're choosing a scanning company:
How will your documents be identified? Are all boxes and all documents barcoded?
Where will your documents be inventoried? Make sure they don't leave your premises without a record of each document.
Will your document containers – usually boxes – be sealed in such a way that it will be obvious if they have been opened?
Will a log be maintained to track each box and its destination? Can you review it in real-time, or at least within a 24-hour period?
Once deposited at a scanning center, will your documents be under lock and key?
Are employees of the scanning center screened? Are they allowed to carry camera phones when working with your documents?
While saving space, organizing a document collection, or making paper records available online are good reasons to convert paper documents to digital files, storing and accessing information securely is usually one of the most important benefits document owners hope to achieve.
Securing the chain of custody is the first step in making that possible.