Construction site signage is critical in ensuring workers and visitors stay safe and contractors can avoid stiff fines, penalties, and delays for non-compliance.
Keeping a worksite safe is the number one objective for all contractors, builders, and owners. There were 4,764 fatal work injuries recorded in the United States in 2020, a 10.7% decrease from 5,333 in 2019, the U.S. Bureau of Labor Statistics reported in December 2021. While this is a move in the right direction, these are still terrifying numbers.
Experts say that many injuries/fatalities could be prevented if building site health and safety signs are clearly visible and placed more prominently for workers.
Without signage on construction sites, employees could be left unaware of risks and employers might find themselves in significant legal trouble.
"Do I need jobsite safety signs?  "It's a very common question and the answer is – yes. The Occupational Safety and Health Administration requires safety signs on construction sites and regulates the content and appearance of those signs. If construction firms are not in compliance, it can result in hefty fines and project delays. Based on the potential hazards of your construction site, ARC offers OSHA-compliant construction signs that ensure your jobsite safety.
Different Types of Safety Signs for Your Construction Sites:
Your job site safety may include everything from safety instruction to wayfinding and other important information. The type of signage depends on the potential threats posed in the specific areas of the Jobsite.
It's important to ensure that all your workers understand the meaning of the warnings. Train your workers in their preferred languages about the signs that convey the safety messages of the potential hazards.
On any construction site, your eye will immediately go to the safety signs throughout the area. Not only can construction site signage mitigate liability and ensure compliance with regulations, but it also affords opportunities to advertise the project.
At ARC, We Can Help with All Your Jobsite Safety Signage Needs
SWPPP Signage
: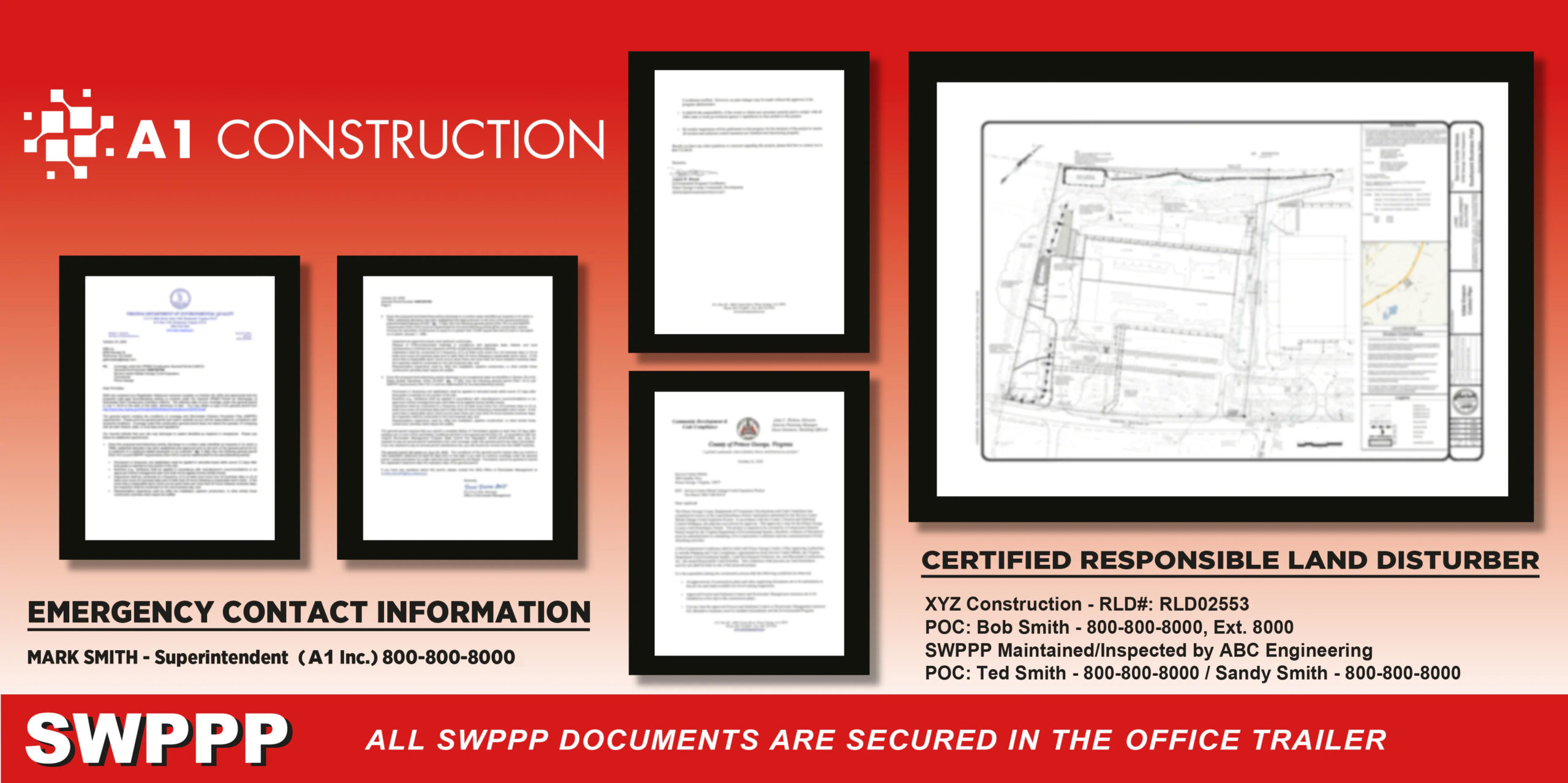 ARC offers Stormwater Pollution Protection Plan signage that covers all your job site requirements. It enables you to brand your company consistently from the first day you break ground. All you have to do is send your scanned permits, drawings, and renderings with color requirements and ARC will handle everything for you. ARC provides customized signage on highly durable and waterproof materials.
Permit/Job Boards: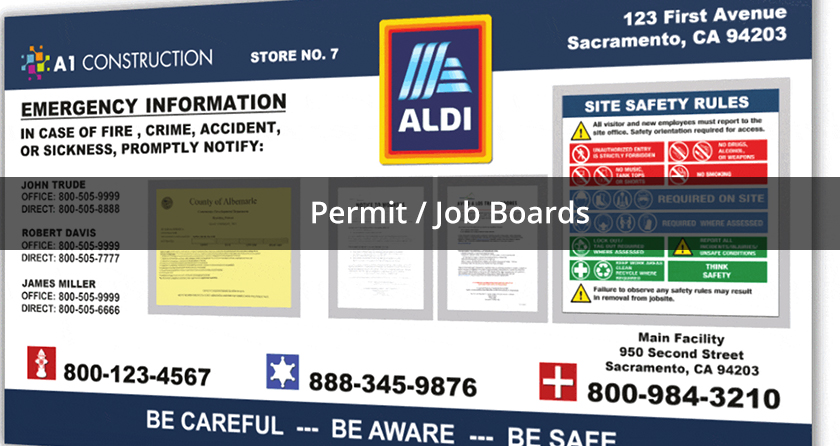 ARC closely works with you to create custom, highly durable, and waterproof boards in the shortest time possible. You must ensure that your project signage complies with your local permit standards. You just have to provide your files and ARC will do the rest including permits, emergency contact info, company logo, building rendering, and many other things.
Pre-Printed OSHA Boards:
Staying OSHA compliant is crucial for your construction site and ARC enables you to stay compliant with pre-printed and standardized OSHA boards for all your projects. ARC always uses high-quality waterproof materials for creating pre-printed OSHA boards.
Standard Dry-Erase Boards:
ARC offers custom LEAN boards to meet your exact project requirements. When it comes to tracking the project progress, LEAN boards enable you to do so efficiently. No matter what size or material you prefer, we have it for you. Our standard dry-erase boards make it convenient for everyone to mark up, make plans and start working accordingly. ARC's standard LEAN boards make it simple for everyone to understand information quickly.
Custom Dry-Erase Boards: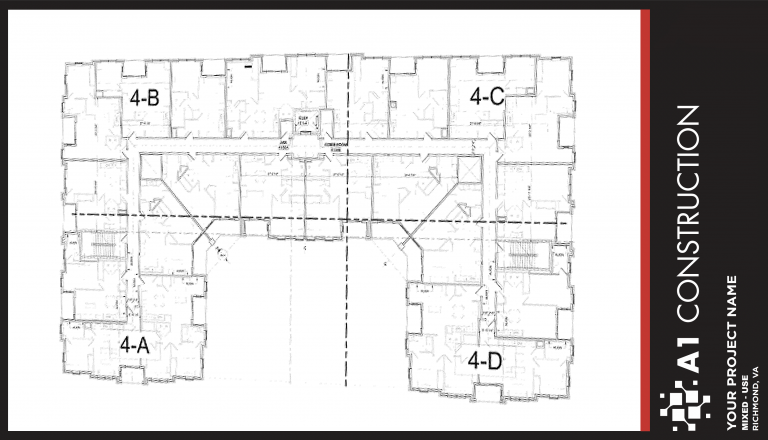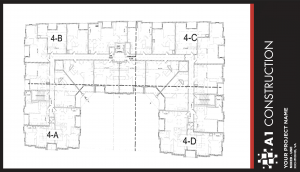 Start with site plans and then building footprints as the job progresses. Removing the drawing border provides extra white space to mark up with needed information. This is not just for general contractors; subs will use them as well.
Stencils:
Now you don't need to consider all those costly and time-consuming sets of prints to visually mark job site tasks and information for your project team as ARC offers custom stencils. Our stencils ensure that everyone knows what goes where. The best things about stencils are that they are easy to use and reusable, thus making things convenient for your project team.
Fence Mesh/Barrier Graphics:
If you are looking forward to advertising your company professionally at the most competitive price, custom fence mesh can be your right branding tool. ARC prints or stitches your company logo or message onto high-quality mesh with a fast turn-around time.
ADA Signage, Danger Signs, Warning Signs: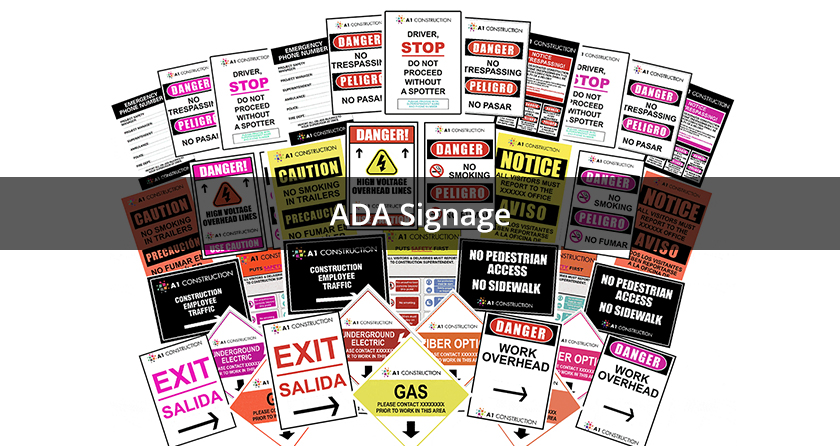 ARC offers temporary ADA signage that enables you to avoid delays and pass inspections. We also offer a wide variety of danger, warning and wayfinding signs to meet your jobsite needs.
No matter your project type, we have custom signage packages ready for you.
One-stop shop for all your signage needs
ARC can create signs that are custom designed for your workplace. We can make signs of any color, with multiple sizes and materials that you need

Safety/Covid signage, vehicle wraps, barricades, posts and panels, trailer signage, fence signage, crane wraps, hard hat decals, interior graphics and more

Variety of material types: Coroplast, Sintra, Dibond, vinyl, mesh, magnetic, reflective
Mitigate unnecessary risk on your jobsites with high-quality and compliant jobsite signage from the professionals at ARC. Connect with our team to Get a Free Quote for your construction jobsite project.