The construction industry holds a dubious distinction. Since 1995, no industry has been worse at improving productivity.
Partly to blame is the industry's aversion to raising fixed costs in the form of tech investments. Most companies would rather hire workers because, when the market dives, they can cut their workforce. To mitigate downside risk, the general consensus is, it's better to hire workers than it is to make an investment in technology.
But when it comes to using drones to gathering aerial intelligence of your construction site with photos, videos or sensor based data, it's possible to get the best of both worlds.
Drones can have a material impact in reducing cost overruns, avoiding project delays, improving safety and making jobsite mapping far more efficient than current processes.
By outsourcing drone services to a third party, construction companies can improve productivity through smarter tracking and reporting without taking on financial risk.
Wondering how exactly outsourcing drone services makes construction tracking and reporting smarter? Read on.
Aerial Construction Photography Made Accessible
Drones are expensive, as is the software, the pilots, and travel costs to cover all the job sites. To make matters worse, the FAA has cracked down considerably in how they're regulating drone usage. All this makes the expense and complication of using drones prohibitive for construction companies that can't afford to take on any additional risk.
Outsourcing drone flights changes all that. Quality third-party vendors have mastered the art of drone photography and more advanced sensor based data gathering. That means you get all the productivity of drone generated site intelligence without taking on the risk of investing in this technology yourself.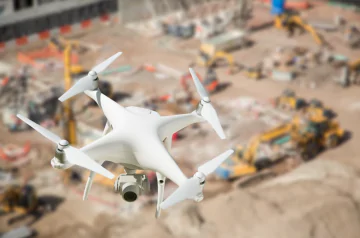 Harness the Power of BVOLS
Speaking of accessibility, the benefits of outsourcing are especially apparent when you want to fly drone missions beyond visual line of sight (BVLOS). In fact, the FAA denies 99% of all BVLOS waiver applications, so if you're not an experienced commercial operator you won't get clearance to fly this kind of mission. And that's a big deal, because the ability to fly BVLOS missions make using drones far more efficient and safe.
By outsourcing, you can avoid the approval gauntlet and harness the incredible capability of BVLOS missions. As Construction Business Owner reports, having the ability to fly BVLOS reduces operating costs and enables construction companies to collect information that would otherwise be too difficult, unsafe, or expensive to obtain.
Drones Are Just One Part of a System
Drones, and the photos/videos they take are incredible, so it's easy to get enamored with the novelty of these flying photographers. But the system of tracking, reporting, and analysis is what truly moves the needle in the construction industry.
Assuming you're working with a qualified third party, they should be able to provide the following: photos, video's, LiDAR and Thermal IR scanning to create intelligent data, BIM models, renderings, site maps, and more. In this way, it's not just the drones themselves, but also the powerful data they deliver that makes you more productive – by automating data processing and analysis.
Better Data on Photos
High-quality images are great, but the data about those photos is just as important. Specifically, geotags and timestamps, which are automatically added to drone photos, make your construction photos that much more useful for tracking progress.
Moreover, having specific time and location information about each photo makes them easier to find. That way, you spend less time searching for the right images and more time actually analyzing progress.
Remove the Learning Curve Barrier
A drone provider is equipped with a team of pilots, drones, and software. To achieve the same results, you'd have to spend time and resources getting someone on your team licensed, learning how to use the drones, and then processing the data they deliver. Not to mention, given that drone technology is still in its infancy, there's no way of knowing how both the technology and regulations will change in the coming years.
With the constant onslaught of delays, change orders, and budget overruns, there's enough risk in the construction industry. Take advantage of a drone provider's expertise to insulate yourself from the risk of this exciting new technology while still capitalizing on the promise of productivity.
Make Outsourcing Effortless
Are you searching for drone providers?
Make sure you find one that provides on-demand services. Check out ARC's Drone Services to get a jump on your aerial construction site photography. To learn more, attend this webinar: Using Drones Across the Construction Lifecycle.
When you partner with ARC you immediately gain access to a nationwide network of drones. With more than 15,000 licensed drone pilots in the United States and optimized data delivery, you could gain actionable insights into construction progress in as little as 24 hours.