Seven years ago, when Harriet Haywood started at Leaders, a conference and content platform designed for leaders in the world of sport, Leaders were putting on two events per year. Now, they run 15 per year, on top of several smaller, private events.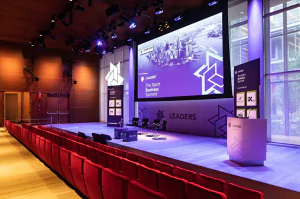 From those initial startup years to today, Leaders has grown into a global force. From New York City to Los Angeles and their hometown of London, Leaders' conferences connect the titans of the sports industry.
Quality Service with International Scale
Darren Moorhouse, Sales Director of ARC-UK, began working with Leaders in 2014 when they were mainly running UK and European based events but had started running events in the USA. From the beginning, Darren brought a level of trust, reliability, and strategic alignment with Leaders that created the foundation for what ARC and Leader's partnership would mean.
"Darren will always do his best to make it work. If I can't make it work with one supplier, I'll always go to Darren and see if he can help." said Harriet Haywood, Head of Operations for Leaders.
One of the latest examples of the way this relationship has evolved from those early days was Leaders Week New York 2019 which took place in May.
Leaders Week New York 2019
As they had done for the last 5 years, ARC-UK and ARC New York teamed up to help deliver the 6th edition of Leaders' flagship US event in New York City.
One thousand sports business leaders came from more than 50 countries and gathered to glean insights from each other over four days. Notable partners, brands, and industry leaders at that event included Bleacher Report, executives from the Los Angeles Lakers and Rams, the WWE, and many more.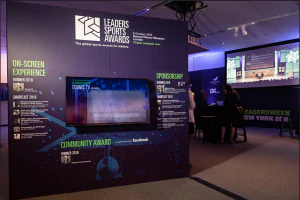 Before everyone arrived, ARC and Leaders were hard at work putting together the kind of fresh visual experience that Leaders has built its name behind. One particular area that Leaders
wanted to freshen up was the exhibition, which had been largely the same since they first went to the venue in 2015. Leaders asked Darren and ARC to come up with exhibitor spaces that would improve exhibitors' experience while maintaining the premium feel of a Leaders conference.
That's not a typical ask for a printer, but as Harriet pointed out, "ARC understands what Leaders is ultimately trying to deliver."
Darren and the ARC team used the activation backdrops they had used for the Leaders events since 2015 and worked to build them into a triangular format so they could be placed in the center of the room instead of around the perimeter.
End-to-End Logistical Prowess
Though the activation zones were a highlight, making the visual experience of NYC Leaders Week work depended on much more. Leaders and ARC partnered to conceptualize and craft a visual experience that engaged attendees from the moment they walked through the door.
There was marketing collateral such as Z-Cards and agenda sheets, stage graphics, wayfinding graphics, booth graphics, vinyl staircase wraps, and much more that needed to be produced, cut, and installed.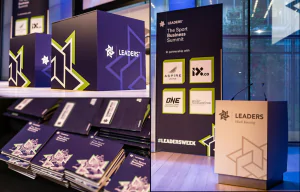 Steve Gilberti of ARC New York had to make sure the activation zones were all technically configured to provide a seamless, safe and easy experience for exhibitors as well as attendees.
On top of all that, all these moving pieces and people had to make it through downtown Manhattan traffic in time to be installed and removed in the tight timelines allowed by the venue itself.
Needless to say, Leaders Week in NYC went off without a hitch. Attendees were treated to multiple presentations covering fan experience, sports broadcasting, storytelling in sports, and more. Executives from all over the world shared intelligence, sparked discussions, and—in the process—helped further shape the future of sport.
What's Next for ARC and Leaders
 "We try to reuse as much as we can of what ARC produces because it allows us to be sustainable," said Harriet. With events throughout the globe and ARC's ability to deploy teams in Chicago, London, New York, Atlanta, Las Vegas and beyond, "as much as we can" happens to be quite a bit.
When it comes to Leaders heading back out to New York for the 2020 event, of course, Moorhouse and the ARC-UK team will be on hand to craft yet another fresh visual experience for Leaders.
For more pictures of the graphics and exhibits that Leaders and ARC conceptualized and produced at NYC Leaders, have a look at Riot's Flickr page.