Signage and Graphics for Rose Bowl Stadium
On January 1st, the Georgia Bulldogs needed double overtime to take down the Oklahoma Sooners. It was their first Rose Bowl victory in 75 years. For Riot Creative's L.A. team, though, seamless execution at the Rose Bowl has become just another day at the office.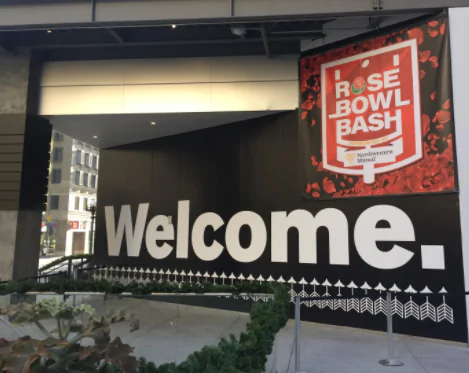 Riot provided signage and graphics for the game, one of the biggest in college football, for the second year in the row. But outfitting the 11th largest stadium in the United States on a national stage wasn't as simple as Riot made it look on game day.
Production and Logistical Prowess
From the welcome banner to the trophy presentation signage all the way down to the goal post pads, Riot brought the Rose Bowl's graphics to life for over 90,000 fans. Shuttles, locker rooms, media rooms, and even the hotels for players and special guests were plastered with Riot's color.
It all happened in three phases from October to late December. Riot produced, cut, and mocked up the prints for approval before coordinating delivery. Oversize print delivery also had to be carefully coordinated with the client: Siteline Productions.
All this despite the fact that, less than a month before the game, it hadn't been decided which teams would be playing in the game. That meant no one knew which team logos were going to be emblazoned all over the stadium, in hotels, and around the city.
RIOT waited in the wings to produce, cut, and deliver dozens of custom prints
Phase III Goes Off Without a Hitch
Even in the face of the time crunch, L.A. Riot's manager, Darlene Smith-Miele, and the whole team made sure all the work came together well ahead of game time.
Jennifer Arnold, assistant manager, handled the bulk of the coordination efforts with the client while Evan Gaydon, regional sales manager, managed all aspects of the client relationship. Siteline Productions, the event manager for the past 17 years, plans to work with Riot L.A. next year to once again bring the Rose Bowl's signature colors to life.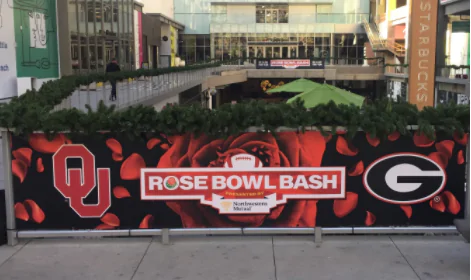 Have an event coming up? Whether it's the Rose Bowl or a tradeshow, Riot will take care of all your graphics and signage needs. Check out Riot's Inspiration Board to get a feel for what they can do!
Related