During its nearly 30 years of operations, ARC Document Solutions has grown into the leading print services provider to the construction world. As the use of print was declining over the last decade or so, ARC was actively investing in technology to deliver print services more efficiently and cost effectively, which allowed them to expand their reach into a broader market.
While legacy industries get disrupted in every spectrum of business, Suri, our CEO, had a vision for what the future of work could look like for ARC employees during the company's next phase of growth. But how does a legacy company like ARC transform itself to remain relevant and meaningful to its customers?
One of the key elements to this puzzle was to develop a creative and innovative work culture in ARC. The existing space was a traditional workspace with lots of walls and a layout that forced separation between teams and had staff working in crowded conditions. It was time to search for a new office space – a search that ended at the Bishop Ranch business complex in San Ramon, CA.
The idea Suri had was to create a very different workspace. One that is inviting, relaxing, comfortable and elegant which will result in a different work culture. A culture that is progressive and will support creativity, innovation and collaboration.
With that being the primary focus he also wanted to:
inspire a connected workspace that was inviting – a place the staff would feel proud of, that would excite them about working in the office
design a corporate headquarters to inspire our customers
create a workspace that reflects our commitment to the industry we serve, our customers and our employees.
This vision became the foundation for building the workspace that is now the "Inspired New Home" of the ARC headquarters.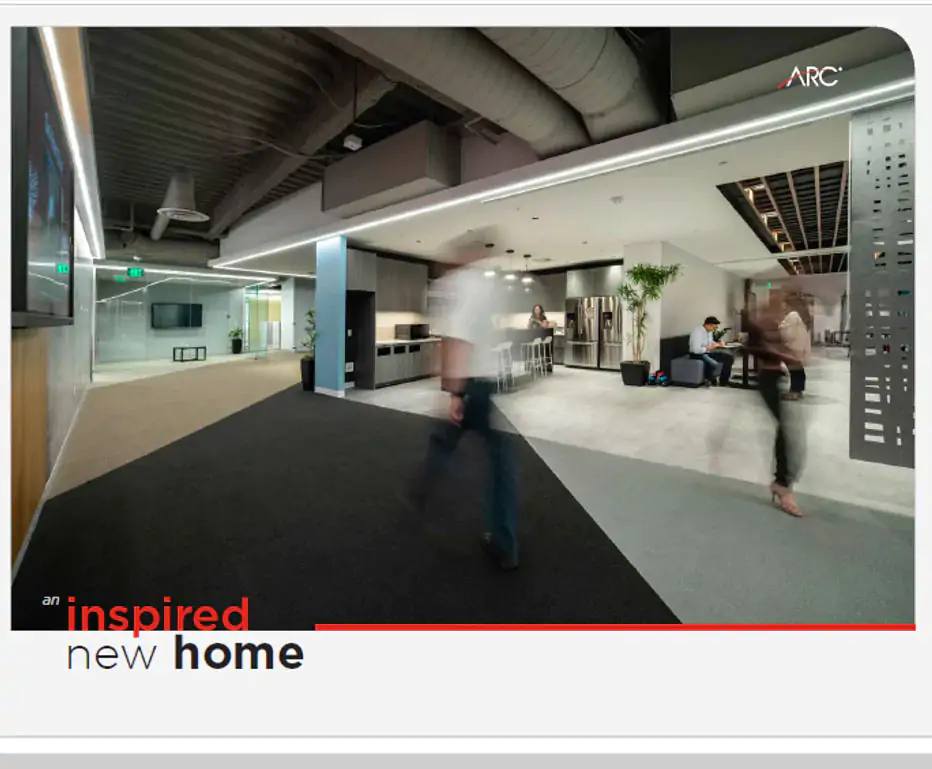 A Vision for Connecting and Collaborating
Suri was intent on creating a work environment that would inspire and create a progressive work culture; one that was comfortable, elegant, flexible, productive, and most importantly, stimulated collaboration.
It was essential that this be a place where the ARC home office staff would thrive and contribute to ARC's continued success in today's hyper-competitive markets, where every legacy business is being disrupted. In effect, this required a digital transformation of how employees at ARC corporate headquarters get work done.
"Our customers need and deserve a continuous stream of innovation to solve problems that are evolving within their sphere of influence – whether it be construction, design, engineering or facility management," stated Suri. "Bringing staff together in a collaborative environment would facilitate an active exchange of ideas, building the best products and services faster, and the sharing of best practices."
Conceptualizing the Office Space Theme
Creating a transformational experience that would be relevant, unique and inspiring, required serious consideration. This strategic initiative was far more complex than simply applying graphics to walls.
The ARC Corporate Marketing Team, under the leadership of Sr. Director, Product Marketing, David Villarina, was recruited to establish a theme for the office space and visualize how that theme could be implemented using fresh and innovative graphical treatments.
In turn, the Marketing Team engaged their colleagues who are experts in environmental graphic design at the ARC-owned creative production company, Riot Creative Imaging.
The team agreed to view the workspace as a complete experience – or artist's canvas – as opposed to addressing each wall separately. The theme and how it was expressed needed to:
relate to the industries ARC serves
align with the ARC brand
foster inspiration and productivity from its audience (staff, customers, partners)
be visually appealing and energetic
leverage the marketing team's capabilities as well as the production and service capabilities of Riot Creative Imaging
It quickly became clear that making buildings the center of the office space theme was the way to go.
Planning and Executing on the Unexpected
Conference Rooms
The team researched and selected buildings to be featured in each of the 12 conference rooms and a training room to create a distinct identity in the form of wall graphics.
Each building image was selected for a distinguishing feature: size, shape, use, construction method, materials or even cost.
Each room includes a SKYSITE SmartScreen which, when not being used by ARC staff to interact and collaborate with external parties, rotates through a display of other building facts and photos.
Privacy screens in the form of architectural floor plans were produced for each conference room in the same color palette as the wall graphic.
Most conference rooms contain a full-wall whiteboard that provides yet another productivity and collaboration tool for the staff.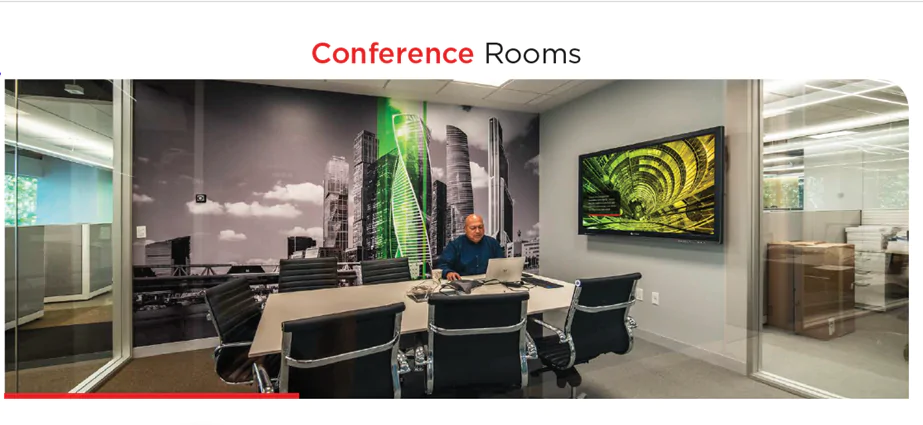 Collaboration Areas
The designated collaboration areas are all about bringing staff together in a relaxed setting. Imagery representing the ARC customer base of construction workers, facility managers, and other built environment professionals was used for the wall treatments – with a twist.
A halftone effect was applied to photography, which stripped the resolution from the photography and generated countless dots to represent the image. The effect: up close it is nothing more than texture made up of circles. Stepping back from the wall, the image slowly begins to reveal itself into clear image.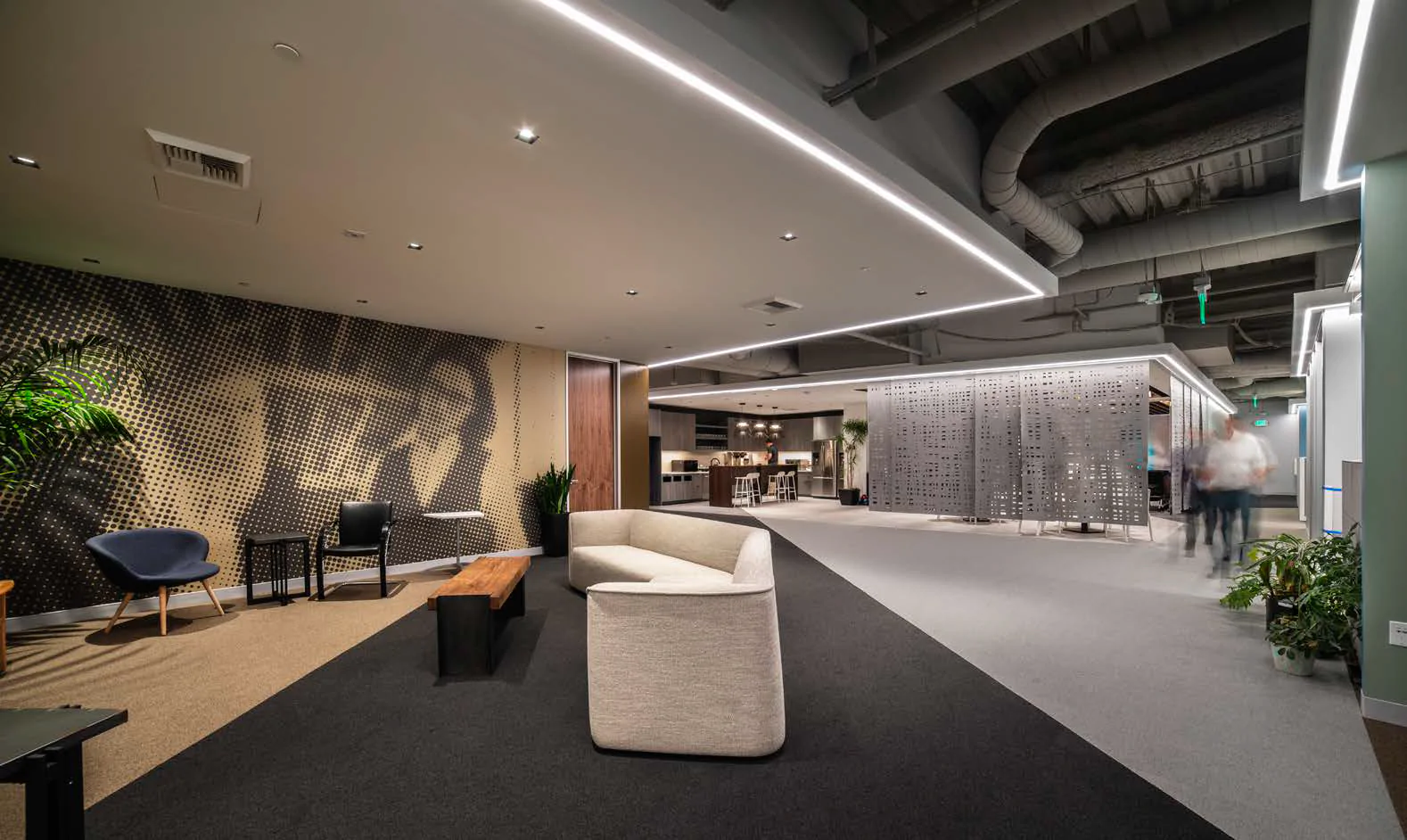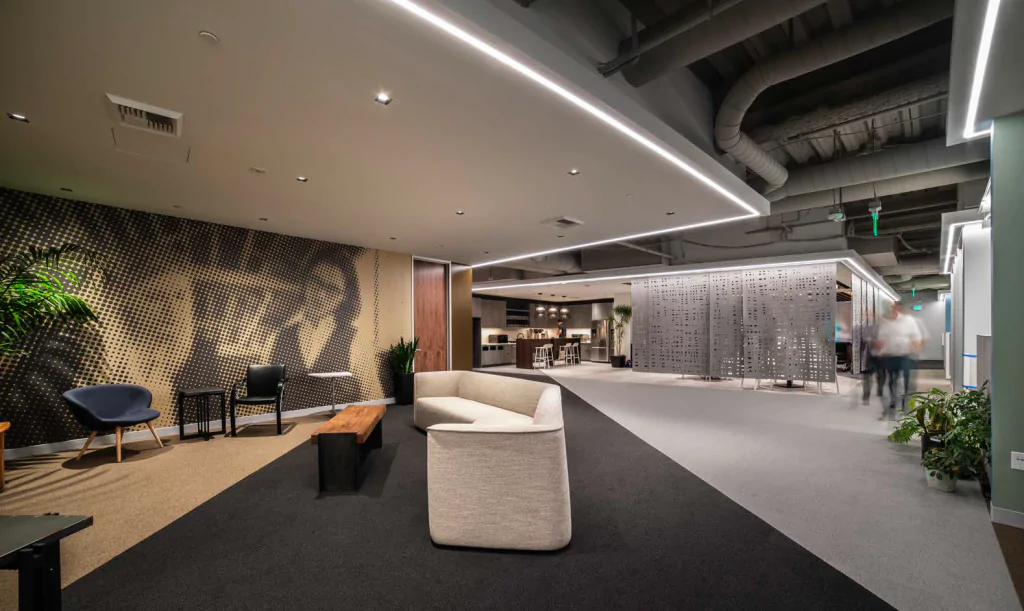 "Our new home has been designed for increased collaboration, easier communication, and greater connectivity between functional groups," stated ARC CEO, Suri Suriyakumar. "The ability to take a few steps down the hall to connect with a colleague in a different department has already proven to generate more ideas, create stronger professional relationships, and make our staff far more efficient."
Floor Imagery
Graphical treatments have been applied to the floors in the demo and server rooms. The desired outcome was to generate an unsettling environment for each room.
The floor of the demo room, which is filled with many of the latest-technology printers and other hardware, displays an ocean scene with waves breaking on a beach. In the server room, graphics of large steel riveted panels – many severely worn, dented and rusty – were used.


Three Walls – Three Separate Themes
The Founding Brands wall includes a list of more than 160 successful companies strategically acquired over the course of ARC's history – for their talented management teams, geographic presence, and significant market share.
The company names are presented in a composition which generates a texture. When standing away from the wall, the names come together to reveal a massive ARC logo above them.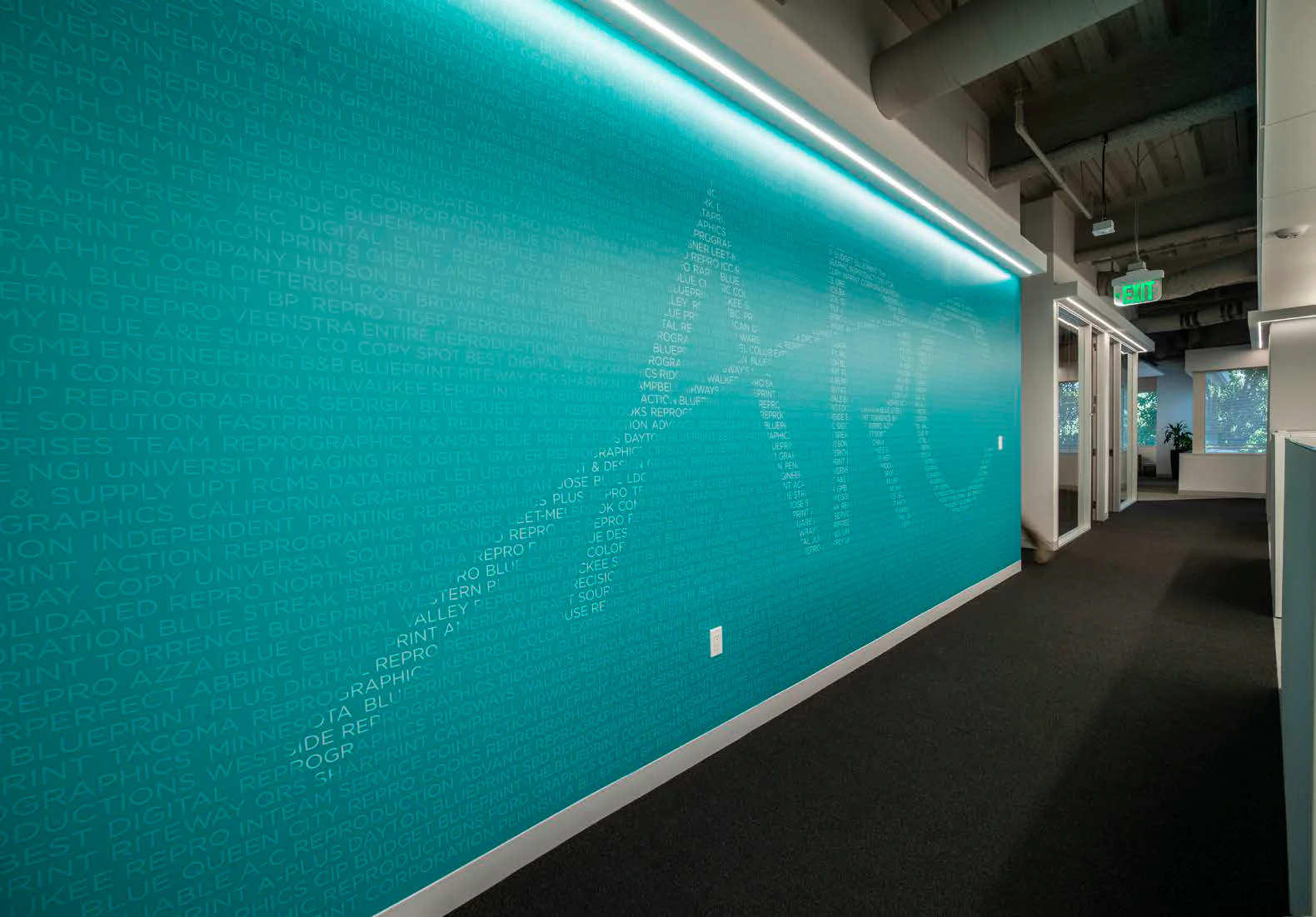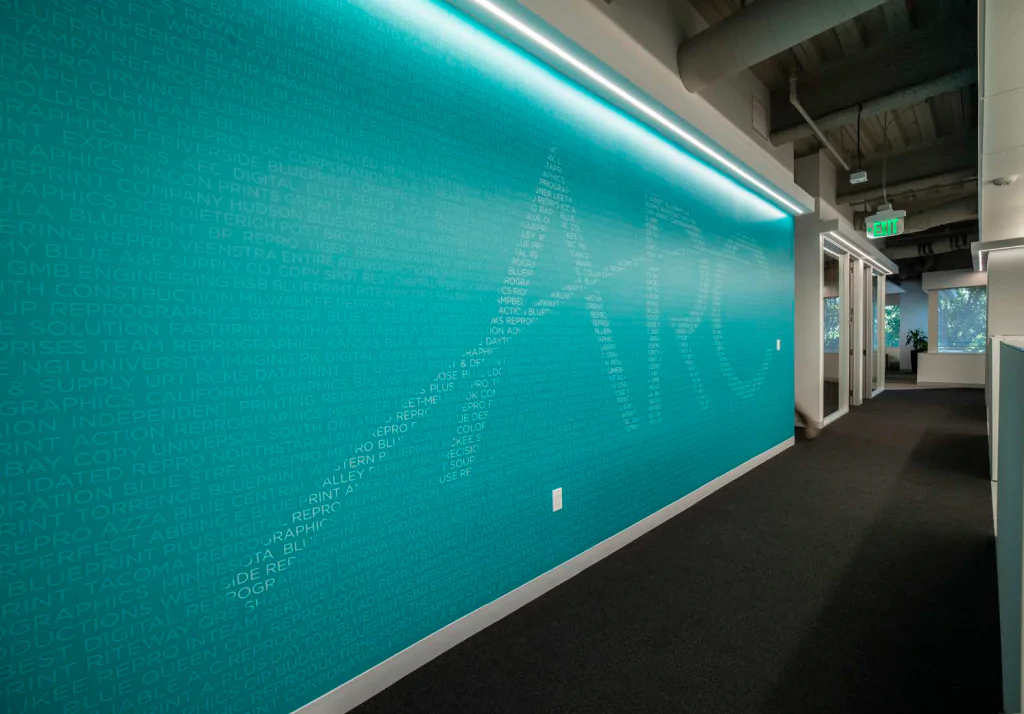 Over 30-feet in width, and custom-built to hold over 700 lbs., the main attraction of the Building Inspiration wall is a 5' by 18' sculpture. The wall is made up of 90 titles that feature customer quotes, materials used in the construction of buildings, and images of people who represent our customers.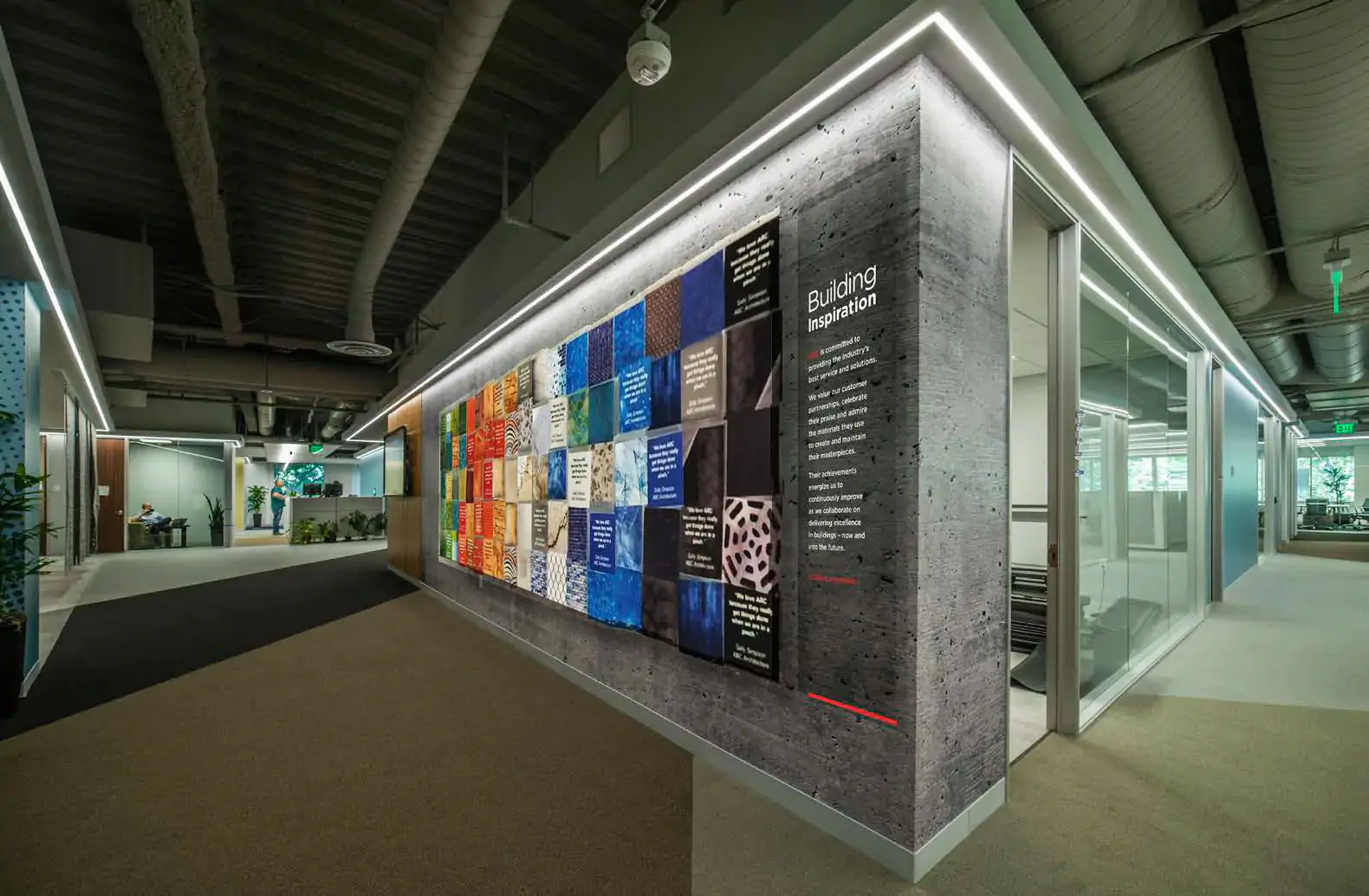 The feature wall titled "This is ARC" is dedicated to ARC staff and is intended to be interacted with on a daily basis. There are varying sizes of moveable magnets with images of ARC staff, offices, and events, along with other elements that contribute to who the staff is as a company.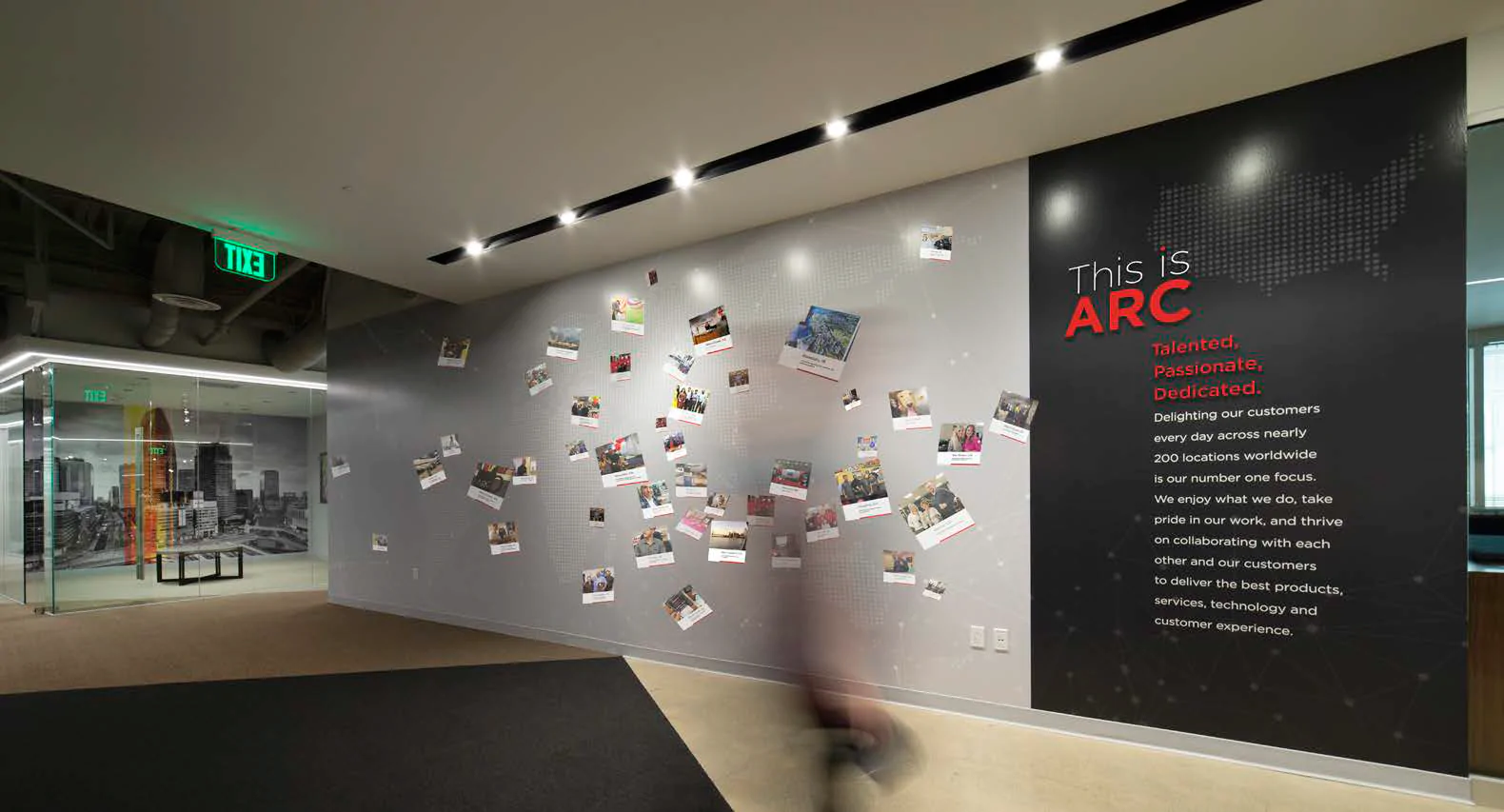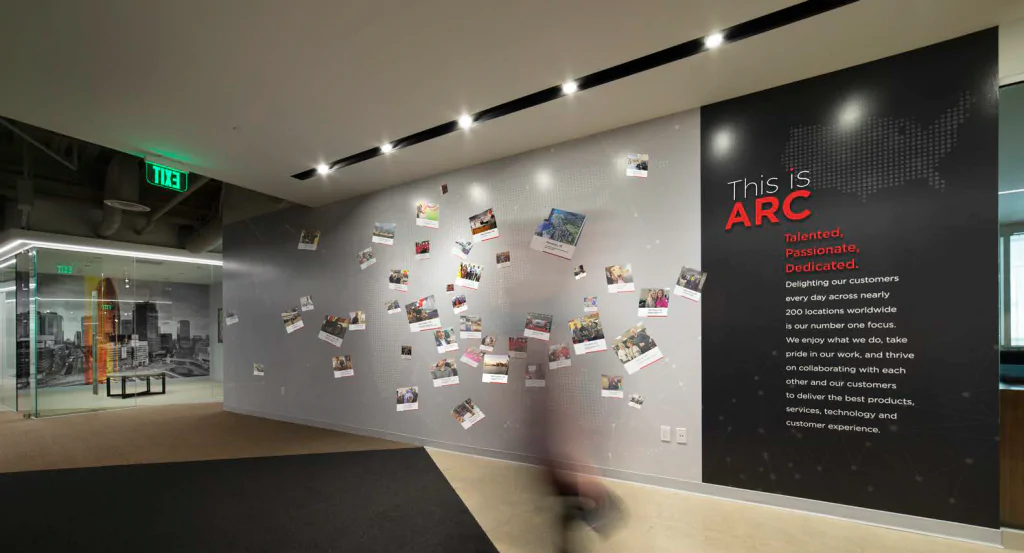 The office has an open space layout with low-walled cubicles. The executive team sits in an open work area that makes them more accessible to each other and others. The location and layout of the kitchen, cafe and dining areas facilitate staff getting to know one another.
Every step of the journey towards creating the new office environment mapped back to Suri's initial vision of facilitating connecting and collaboration. This is what ensured alignment, defined priorities and assured results.
Each person involved with the project did so with passion and a desire to bring the ARC culture to life. Their hope is that the new space will be enjoyed by staff as they find opportunities to use it in new ways that stimulate engagement, collaboration and inspiration.
Suri had this to say about the end result:
"The office has been a way for us to showcase what we do. Our business partners, customers, vendors and other associates who have visited us in the new space have been stunned at what our marketing department, Riot teams, and other creatives at ARC visualized and implemented."
View the ARC Corporate office brochure for more imagery and to catch a glimpse of digital transformation at ARC. Or better still, stop by the office for a tour next time you are in the San Francisco Bay Area.