When's the last time you thought about how your print service agreement was structured?
If you're like most, your answer is probably somewhere between "never," and "I'll do it later."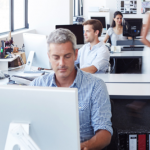 That's a shame because a properly structured print service agreement could save a significant chunk of your print spend. Printers and copiers are old school, but the way you use them doesn't have to be. Unfortunately, most service providers' agreements have made it impossible for their customers to be efficient with their printers.
Let's take a look at the roots of office printing to see how it's evolved—and why change is necessary.
The History of Equipment Leases and Managed Print Services
Businesses have been leasing equipment almost since the beginning of civilization. Evidence of these "leases" dates to 2000 BCE when farmers made recurring payments in exchange for the use of tools.
Fast forward to the 1960s, and equipment leasing was again poised for widespread adoption. Except by that time a few advances had been made. Among those advances, ancient plows and rakes had been replaced by modern copiers and printers. But these modern tools were still prohibitively expensive; businesses commonly paid up to $30,000 to buy a copier. On top of that, companies had to pay a fee for service on their new, complex machines.
This issue gave rise to what print manufacturers and dealers of the time called, "managed print services," or MPS. For 50 years, dealers convinced customers to sign fixed contracts under the guise of this term, "MPS." The problem with these managed print services was that the terms of the lease favored manufacturers and dealers.
A true managed print services contract—one in which the client's needs dictated equipment choices and lease terms—was unheard of. That is, until recently.
Finding a True Print Solution
Unaware of an alternative lease structure, businesses accepted MPS as the lesser of two evils. They obligated themselves to a noncancelable term. They made their monthly payment, and they used their equipment for a set term.
If business needs changed during the contract period, there was little you could do. To solve any service issues, you could try to cancel the service portion of your contract. But you'd inevitably face costly penalties and warranty issues.
Understandably, customers developed a distaste for copiers and the companies who sold them.
Switching the Focus: Giving Customers What They Need
Manufacturers make products, which dealers then sell and service. Selling services rather than products is not an idea that manufacturers, nor their dealers, embrace with open arms.
But frustrated customers under intense competitive pressure demanded a better way to print.
ARC® redefined MPS by structuring service and contracts around the customer. This redefinition started with the contracts. In place of rigid contracts, ARC formed flexible agreements designed to adapt to a customer's changing print needs.
New Technology Solutions Optimize Print
Here is an example of a floor plan before and after optimization.

ARC didn't stop at the contracts. They made improvements on printer activity tracking technology too.
By doing so, ARC enabled customers to optimize printing activities company wide. With this print optimization in place, customers are saving as much as 30% of their overall print spend.
Marrying Tech with Service
Professional consultants who live and breathe print efficiency work in concert with ARC's technology towards perfect efficiency. With fewer devices and standardized equipment company wide, your maintenance and training costs go down. Further, less time is lost on employees spending unproductive time pro wrestling with an unfamiliar printer.
In today's virtual workplace, you expect technology that helps you lower costs across the board. Yet, most MPS providers fail to deliver on this expectation. Fortunately, ARC does by providing better service, modern equipment and more flexible, customer-centric contracts. That way, you can adapt in a modern business world that is constantly on the cusp of innovation.