Facility managers face a demographic challenge that will only get worse in the coming years – an aging workforce that must be replaced with a younger generation of workers. Fortunately, other industries have faced and overcome this challenge before.
In the early 2000's, the U.S. nuclear industry faced a similar demographic challenge to the one that the facility management industry is facing today.
According to General Electric,"It was clear that with a large cluster of nuclear professionals approaching retirement, a younger workforce must be brought in to replace them in a timely manner." But, younger workers weren't applying for these job openings. Today, however, the nuclear industry touts a robust workforce in addition to a talent pipeline that is well-equipped to keep the United States' nuclear power plants running smoothly.
So what did the nuclear industry do right? And, what can facility managers learn from this succession planning triumph?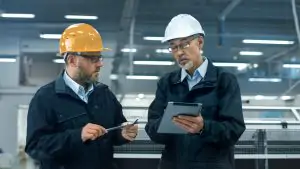 Facility Management Heading Towards a Talent Cliff
The problem is simple: 40% of facility managers will retire in the next eight years. And there aren't currently enough young people applying for facilities jobs to make up for this labor shortfall.
In a recent panel discussion, former president of the Chicago chapter of IFMA, Jerry Dicola, blamed the scarcity of training opportunities and an outdated view of the facility industry as major reasons for the talent shortfall.
He also noted that facility management is not recognized as a professional career, which is painfully true. In fact, it wasn't until this year – after an appeal from IFMA – that the Bureau of Labor Statistics created a separate Standard Occupational Code to officially recognize facility management as its own career.
Whatever the causes of the talent gap, though, facility management must find a way to attract new workers while minimizing the loss of knowledge from retiring workers. In a study conducted in late 2017, the Association for Information and Image Management (AIIM) found that 63% of facilities teams spend more than four months training new employees.
So, is there a way to minimize knowledge lost from retiring employees while onboarding new employees faster? YES! Keep reading.
The Nuclear Industry's Talent Gap: How they Solved It
A report by PwC stated, "Unless utilities organizations can find ways of successfully embedding the knowledge lost as seasoned workers leave — and persuading a younger generation that the sector offers career opportunities exciting enough to stick around for — they will struggle to keep America's lights on."
Sounds familiar, doesn't it?
As mentioned earlier, today's nuclear industry does have a robust workforce. That's because the industry made an effort to focus on three initiatives: creating a clear career path, adopting technology for knowledge retention, and adapting their training strategy.
To create a better path for young workers, the Nuclear Energy Institute studied the problem and partnered with other stakeholders to create an education and training structure. Today, 27 community colleges train nuclear technicians, and 30 universities offer nuclear engineering courses.
To aid knowledge retention, several utilities gave older workers mobile devices with cloud-based apps in which they could quickly and easily take field notes. This made it possible for these organizations to still make educated decisions even after these workers had left.
Finally, to improve training plant operators catered to the vast differences in learning styles of their trainees, especially among Millennials and Baby Boomers. As a result, they developed training programs in which younger people could thrive. Specifically, they leveraged digital technology to allow hands-on, virtual training.
Bringing Facility Management Up to Date
Facility management has what workers want. There's opportunity for growth, a dynamic work environment, and a clear path to advancement. Not to mention, now and in the coming years, there will be lots of job openings. It's just that facility management as an industry has not done a great job of projecting the image of a modern, viable career path.
The good news is that efforts are underway. According to IFMA, the number of programs that offer FM credentials is on the rise. You can find a number of accredited programs on the FM Academic Registry.
But FMs still need to get more active when it comes to recruiting young talent. One place to start is IFMA's Global Workforce Initiative. This initiative pairs facility professionals, businesses, teachers, and students in an effort to educate young people about FM and provide staffing opportunities for facility managers.
Besides getting out and educating young people about facility management, FMs could also do with an internal update. Our studies have found that, especially when it comes to managing their building documents, facility managers rely on outdated processes and technology. Facility managers need to take a page out of the nuclear industry's book and start integrating technology into their daily operation.
This will result in a more efficient process for transferring knowledge to the next generation and an improved external perception of FM.
A Simple Problem with Complex Solutions
We couldn't hope to lay out facility management's path forward in a single article. That's why we wrote two in-depth papers on the journey ahead for the facility management industry.
The first is about the facility management brain drain and how you can address the knowledge transfer challenges that it presents.
The second is about the lack of incoming talent and strategies for attracting and retaining a multi-generational workforce.
Not only can mobile technology and particularly mobile facilities dashboards help attract new employees and reduce the risk of retiring workers, it can significantly improve productivity. In fact, the cost savings more than pay for the mobile dashboards. Calculate your potential savings here.
We encourage you to read both for ideas and strategies that you can use to do your part in reversing the labor shortage. A robust facility management workforce is not only good for the industry, it's also good for the productivity of our entire economy.