With 190 locations, it's easy to get dedicated local customer service including shipping and delivery anywhere.
ARC Large-Format Literature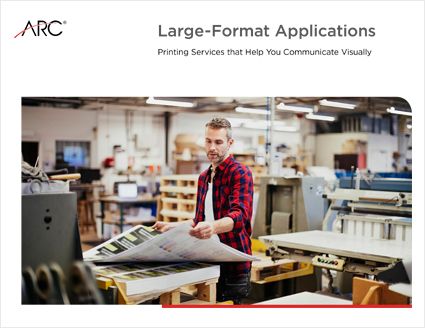 Large-format applications for any
industry or environment
Click to download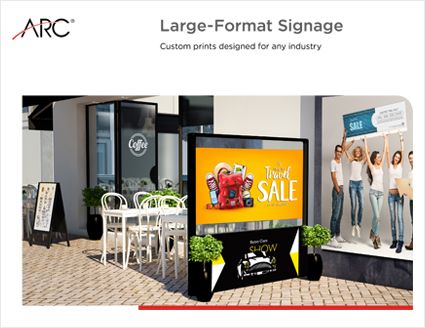 Advertise and promote your
business with large-format signage
Click to download
Our customers love us, read what they
have to say about us
Modesto
Jessica Belcher is a great resource at ARC Modesto. She\'s always knowledgable, respectful and patient.
Anchorage
The ARC Staff at the Alaska office to include Lucille and Emma are amazing to work with. Thank you both for your professionalism and friendly service. Your attention to detail and quality of work is excellent. Thank you for all you do to support our organization.
San Leandro Equipment and Supplies
ARC staff is incredibly friendly, helpful, and professional. Thank you Marvin and Tory!
Dayton
Can always count on you to have the prints when we need them. Always friendly, professional and do quality work. THANKS!
Crown Point
Always quick and very friendly!
Charlotte
Ordered a 24\" x 36\" color plot mounted on a foam core board for a client presentation. Finished product looked excellent and was delivered ahead of requested delivery time!
Farmington
Excellent response time and a quick delivery!
Ontario
ARC always does outstanding work! They are reliable and their customer service is top notch! Thank you for making my job easier! Sandra Atkinson
Crown Point
Amazing team down at the Crown Point ARC! I especially want to give a shout out to Nate and Becky who have always printed my drawings or did whatever I needed in a timely fashion. They are an awesome team to work with. Thank you both for everything you have done for me and LGS Plumbing. :)
Farmington
5.++++! Jamie and Annette are amazing they are so on top of every thing I have for them. Great quality and awesome service. I couldn\'t be happier with ARC. They are the best!
St. Petersburg
Expert printing and mounting services on large presentation boards!
Farmington
Ark knows best! They are constantly meeting and exceeding our needs!
Ontario
Kellie, Dave, and Alfred always provide great service. Thank you!
Ontario
I have had a great experience here every time we use ARC. I email what I need printed and within minutes I get a email saying it\'s ready. The customer service is great! Always greeted by smiling faces and positive attitudes.
Ontario
ARC always goes above and beyond and is the only printing service we recommend.
Ontario
Excellent service. Good communication.
Charlotte
Ordered and delivered on time. Thank you!
Ontario
Excellent service and friendly staff - from the delivery driver to the technicians and manager - all very professional. Thank you!
Farmington
ACR Farmington is ALWAYS on time, professional and no mistakes.
Austin
Alex Parma is an excellent representative for your company.
Farmington
We have been using ARC located in Farmington, CT for over 30 years. Anything we request from them, they get the job done! Reliable and dependable!
Farmington
I was a tad bit skeptical at first but being with this company for the last few years they\'ve proven to be reliable and dependable. They are attentive to the smallest and yet biggest of any issue I\'ve dealt with. Hat\'s off to Jamie Fox and Mike Solenzio for providing nothing less than exceptional service. Annette is also an amazing attendant that makes ordering supplies a breeze! Everyone is friendly and they communicate well. They are highly competitive in the g...
St. Petersburg
Reached out to the store over email with a rush job to get at-least 500 colored prints by EOD. They were extremely quick in following up to all my emails keeping me updated on the jobs status. I appreciated this since these prints had a major effect on keeping my business running smoothly. 6/5 if I could rate higher, will be back to keep giving them my business.
Austin
I\'m so happy I found you guys! You provide incredible services & have the LOWEST printing costs around Austin! I\'m grateful to have found such a Reliable and Trustworthy team of people. Joseph, Nancy, Laura and the entire team.., You are FUN people to be around and more importantly you guys remove the stress when it comes to needing prints in a hurry..., When I need Fast prints, You are ON IT! Thank you ARC!!!!!
Ontario
Once again, Kellie and Alfred at ARC have saved me!!! I had a LARGE print job with spec books and drawings for six different sites. They NAILED it and got it to me in plenty of time!! Thanks again ARC!
Farmington
Annette is the best! Responsive, easy to work with even when my PDF had some problems. Worked thru them quickly and got a GREAT product. Thanks!
Farmington
Have been a customer for at least a decade and we are always thrilled with the quality of work and customer service that Jamie and Annette provide to our team!
Farmington
We consistently receive superb personal service from Les, Annette and Jamie which is vital for a 2 person design firm.
Farmington
ARC is always very helpful and efficient!