With 190 locations, it's easy to get dedicated local customer service including shipping and delivery anywhere.
ARC Large-Format Literature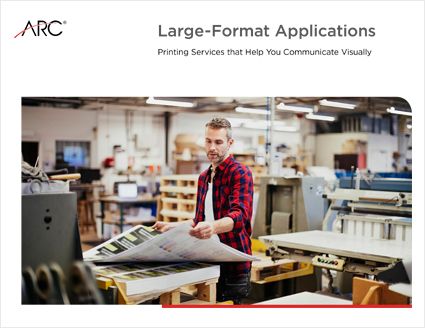 Large-format applications for any
industry or environment
Click to download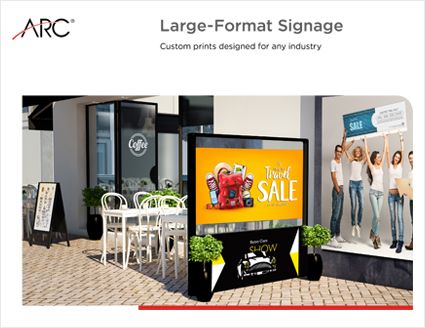 Advertise and promote your
business with large-format signage
Click to download
Our customers love us, read what they
have to say about us
Mobile
Janice Pleasanton is always willing to help and is the best when training and preparing you to run a store. Thanks for all you did for me!
Ontario
Great service and quality prints.
Mobile
They are fast and efficient! We literally use them almost every day.
Ontario
Great service and always on time with delivery
San Carlos
Quickly available and always reliable, friendly, and on time.
Cranston
Incredible service. Would not use anyone else.
St. Petersburg
Quickest turn around on a print I have ever experienced. They are super kind and will work with you to get what you need. The prices are really cheap, totally affordable! 100% Recommend!
King of Prussia
I\'ve been using ARC for years. The printer I used before this was unreliable. I would send an order and it might be 48 hours before it was ready. In the A/E industry, that doesn\'t work. ARC in King of Prussia always has my order ready when I arrive. Large and small orders are ready in 15 minutes or less.
King of Prussia
Any supply order requested is filled same day and supplies received in three business days. Exceptional service at all times. Any service call placed received same day service. Highly recommend this office for any printer needs.
Glendale
Oscar and Marta always go the extra mile for us. Way too many times I've asked for work to be done at the last minute and they're always polite and responsive and make it happen. You cannot ask for anything more these guys are the best we love them!
Farmers Branch
Absolutely fantastic customer service! I asked more of them then I should have and they handled it no problem. Great people!
San Ramon
Great Job! Excellent customer service and attitude. Always willing to go the extra mile to get it done! Thank you.
Thousand Oaks
Louie is the best - quick, efficient and has never let me down!
Riverside
Always very professional and prompt with every job done for us.
San Carlos
The San Carlos team always exceeds our expectations in quick service, great prints, and friendly staff.
Denver
Lisa and the team at ARC are always able to accommodate my tight schedules and ask questions to make sure the job gets done right! I\'ll continue to use them and recommend them highly!
San Carlos
The San Carlos team is the best! Professional, personable, knowledgeable and responsive!
San Carlos
Scott and the team at Arc are amazing! They do great work and are always there to help with my tight deadlines. Keep up the great work.
San Antonio
ROSA CANELO - DOCUMENT SOLUTIONS CONSULTANT OFFERED GREAT SERVICE IN REGARDS TO PRODUCTS AND PRICING - PROVIDED ALL INFORMATION NEEDED FOR OUR SCHOOL DISTRICT TO OBTAIN PROPER SIGNAGE NEEDED FOR EACH OF OUR CAMPUSES - GREAT CUSTOMER SERVICE AND COMPANY
South Bend
ARC handles our printing, scanning and bid prints for our clients and projects and has always done a fantastic job. Ryan, Robin and their team are quick and professional. We rely on them and they follow through!
Pasadena
Even though ARC may be a large national company, Robbie, Ramon and the rest of the Pasadena team treat customers with all the friendliness and charm like it is a small town shop! It is always a delight to work with them. Regardless of how crazy our deadline or project may be, they are always wonderful and cheerful.
Newark
Anthony went above and beyond to get a printing job done last Friday. Came up to office to check out printers and when we decided an internal server issue arrange to get me prints back the same morning. Thanks again!
San Rafael
Just like most of these other reviews, I couldn\'t more highly recommend this ARC location. Small but powerful. Thanks for helping me with all those last minute deadlines.
King of Prussia
friendly, expedient, enthusiastic, and highly responsive. can\'t say enough nice things about the professionalism ARC brought to my many encounters with them.
Oconomowoc
Dan goes above and beyond when assisting me to get the exact product I\'m looking for. Friendly and professional, great guy.
Ontario
Wonderful customer service - quick, responsive, understanding, goes above, and beyond to please their customers.
Mobile
even with these trying times Janice and Daisy still provide the best quality printing and service.
San Carlos
The best service yet! Had an urgent order that was handled professionally, printed perfectly and had a timely delivery. Greatly appreciated.
St. Louis Park
Had some issues with our platter. To our luck when I put in for service, Tom R. was near our business and was here with-in an hour. As always Tom kept us up to speed where things were at with the repair and did an excellent job, and was courteous as always. Great job!
Gaithersburg
I have been working with Adam Busenlehner for over 20 years. Originally at MBC, now at ARC. He is absolutely the best at what he does. His attention to detail is unsurpassed. Many times, over the years, he has expertly expedited our print jobs to meet client demands. I will always be a customer as long as Adam is at ARC. Many thanks, Adam