With 190 locations, it's easy to get dedicated local customer service including shipping and delivery anywhere.
ARC Large-Format Literature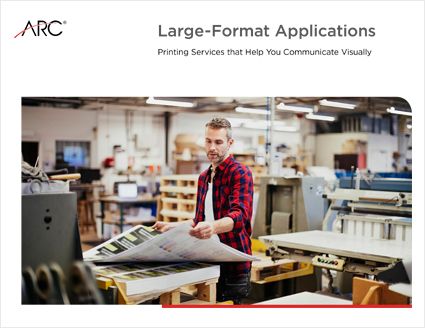 Large-format applications for any
industry or environment
Click to download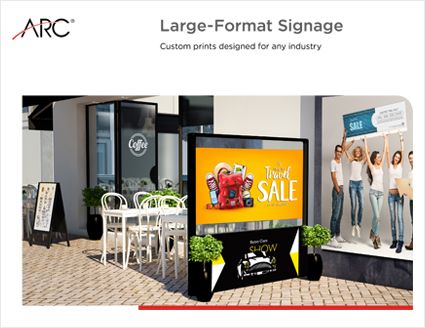 Advertise and promote your
business with large-format signage
Click to download
Our customers love us, read what they
have to say about us
King of Prussia
Worked with Pete K. during the COVID-19 crises and he and others at ARC helped us keep our client happy and our project moving. Very responsive and friendly, would not hesitate to use again.
Campbell
As always Campbell ARC comes through! They\'re open for at least the time being so that we can get our set of plans and be ready for the world to get back on track (whenever that may be) :-) Thank You Terri, Todd and Chris!!!!
Mobile
I just want to say how much we appreciate our ARC Mobile Branch. Janice and her team always go out of their way to get our jobs completed on a timely manner. They are the BEST!! Thank you so much and hope everyone stays safe and healthy!!
Morrisville
I have never had a bad experience with Arc. They have a tremendous attention to detail, extremely accurate and willing to work with my schedule under tight deadlines. They have a great staff with great leadership, great customer service. Highly recommended!
Farmers Branch
ARC has been very prompt in their responses & delivery, thanks.
King of Prussia
Excellent service, rapid response time and zero issues with ordering process. Will order again and highly recommend.
King of Prussia
Great customer service, always prompt and very courteous. Their upload site is very easy to use. The process is seamless and within hours your requested documents are delivered to your office.
King of Prussia
Great service. Pete answered some questions over the phone and was able to deliver my order very fast. Great service and great people!
King of Prussia
I use ARC in King of Prussia for all of my printing needs. They are fabulous. Always very helpful and fast! Thank You for making our jobs go smoothly!
Virginia Beach
Our jobs demand timeliness and professionalism. We get both. It is rare for our jobs to be delayed. And when we do get the finished product back from ARC, job is A-1.
Mobile
Great people!! Great service!! Always on time and wanting to help.
Murrieta
The turn around time from sending the order to completion and response was impressive! Thanks David
San Carlos
Friendly, fast, accurate, professional.
Chicago
Always reliable, communicative and prompt. We couldn\'t do our work without you doing yours. Thank you!
San Carlos
ARC is always quick to respond, asks the right questions and completes print jobs (including delivery) at lightning speed.
Jacksonville
We truly appreciate the service that ARC provides for us. Rob is always helpful and attentive to our needs.
Bethesda
La Nguyen was helpful and knowledgeable. I received my architectural plans quickly.
Memphis
I can't, as well as the entire teal at our firm, say enough as to how much we appreciate every individual at ARC Memphis. Exemplary service with the utmost professionalism in every sense of the word. From the expected to the the unexpected to what I term as the "hair on fire" situations, David, Sean and everyone there have always delivered! We truly appreciate each and everyone there! Dianne Higgs TRF
San Carlos
I can\'t recommend ARC enough. Their commitment to their clients to do their very best I\'ve found no where else.
San Carlos
San Carlos ARC has been very quick to respond to my requests and they are always willing to do what ever it takes to get the job done. I couldn\'t ask for more...
Thousand Oaks
Louie and his team are always friendly and helpful. Highly recommend them for anyone that have any printing needs!
Farmington
ARC has helped so much with a getting prints around the country so that we can continue to provide great service.
Farmington
Over the last few weeks, we have had numerous sets of plans made at ARC. Les, Annette and Jamie have gone above and beyond in servicing our needs. Mike even made a delivery to our office of a set of plans that were missing. During this time of craziness is all our lives, we need to acknowledge people who still greet us with a smile and are willing to accommodate our needs. When all this passes and we resume our normal lives, let\'s remember and support those small b...
St. Petersburg
The service at the downtown St. Pete location is always outstanding. Every time I work with these guys they deliver exceptional quality and go above and beyond in customer service. I\'ve been a customer since 2007.
Farmington
During a crazy time and many are home working, ARC in Farmington produced prints quickly. Thanks Jamie and crew!
Farmington
Even w/ modified hours and this crazy health crisis, these guys are in the office getting it done, as usual. Thank you.
Jacksonville
ARC is a true business partner. I am excited to continue our relationship and expand services. They bend over backwards to help us on our projects and go out of their way to ensure we get what we need when we need it. I highly recommend using ARC for all of your business needs.
Farmington
Very accommodating to a complicated order on short notice!!
Farmington
Very helpful, professional and accommodating staff. I don\'t know how I could operate without them right now ! ! They are a pleasure to work with