With 150+ locations, it's easy to get dedicated local customer service including shipping and delivery anywhere.
ARC Large-Format Literature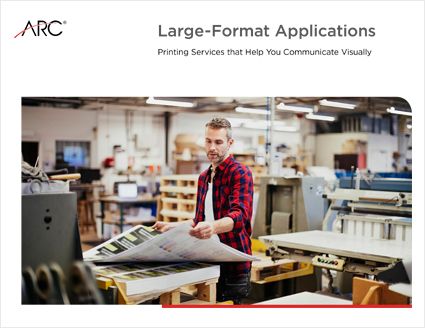 Large-format applications for any
industry or environment
Click to download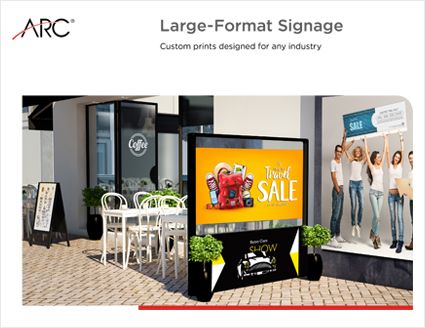 Advertise and promote your
business with large-format signage
Click to download
Our customers love us, read what they
have to say about us
Atlanta
My company, Epstein, is currently exhibiting at the International Processing and Production Expo at the Georgia World Congress Center and due to some shipping issues our tradeshow booth panels and graphics did not arrive at the show. Leaving us with nothing to exhibit in our booth. Not the greatest thing to be facing at an expo that is our greatest opportunity to meet with past, current and potential new clients. Yesterday morning, through a recommendation with ...
Stockton
Super reliable! Have always helped us with our blue print needs in a quick and efficient fashion. Highly recommended!
Stockton
Great service and quality. Highly recommended!
Stockton
Very quick service and pleasant experience. Thank you!
San Carlos
Service is A1. Great staff and very helpful.
Philadelphia
Great, friendly service. 5 stars!!!
Costa Mesa
Always timely and great customer service!
San Rafael
marry ellen is excellent,big helper,lucky to have her
Indianapolis
Stop by to see what services they offer. Overall they are a wonderful company, Great staff, was treated wonderful.
Tysons
So thankful for their work, especially Janet and Elmer. They are always there to help. Thank you for your hard work.
Farmington
Fantastic, fast, so helpful! Jaime did the extra mile always! Everyone there wonderful! Go there!
San Carlos
Customer service is wonderful, been working them for years. Linda & Steve are fantastic to work with.
Ontario
Always on time! Always correct.
Woodland Hills
This office is the best. They get my plans done on time, and the best personnel. Five stars all the way.
Woodland Hills
Great service. Always help me with my deadlines. Priced fairly. Always keep promise. Keeps me abreast of my errors.
Woodland Hills
Always Professional! Always on time! Great customer service!
Orange
Amazing service. They understand everything I tell them. Accurate. Thank you!!
Costa Mesa
They did amazing work and I heard from the client this morning and they are also thrilled with the outcome! The installation team was really great and dedicated, we appreciate
Ontario
ALWAYS: friendly, helpful, professional, great communication, quality service & product!
Ontario
Very helpful and nice people!
Farmington Hills
Excellent service. Quality prints. In my budget.
Stockton
Don and his staff at ARC Stockton are always quick to respond and provide great customer service in the event non-standard issues are encountered. Thanks so much for the professional and reliable public circulation of the City of Lathrop\\\'s construction solicitations! 5 Stars to them.
Ontario
I got to work with Alfred. Had his speed, & efficiency was above the chart. He made things easy, and got the job done. Thank you!
Mobile
These ladies are amazing to work with. So friendly, kind & helpful.
Stockton
They are absolutely amazing, quick and on time. Plus, the work environment is amazing!
Woodland Hills
Danny is always very helpful. I have worked with him for many years.
FAQs
We can print all sizes. 11'x17' to 36" wide by any reasonable length.
You can send us PDF or TIFF files.
Usually around $0.20 per sq ft. Special rebates are available.
We can print the plans while you wait. Please bring them to our office.
Yes, we can print from Auto Cad files, PDF and TIFF.