With 190 locations, it's easy to get dedicated local customer service including shipping and delivery anywhere.
ARC Large-Format Literature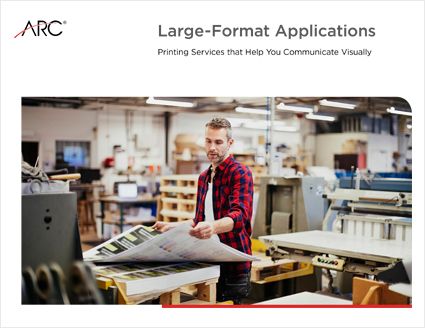 Large-format applications for any
industry or environment
Click to download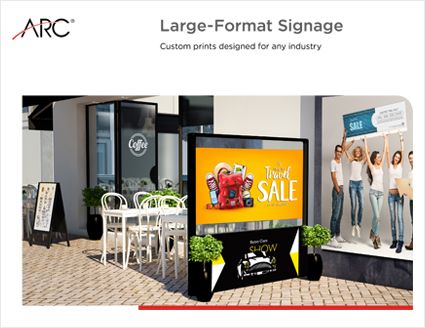 Advertise and promote your
business with large-format signage
Click to download
Our customers love us, read what they
have to say about us
Tacoma
We had a fantastic experience with ARC. The customer service was excellent. They we very easy to work with and communicate with. The did a great job on our Corex signs, and the turn around time was very quick! We will definitely be using them again!!
Farmington
ARC and Jamie Fox did a fantastic job getting our materials printed and delivered to the client in a timely fashion.
Farmington
There is not a problem that ARC can\'t solve. Their work is exceptional by Jamie Fox and Annette Higley who do the best and are forever pleasant. Quality all the way around.
Farmington
Jamie Fox went above and beyond to meet a critical deadline for our firm. His professionalism and desire to provide high quality print services was evident through out interactions. Stantec highly recommends Jamie and his team for all your custom printing and delivery needs!
Columbus
Jevon, Thank you for your prompt and kind service. Here is a little token of my appreciation. Your customer service is EXCELLENT!
Santa Clara
Great group that was able to help us throughout SIP in California. Johnny is the man!
Costa Mesa
Always amazing service. The gentleman in dispatch at the Costa Mesa location helped me track down my order even though it was printed at a location that had already closed for the day. He went out of his way to answer my question and it really helped my client\'s piece of mind to know their drawings were on the en route. I didn\'t catch his name, but I really wanted to thank him again.
Sacramento
David and his team at ARC Document Solutions are always there to help us out in a pinch. They have the best quality product & the quickest turn-around time. We constantly have last-minute proposal items, office signage, and much more that need immediate and detailed attention. Between TJ, Sharon, and David we always end up with a beautiful product. Randy our sales rep always makes sure to give us great pricing and the entire team is great at responding quickly via e...
San Diego
The staff & manager, Kelly, cannot be beat! They help us out of a production jam EVERY time! The quality of the work is top rate. I trust them with everything they do to knock out our deadlines. They are partners & long-time friends to our office. Thank you, always.
Van Nuys
I cannot recommend them highly enough. They are on time, quick, and get you what you need when you need it. I\'ve never had a sheet out of place. I don\'t print anywhere else.
Ontario
Super fast delivery of plans
Phoenix
We absolutely love the team at the Central Phoenix location. They are always so happy and ready to help! Even when you are little company, they make you feel like a priority! I wouldn\'t go anywhere else. Team ARC rocks!
Mobile
I love Janice and Daisy. I have been using ARC since it was still Southern Blueprint. These ladies are great. They pay attention to their work and they always get it right. God Bless them both.
Mechanicsburg
Dennis and his team at the Mechanicsburg location are always responsive, professional, and efficient. If you need print services for your business, I highly recommend reaching out to the Mechanicsburg team!
Tempe
We have been using ARC for around eight years and not only appreciate their high quality print services but their friendly, personal customer service. It is one of those places that KNOW you when you walk in the door and treat you as an important individual. We are a small nonprofit, so we are not a huge customer, but they still treat us like we are important. Tight deadlines are cheerfully accommodated. Pricing is the best! Thanks so much, Chris and Jesse, for alwa...
Houston
They get it done. What we need and when we need it.
Waukesha
The staff members were very friendly but more importantly they did a great job. The document processing they did for me was on time (faster than expected) and on budget. I will be using their services for any document services i need on the future.
Costa Mesa
When asked how the Grad Signs were received by the Students she said, \"They loved them...brought some families to tears!\"
Houston
Courteous and attentive service, and no problem with quick turnaround.
Houston
Excellent service , on time easy access and very friendly staff. Very happy customer!
Oconomowoc
Dan is incredibly efficient and always a pleasure to do business with. Quick turnaround and the quality of service is impeccable.
Houston
Everything has always been right on time and exactly how I asked. They have been great.
Houston
Amazing and thorough job! They got me exactly what I asked for, printed out and delivered on time. I am very impressed with their professionalism and attention to detail.
Houston
Wouldn\'t use anyone else in town for our printing needs. Always go above and beyond.
Houston
Printed signs promptly with exceptional quality. Always a professional experience with the smith st. team.
Ann Arbor
I have had nothing but awesome experiences!! Always quick and friendly. They never make me wait!! Love Arc printing!
Long Beach
If your firm is interested in obtaining High-Quality, responsive service, choose ARC. In the LB area, Edgar Mendoza and his staff at ARC set the standard for Customer Service!
Kansas City
This company goes above and beyond. I won\'t ever go anywhere else.
Gaithersburg
Always very pleasant and helpful. Very quick with completing orders. Happy to have them so nearby.