With 150+ locations, it's easy to get dedicated local customer service including shipping and delivery anywhere.
ARC Large-Format Literature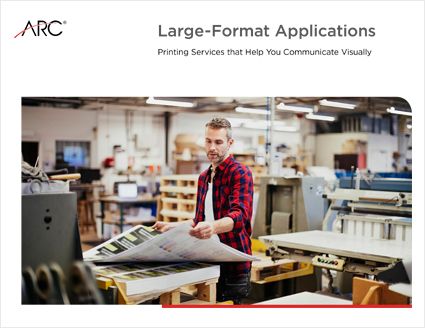 Large-format applications for any
industry or environment
Click to download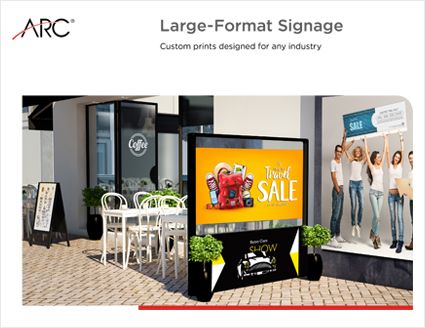 Advertise and promote your
business with large-format signage
Click to download
Our customers love us, read what they
have to say about us
Greenville
Never been disappointed in ARC! They are wonderful to work with, quick to turn around projects, and always quality-driven. Thank you!
Farmington
The staff at the Farmington office is great to work here. I have used them for over 4 decades and will continue to do so.
San Carlos
ARC San Carlos is great!!! my go to for prints! Scott and his team are the BEST!
Macon
Phil and Katie always deliver the quality and speedy service. I wouldn\'t go anywhere else.
Macon
Phillip is very efficient and gets my prints without a long response time.
Macon
Always receive excellent customer service here.
San Carlos
ARC and the team are the definition of exceptional. Scott, Linda, Steve, Rudy always take care of all our printing needs.
Oklahoma city
Always taken good care of our needs.
Memphis
Great service. Quality printing.
Philadelphia
Very special archival letters copied. Did a wonderful and timely job! I highly recommend!
Macon
Phil and Katie always deliver the quality and speedy service. I wouldn\'t go anywhere else!
San Carlos
Excellent working with Linda, Steve, Rudy and boss Scott.
Macon
Philip always does a GREAT job on my prints!
San Rafael
Mary Ellen is the best. Five stars. Always gets it done correctly.
Los Angeles
I send plans to my contractor all the time, and they always have them ready to go at a fair price.
Los Angeles
We love ARC. The whole team is always so warm, helpful, and accommodating, not to mention brilliant. Always make us and our drawings look good!
Los Angeles
Very helpful & friendly. Good people.
San Carlos
Steve, Linda and Rudy are the best! Always on top of the situation.
Cherry hill
I think ARC does a fantastic job providing service on a very timely manner, and Andy and Jeanne are very friendly!
Ontario
Wonderful customer service and orders are always ready on time... and Dodger fans!
Ontario
I have had the great pleasure of using ARC since 2006. Love, love, love the excellent service - to say \"above and beyond\" is an understatement.
Cranston
Wonderful, kindly people who will drop everything to do my small jobs while I wait. Consistent, high-quality work printing my hand-drawn drawings. Strongly recommend.
Farmington
Excellent and super. I give them six stars.
FAQs
We can print all sizes. 11'x17' to 36" wide by any reasonable length.
You can send us PDF or TIFF files.
Usually around $0.20 per sq ft. Special rebates are available.
We can print the plans while you wait. Please bring them to our office.
Yes, we can print from Auto Cad files, PDF and TIFF.