With 190 locations, it's easy to get dedicated local customer service including shipping and delivery anywhere.
ARC Large-Format Literature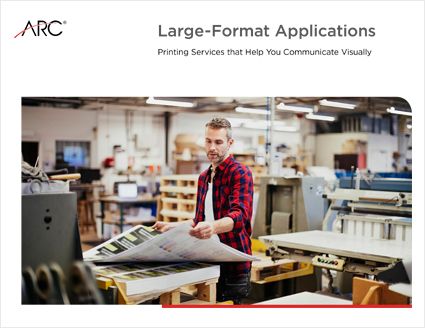 Large-format applications for any
industry or environment
Click to download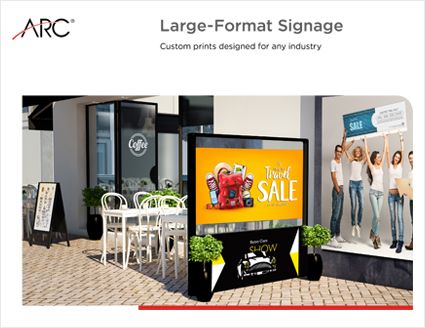 Advertise and promote your
business with large-format signage
Click to download
Our customers love us, read what they
have to say about us
Columbus
Always great service and timing!
Newark
Rodney Wright helped me at the Newark Gateway location and did an excellent job. I will definitely return for additional services.
Calgary
We highly recommend ARC Document Solutions and have been using them for all our printing needs, for over 10 years. All the staff are extremely knowledgeable, professional and always provide amazing customer service. All work is done quickly & efficiently, with keen attention to detail. Prices are very competitive and it's always a pleasure to deal with Richard who goes above and beyond to give customers the very best!
London (Hercules Road)
Hi my name is Angie, I like do business with ARC. their Printing Services are fast and friendly.... I like their Technology Service, strongly recommend...
Macon
The Macon Team rocks - thank you for every last minute print and binding job. ThAnk you for making me feel like a valued customer. The team is always friendly with great customer service and awesome smiles! You all are a GRAND asset to our company!!! Decades of great service can't be beat!!!
San Rafael
Mary Ellen and Eli are extraordinary - always helpful and always prompt when dealing with tight deadlines.
Oakland
You guys are the best! Thanks again for another quick turnaround.
Tucson
I\'ve been an architect for 50 years and have never worked with a better reprographics service than here. Additionally, they are the nicest people! Thank you
Las Vegas
These people are incredible at what they do. Variably the best copy, banner making, sign making and plan storage company in the city. If your going anywhere else you are wasting time and money. the service is second to none and with a smile always. Got to Love it Las Vegas!!!
Los Angeles
Excellent service and quality, as usual!
Aurora
Always great quality work! Thank you!
King of Prussia
Awesome service....has saved me in a pinch a couple of times. Very fast service.
San Francisco
Hands down, the BEST vendor for printing solutions in the Bay Area. ARC has never let me down, even under the tightest of deadlines. Excellent service, great friendly staff, and top quality products - everytime. ARC is the go-to place, and has been for many years!
Denver
Above and beyond. Out of this world. Vy is a star.
Las Vegas
ARC is great to work with! They turn around even our big orders very quickly and the entire staff is helpful and friendly.
Kenilworth
I am always happy with ARC's products and services. Shelia is always friendly and helpful. Probably the reason I prefer to pick up my prints rather then have them delivered.
Austin
ARC are the best! We absolutely love working with them. Our print orders are always correct and on time and they have the BEST customer service. Always cordial and willing to help. They go above and beyond. Highly recommended.
San Leandro Equipment and Supplies
Myrna Cruz really understood what I was looking for when ordering supplies. Thank you!
Costa Mesa
Michele was amazing today at your open house. Defiantly an asset to ARC. When ever I come into the front counter she is so personable and knowledgeable.
San Francisco
I can always trust ARC for their: - Responsiveness - Ability for quick turnarounds - Attention to detail We recently had a very large print job with an extremely tight deadline. ARC SF, Hooper and ARC Santa Clara came through for us in a big way. Highly recommended.
San Carlos
Friendly staff and great service and they did it all while I waited.
San Francisco
By far my favorite vendors to work with in San Francisco (or anywhere else frankly). These folks have gone above and beyond consistently for our production needs. I can count on their customer service and quality even in a pinch; so grateful to work with them!
Portland
Seamus and his team are always able to produce great prints (marketing boards and marketing banners) quickly and up to expectations. Great to work with!
San Francisco
The staff at the Jackson location is very helpful and always ready to go the extra mile in order to meet the client\'s expectations. Fast and excellent service!
Roseville
Kathy and Gina were amazing!! I had what I needed in 15 minutes with a smile on their faces. I cannot wait to do future business with them.
Oconomowoc
Dan does great work and is always so kind. We know we can rely on ARC for all of our printing and scanning needs.
Wichita
The entire team at ARC is extremely professional and gets each project completed ahead of schedule and with great quality! A very special shout out to Sandy who always goes above and beyond to ensure we get exactly what we were looking for!
San Carlos
Always fast, very conscientious, and most importantly great people working there. Walked in the other day an hour after sending in my order and Rudy met me at the door with my prints. Coincidence or perfect timing ;) ? Love working with ARC San Carlos!
San Rafael
Mary Ellen & Eli always provide prompt, personal service. I often require quick turn around on print orders and they always deliver. A pleasure to work with.
Gainesville
great professional service