With 190 locations, it's easy to get dedicated local customer service including shipping and delivery anywhere.
ARC Large-Format Literature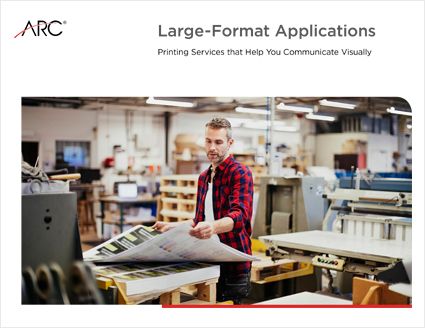 Large-format applications for any
industry or environment
Click to download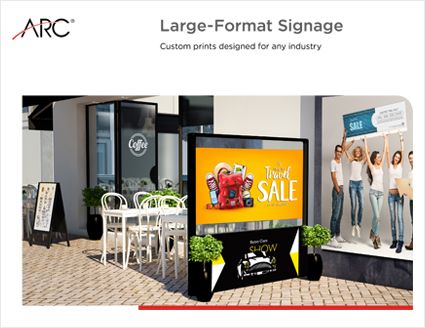 Advertise and promote your
business with large-format signage
Click to download
Our customers love us, read what they
have to say about us
Monterey Park
Thank you Desiree for getting back to me with the info and I'll wait to hear from you next week. By the way, I must say, you and your team are GREAT with sales and customer support! It's inspiring to hear your smile and care over the phone and even through email. Speaks well of you, your team and your company. No one sounds upset or sad or like they don't know what they are doing. I can always count on you and your team
Oklahoma City
ARC is the most professional printing service that I have ever worked with. Karen spent almost an hour customizing my project until it was perfect! At the end she revealed the price and I was shocked to learn how affordable my project was even after spending all that time with her. My final product was incredible and I couldn\'t be happier!
Tacoma
I fee had the pleasure of working with Stephanie and the rest of the Tacoma team for a few years now. And I could write the basic comment but it would not do them justice. I have given them requests that I was certain was too late to accommodate and they\'ve always came through. As an artist that works with bright colors, high detail, and multiple mediums in one work, having all of that come together in the prints is essential. The work that the Tacoma team does is ...
Mobile
Wonderful staff. Very Friendly and very knowledgeable. Service is prompt and the quality is the best.
Woodland Hills
Our company has been working with the team over in Woodland Hills for a while now and they\'ve been nothing short of outstanding. They always get projects done in a timely manner and are willing to help if any issues arise. I\'m glad to have such a great team to rely on.
Chicago
Quick, concise, friendly, professional and knowledgeable! A perfect combination! Thank you all!
Burnaby
We always get fast, friendly and great service from ARC!
Portland
Hi Shelly, I just want to send a huge THANK YOU to you and the team at ARC for the beyond stellar service with these recent orders. Everything worked out perfectly, and to be able to use your conference room for basically 2 hours to sort and collate everything was a lifesaver! Since my days @ MG2 (and the Ford Graphics Days) you guys have always been my go-to and will be in the future. Thanks again! Darren
Morrisville
Mandi and her team have been a huge help in allowing our design/build business to run smoothly. They print drawings for us very quickly and deliver them in record time. Any and all questions and projects I have, the ARC team has been able to answer and design for me. This location has been extremely pleasant to work with and I look forward to continuing business with them for as long as we are in the area.
Farmington
Excellent work, below budget and on time, every time.
Ann Arbor
I needed some glossy prints (.pdf and .tif) super fast. ARC Ann Arbor did a great job in almost no time. I\'ll use them again.
San Antonio
The colored pictures that Ed Perez printed were so bright that they looked like originals. I am glad I found your store as it is in a great location. I will recommend you. Thank you..
Mobile
We the Arc for all of our prints we need on jobs. The staff is always very polite, and they\'re super quick with getting our prints ready. 10/10 would recommend.
Columbia (MD)
ALWAYS Fantastic copying done, and quickly. Thank You.....
Ontario
Kellie is amazing! She went above and beyond to help with a situation I had been dealing with for weeks. Thanks Kellie!
Ontario
Kellie and her team our top notch. Always friendly, fast and accurate service. They are truly the best reprographics company around. Thank you for making my job easier.
Ontario
ARC Ontario is the BEST! Even during CoVid-19, they still manage to serve with a smile from the parking lot. As a home builder, like many others, business is booming adding to an already-stretched service availability challenge but the team at ARC Ontario never lets us down. Whether it\'s communicating realistic timelines or completing a job in a pinch, they always come through. Our success is a direct reflection of our wonderful partners, like ARC Ontario, so thank...
San Carlos
We\'ve been working with ARC for many years and have experienced a professional and helpful staff. We recommend them for their great customer service and being able to meet tight deadlines.
Ontario
Printing and pick-up was very fast. Thank you for the quick turn around and no run around!
San Carlos
I had a rush job that needed to be done that day. I was panicking thinking that it wouldn\'t be possible for me to print AND deliver these documents in the same day, but ARC got it done incredibly fast! By no later than 30 minutes of them opening did I have a confirmation stating they would be able to print it and that it would be done shortly. It saved me a lot of stress and they were incredibly efficient, kind, and easy to work with. I\'d definitely recommend thei...
Ontario
Best reprographics company ever worked with in my 25 + years in construction management. Always on point. Thanks for the awesome service.
Concord
For over 10 years, These Guys have always been the BEST! I do Graphite pencil illustrations and ARC has always earned my trust as a great source for my prints! Their service is excellent!
San Leandro Equipment and Supplies
Steven was the absolute best! He gave me many tips and tricks to the printer. Couldn\'t have asked for a better service call, very informative and clear on his directions!
Columbia (MD)
It is so easy to do business with this company. Greg is very responsive and friendly. Quick, easy and affordable. Conveniently located. I\'ll be back.
San Carlos
ARC has consistently been an awesome company to work with in the two locations I use in Campbell and San Carlos. I would highly recommend this service. The staff works very hard to provide great service and help get projects done in a timely manner.
San Carlos
outstanding customer service and product. exceeded my expectations.
Ventura
Had a fantastic first experience with ARC! Manny Lerma was patient with my description of printing required, and followed up with me during inception to pick up. Thanks for the assistance!
Phoenix
Absolutely fantastic customer service! Bri was humorous and professional. Our family was hurt by COVID and we haven't been able to do anything fun. Finally, as a treat for my husband and I, Bri designed some stickers we've been wanting. They turned out great. We will come back in the future!