Work-From-Home Print Ecosystem
Lockdowns and social distancing measures implemented to stop the spread of COVID-19 have fundamentally changed how our customers print.
Until now, they could rely on being surrounded by the technology their companies spent years investing in. From printers and plotters to SmartScreens and multifunction devices, everything was at their fingertips. But that's no longer the case, and we've been working with established and new clients alike to fill in the gaps. 
In a webcast called "Print from home – 3 changes to the print ecosystem and how to manage them," ARC's Frank Loughan, Vice President of Business Solutions, and Greg Schiemann, Vice President of Technology Solutions talked through their first-hand experience implementing best practices for dealing with the challenges created by the work-from-home print ecosystem.
You can listen to the webcast in full here, or you can keep reading for a recap of Loughan and Schiemann's three best practices for managing the new print ecosystem. 
The Challenge: Make "WFH" Printing Work while Prioritizing Safety 
Our new challenge is to help you safely conduct your daily business while fulfilling all of your print and distribution needs. Since you can limit your exposure to other people by working from home, many of our solutions make it more convenient, cost-effective, and safe to print from home. 
However, at the same time, many companies are returning—at least partially—to their offices. And that's why we've implemented solutions to make the office print environment as safe as possible too. For example, the ARC Print App enables you to use your phone to release your prints. That way, you don't have dozens of employees touching the office printer and potentially spreading germs. 
Before we address specific problems and solutions, though, it's important to note that this webcast recap is meant to present ideas and perspectives. You should always abide by the legal guidance and directives of your state, local, and national authorities. 
Problem #1: Dealing with the expense of low-quality, retail-priced home printers.
As Loughan explains in the webcast, most folks' home printers leave a lot to be desired: expensive ink refills, low-quality prints, limited functionality, and much more. 
Even worse, tracking expenses on your home printer is inconvenient and time-consuming. And for your company, footing the bill for expensive, retail-priced supplies and equipment is not cost-effective.
Solution: Work through your company to rent or buy small, affordable printers that fit on any desk or side table. Equip your workforce with modern equipment that comes with break/fix service, automatic supplies and deliveries, and the functionality to track print expenses to a project or a client.
Problem #2: Minimizing health and security risks in your office and remote print network. 
As mentioned earlier, many offices are partially open. Even so, you want to avoid high-risk activities associated with the office. 
To illustrate this, Loughan presented a common scenario: you're working from home and you need to print something on the office printer. For security reasons, most companies are strict about allowing access to the network from their employees' personal computers, and rightfully so.
But this presents a problem: how do you minimize potential exposure to germs when you visit the office to print something?
Solution:  At ARC we've developed a tool that allows you to email the office printer using a global private email address. That way, when you get to the office to pick up your print job, the files will be waiting for you.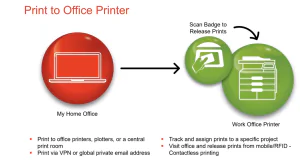 On top of that, if your company uses badges, you can use your badge to release the prints. Or, you can use the ARC Print App on your smartphone to release the prints. In either case, you minimize both the amount of time you spend in the office and the number of surfaces you come into contact with.
Problem #3: Simplifying the logistics of printing between homes and multiple offices. 
Another common print problem Loughan outlined was the instance many people find themselves in when they need to send print jobs to another city. Before COVID-19, you could head to your print room, get the job bound, and overnight it.
This is a lot of logistics to deal with. Plus it makes it more difficult to minimize your risk of becoming infected with COVID-19 because of the germs that could spread through communal use of a printer and the increased exposure you face when you go to the post office, UPS or FedEx.
Solution: ARC can be your new, contactless print room. All you have to do, even with complicated, specialty print jobs, is send your files from your home office to ARC, and we'll take care of the rest.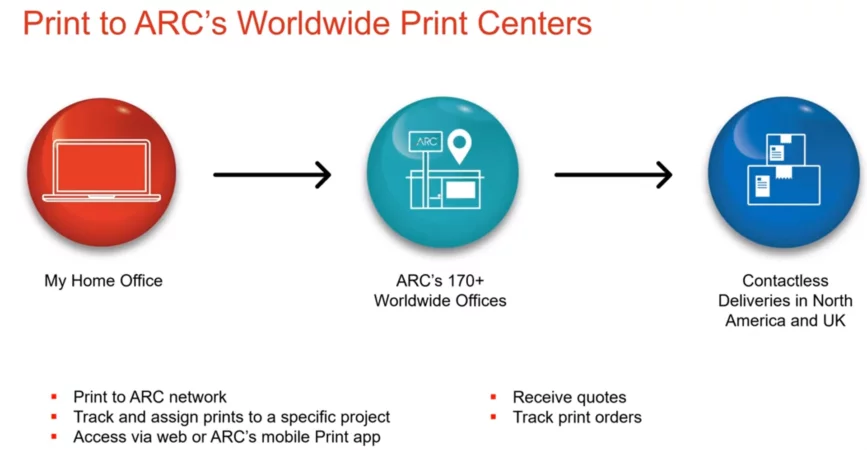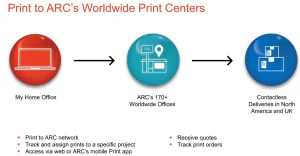 You can send your files via email, our website, or the ARC Print App. Like all our other solutions, this one's fully tracked and transparent to ensure easy expense management. Plus, with our nationwide presence, we can offer delivery through our service centers or third-party providers. 
Ready to Refresh Your Print Management Approach?
Nothing should stop your company from retaining its capability to ensure its employees' printing needs are met. If you're facing print management problems because of the COVID-19 pandemic, it's a safe bet that we've helped other customers with those same problems.
Find the nearest ARC Service Center near you or browse our online store to find the print solution your company needs.