Having realized the true value of giant touch screens, called SmartScreens, Pomerleau, one of the largest general contractors in Canada, relies on SmartScreens, for most of their projects, and have 150 active projects today. It's up to IT Technician and Document Management Specialist, Christine Larue, to ensure project managers, superintendents, and the rest of the team are using the SmartScreens to their full potential.
Since Pomerleau's construction sites extend from coast to coast, Larue is on the road quite a bit. Fortunately, we were able to catch up with her to find out more about how Pomerleau's construction teams use SmartScreens. As a power user who has researched and purchased several other models of large touch screens, Larue was able to provide insights about how SmartScreens have come to play an important role on construction sites.
From researching a solution, to making a purchase, and implementing the technology, Larue provided four tips for any construction team that's using or thinking about using large, interactive touch screen computers in their next construction project.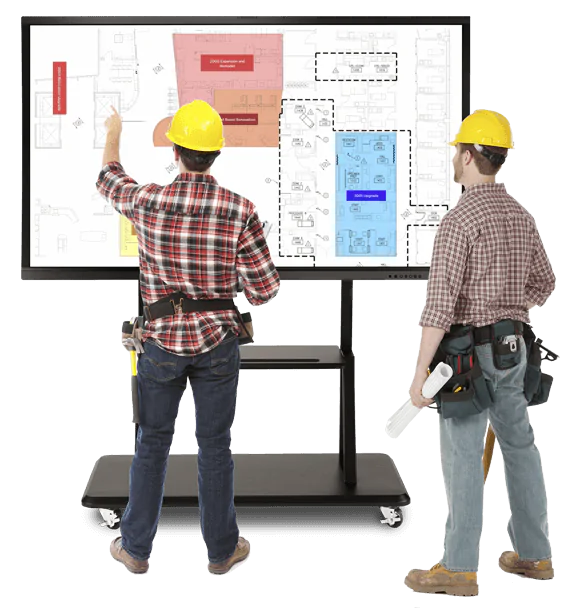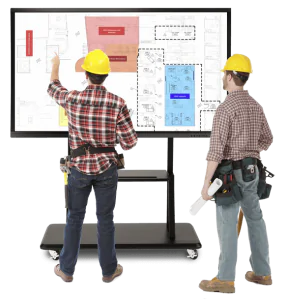 1. Make Sure It's Tough
Construction sites are not hospitable places for technology. Anything you bring on site must be able to handle lots of moving around, dirt, and impacts. For Larue and Pomerleau, this means prioritizing touch screen monitors that are built to withstand the everyday wear and tear of the construction site.
2. Look for All-In-One Interactive Touch Screens
Larue noticed an issue when trying large screens other than the SmartScreen: none of them filled all of Pomerleau's needs right out of the box. They tried non-touch screens and applied a touch overlay. They tried touch screens that didn't have a whiteboard function or pre-installed software. Each option made for less efficient collaboration than they wanted. The SmartScreen is an indispensable tool right out of the box, so it made the purchasing and implementation process much easier.
3. Turn New School Touch Screens into Old School Drawing Tables
Larue knows as well as anyone that many construction professionals aren't tech-savvy. So anytime something new, such as touch screen drawings, can be coupled with something more familiar, like a traditional drawing table, it's a win. And that's why Pomerleau's teams use a motorized stand to position their SmartScreens like a traditional construction drawing table. With other touch screens, Larue found that they often don't fit on a motorized stand which limits the Pomerleau team from truly getting the most out of their purchase.
4. Use it for Tracking, Collaboration, and Smarter Meetings
The first thing to ask yourself about any new construction technology is, "How will my team use this?" For Larue's teams, the answer to that question is tracking, collaboration, and meetings. In her words:
"The SmartScreen allows our teams to seamlessly track everything, collaborate effectively, and have very productive meetings. It is a truly indispensable tool for our project managers."
Curious About SmartScreens?
SmartScreens come in multiple sizes to fit your needs and they're designed to withstand rigorous use. Learn more about our ARC SKYSITE SmartScreens to see how they can help your team boost productivity in the conference room, the construction trailer, or both!
Related
6 Productivity Issues (New and Old) the Construction Industry Faces
5 Practical Benefits of Drones in Construction
5 Reasons General Contractors Should Outsource Their Document Control