The idea that remote-controlled flying machines buzzing overhead can make a construction site safer might seem counterintuitive.
But before you reject the idea that drones could keep your job site safer, consider this:
The four most common causes of death (excluding highway collisions) in the construction industry are falls, collisions with objects, electrocutions, and getting caught in or between something.
And drones, according to the CDC, "could help reduce construction-related injury and death from falls, toxic chemical exposures, electrical hazards, or traumatic injury from vehicle and equipment collisions." With such safety issues, there is a direct correlation to the billions of dollars that companies face in workers comp exposure.
When safety is a top priority, using drones should be an essential component of your technology strategy to mitigate this risk.
Taking Down the Fatal Four with Drones
OSHA appropriately named the four most common causes of death in the construction industry, "The Fatal Four." Year after year, these are the four types of accidents that cause the most needless deaths.
But if you believe the Center for Disease Control (CDC)… UAV technology, which includes drones, can help reduce the occurrence of injuries and death caused by falls, electrocution, and collisions with objects, three of the four most common causes of death in the construction industry.
How it Works
In a recent article detailing the benefits of UAV technology in the construction industry, we touched on the safety benefits of drones. But there's more to the story.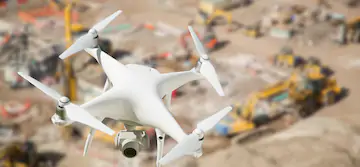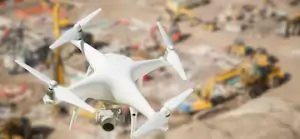 Here are a few of the use cases and safety benefits of drones, according to the CDC:
Detection of hazardous conditions, materials and dangerous structures can aid in construction site hazard identification without placing a worker at risk.
Inspection of awkward locations on and under bridges and along highways can reduce the cost of personnel inspecting the entire expanse of a highway and reduce the risk of working alongside or placing equipment close to a busy highway.
Planned or reactive maintenance inspections of tall structures, where access can be costly and risky, is a clear benefit for construction workers and managers.
Moreover, sitewide inspections of huge construction sites become much more practical and efficient with the help of drones. This makes it more likely that safety issues will be caught early before they can cause dangerous and expensive problems. And, thanks to advanced equipment onboard today's modern drones, construction professionals can even measure stockpiles without putting a worker at risk.
Drone Pilots: The Key to Improved Job Site Safety
Drones—just like any other piece of equipment on the job site—can present a safety hazard if they fall into the wrong hands. As the CDC notes, "The presence of a UAV flying in close proximity to a human worker can create new hazards at a construction site."
That's what makes it all the more important for any construction professional hoping to realize the safety benefits of drones to be smart about who is flying a drone on their job site.
Drone pilots should be well-informed about compliance issues and airspace restrictions. If you're outsourcing drone flights, the company you're outsourcing to should be insured and licensed. If you're doing it in-house, you'll need to carry the insurance yourself and get your pilot licensed.
Regardless of the route you take, don't cut corners. Failing to observe proper safety protocols when operating a drone on a construction site negates the safety benefits of using them.
A Safer Job Site, Delivered
While the use of drones in construction is exploding, that doesn't mean everyone has the time or resources to dedicate an entire department to rolling out an effective drone program. Fortunately, to help you capitalize on this industry-changing technology, ARC has a fleet of drone pilots—all licensed and insured—standing by, ready to serve you.
Request a quote today or read more about how ARC's Drone Services helped AvalonBay Communities streamline their monthly construction progress reports.
Related
The 7 Hot Products Saving Time and Money on Jobsites Everywhere
5 Practical Benefits of Drones in Construction
Tech Tools and Tips: Improve Performance throughout the Construction Project Lifecycle
Partners in Flight: Drones Deliver Progress Tracking for Major Construction Site