As AvalonBay Communities builds out a 248-unit apartment complex in New Jersey, it's up to Patricia O'Donnell, Development Administrative Assistant, and a few of their senior project managers to provide monthly project summary reports. Having the reports done on time is critical because they help executives validate progress and make projections.
Hiring an aerial photographer to fly over and take pictures of the site each month was supposed to make it easier for O'Donnell and her team to assemble these reports.
But—as she soon came to find out—outsourcing aerial photography can be a mixed bag.
Scheduling Snafu Derails Monthly Progress Reports
The company O'Donnell had hired to fly over the site informed her that due to scheduling issues, they'd need to reschedule the flight for a later date. This scheduling mishap caused O'Donnell and her team to miss their monthly project summary report.
The effects of missing that report rippled, preventing the executive team from being able to make accurate projections or validate construction progress.
As a publicly traded real estate investment trust that owns—as of the beginning of last year—over 70,000 apartment units, this simply wasn't going to cut it. The rescheduled flight made O'Donnell feel as though she was at risk of missing future reports.
Trusted Partner Lends a Hand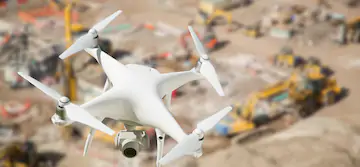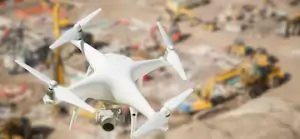 The solution to O'Donnell's aerial photography challenge was much closer than she thought. In fact, the answer fell right into her lap in the form of an email about ARC's Drone Services. Having successfully teamed with ARC for a variety of construction tech-related services, she jumped at the opportunity to learn more about ARC's Drone Services.
After learning that ARC provided a network of 15,000 licensed and insured drone pilots throughout the country and handled every detail from FAA site clearance to scheduling a qualified pilot to coordinating the prompt delivery of the captured data, O'Donnell knew she had found the partner she could count on. Once she heard that ARC could deploy a pilot to the site on demand, she was ready to forget her previous struggles and partner with ARC's turnkey Drone Service for her aerial photography needs.
ARC and AvalonBay Take Flight
AvalonBay and ARC's first drone flight took about half an hour to capture stills and a 360-degree aerial video of the entire site. A few hours later, the flight operator handed the images and video over to ARC who then delivered the files to the AvalonBay team in New Jersey.
With the quick turnaround, O'Donnell and her project managers had ample time to put together their monthly report.
O'Donnell felt so much more at ease—given ARC's clear, consistent communication and fast turnaround—that she now uses ARC as AvalonBay's preferred drone services provider.
"The drone images turned out fantastic. I was very pleased with ARC's timeliness of scheduling and executing the photo shoot on such short notice."
Patricia O'Donnell, Development Administrative Assistant, AvalonBay
Could Drones Make Your Construction Team More Efficient?
By partnering with ARC for drone photography, AvalonBay immediately gained access to a nationwide fleet of FAA-compliant, licensed drone operators ready to deploy and deliver the necessary data in as few as 24 hours. And you could too.
Discover all the benefits of drones in construction and request a quote today.
Related
Giant, Interactive Touch Screens: 4 Tips for Improving Projects from a Leader in Construction
Drummond Communications Sets Up their Own Print Shop with an ARC Digital Storefront
6 Productivity Issues (New and Old) the Construction Industry Faces