From small, regional companies to international powerhouses, ARC's customers are reaping the benefits of having their own Digital Storefront (DSF).
One of those customers, Karen Glover, Marketing Director at Swinerton, joined us on a recent webcast to share her company's experience with the Digital Storefront.
Along with insights from ARC's VP of Sales Operations, Frank Loughan, and Director of Digital Storefront Services, Larry Medina, we heard from Glover about how the DSF made it easy and more affordable for Swinerton to control their branding and maintain compliance.
We'll recap the webcast here, but feel free to watch the on-demand webcast if you prefer to listen in.
What is a Digital Storefront?
Larry Medina kicked off the webcast by explaining that a Digital Storefront is a "customized, secured portal for all employees to access and order signage, graphics, collateral, and other branding assets."
Among other things, the portals:
Are loaded with pre-approved graphics and assets consistent with corporate marketing standards.
Leverage ARC's 195 high-end production facilities for distribution enterprise-wide.
Offer secure checkout and audit trail on order history.
Enable full project management, implementation, delivery, and installation.
The Sky's the Limit at the Digital Storefront
Larry also showed us a quick glimpse of the Digital Storefronts that ARC built for CBRE, Turner Construction, Berkshire Hathaway, Newmark Knight Frank, Lululemon, and of course, Swinerton.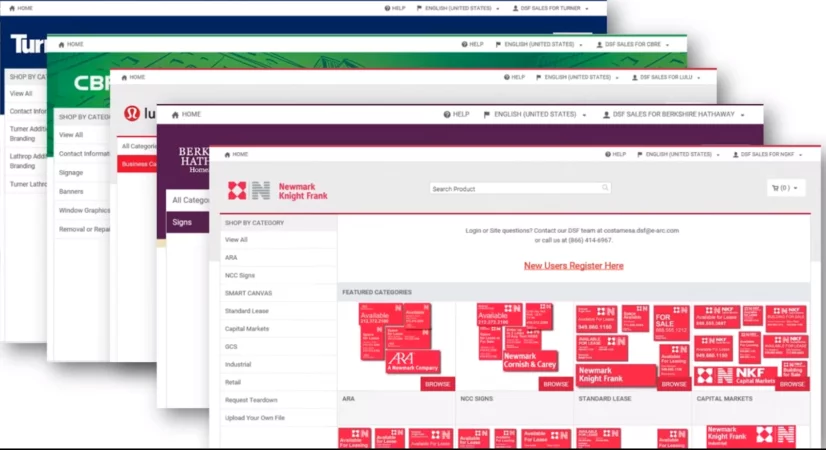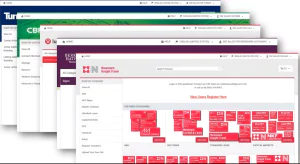 Each example displayed different types of collateral including safety signage, dimensional graphics, business cards, and much more. The examples provided great insight into the truly custom and personalized nature of ARC's Digital Storefronts.
Medina said, "Almost anything you could think of, from business cards to the side of buildings, digital or print, it can go in our Digital Storefront."
Q&A With Karen Glover of Swinerton
As Marketing Director, Karen Glover was frustrated as she traveled to various construction sites because the logo was constantly being distorted. Given that the construction sites themselves were one of the company's most important advertising channels, Glover needed a solution.
After meeting with ARC, Glover saw that the DSF would be the solution she needed. The DSF would enable her to store all the files in the correct sizes and colors in one place where employees across the nation could access them. Larry Medina even helped implement an approval process which routed any custom requests that weren't pre-approved through Glover.
In short, Glover gained complete brand control while also allowing project teams to be self-sufficient when it came to ordering their signage.
As Swinerton's needs developed, so did their Digital Storefront. In addition to brand signage, Glover wanted to give employees a place where they could order all the safety signage they needed for their construction sites. Again, the DSF delivered for Swinerton by categorizing safety signage based on a given construction site's location and compliance needs.
More recently, Swinerton brought other branding material such as business cards, letterheads, and notebooks into their Digital Storefront.
A Quick Tour of Swinerton's DSF
The image below shows Swinerton's Digital Storefront where a variety of categories including region-specific products, safety signage, job site signage, and more are laid out up front.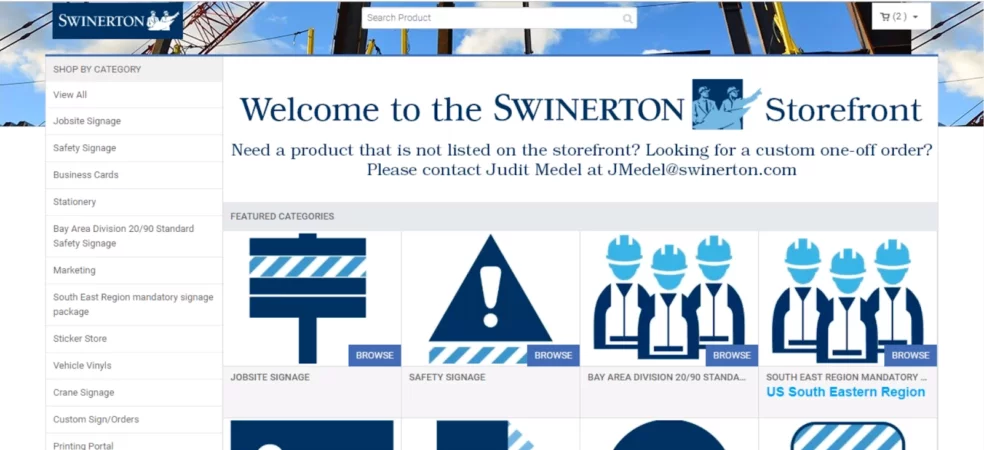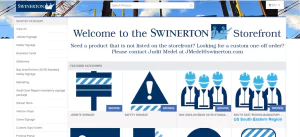 Larry Medina walked through the process Swinerton has for ordering signage, which included selecting options for size, materials, and custom text with digital proofs. He also discussed the checkout process which is customized based on what Swinerton's accounting team needs in terms of billing.
Key Benefits of the DSF
To "arm the audience with some talking points" for discussions with their team, Frank Loughan wrapped up the webcast by spelling out the benefits of the digital storefront, including:
Brand consistency and compliance.
Customizable graphics, signage and other branding material.
Fast turnaround enabled by the distribute and print model.
Easy distribution with 195 ARC Service Centers nationwide.
Reduced or eliminated need to order large volumes with print on-demand.
Less inventory waste, and obsolescence.
Standardized pricing across all print materials.
Clear visibility into who's ordering what.
One supplier; reduced time spent managing vendors
Easily maintained OSHA compliance.
A Digital Storefront for Every Business
Though this webcast highlighted the DSF in the context of construction, just about any company can benefit from a Digital Storefront. Case in point: Drummond Communications, which uses branded signage for its 50+ locations, also uses a DSF to easily print on-demand through their own customized repository.
So, whether you run a construction-related company or not and you'd like to learn more about the Digital Storefront, contact us today.
Related
How the ARC Print App is Making Printing Even Easier
Giant, Interactive Touch Screens: 4 Tips for Improving Projects from a Leader in Construction
Partners in Flight: Drones Deliver Progress Tracking for Major Construction Site