Early in 2017, SeneGence International came to Jerry Garland at RIOT Creative Imaging with an out-of-the-box idea to design and build a float for the annual Sapulpa parade in Tulsa, Oklahoma. As the sponsor of the event, SeneGence sought to design a float that stood out, while fitting the parade's theme: A True Blue Christmas in Lights.
The Vision
"Home For the Holidays", would be the theme of the float. To execute that theme, the client envisioned a cozy den-like atmosphere, complete with children singing carols as they sat around a warm fire next to a rotating tree.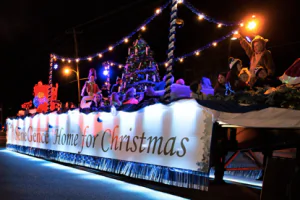 Designing the Float
The RIOT team designed and built an electric fireplace, a smoking chimney, and a rotating Christmas tree with all the trimmings. They found a rotating stand and a generator to achieve the rotating tree effect.
Then the RIOT team picked up two couches from the HOW foundation to complete the "living room" and placed a donated mid-century style sleigh on the back of the float.
It wouldn't have been a RIOT job if it wasn't for the attention to detail! RIOT provided tinsel and ornaments for the tree, stockings above the fireplace, plus lighting, music, garlands and ribbon for the entire ensemble.
The Sapulpa Parade
RIOT's Jerry Garland and his daughter both dressed up to reflect the theme and rode along with the SeneGence group. To complete the scene, several RIOT Creative family member dressed up as well. SeneGence absolutely loved the end product.
About RIOT Creative and SeneGence
SeneGence International is an international manufacturer and distributor of health and beauty products. The owner, Joni Rogers-Kante, started the company in 1995 at its headquarters in California.
RIOT first began working with SeneGence at the end of 2016 on several smaller projects. This grew into a diverse set of projects including signage, large vinyl installs and several event-driven projects. So when SeneGence needed to build and design a parade float, RIOT was the obvious choice.
Take a look at the RIOT design inspiration book to stimulate your imagination.