In today's business environment, the financial, legal and reputational implications of a data loss or security breach are making information security an imperative. A data breach can leave a company open to huge fines and legal penalties, and damage its reputation and customer confidence. This includes printing and imaging infrastructures, which are not always considered when it comes to security assessments.
"Modern printers are essentially advanced, specialized network host, and as such, they should be given the same level of security attention as traditional computers," says Kevin Pickhardt in Entrepreneur.
While we may be operating in a digital world, there is still a heavy reliance on paper – especially in the U.S. 72% of U.S.-based respondents to a 2018 survey conducted by Quocirca indicated that paper is still Very Important compared to France where only 30% reported a heavy reliance on printed or copied documents. Implementing digital paperless processes can help reduce this dependency, but will not eliminate it entirely.
Printers Create Security Leak Risks – Especially MFPs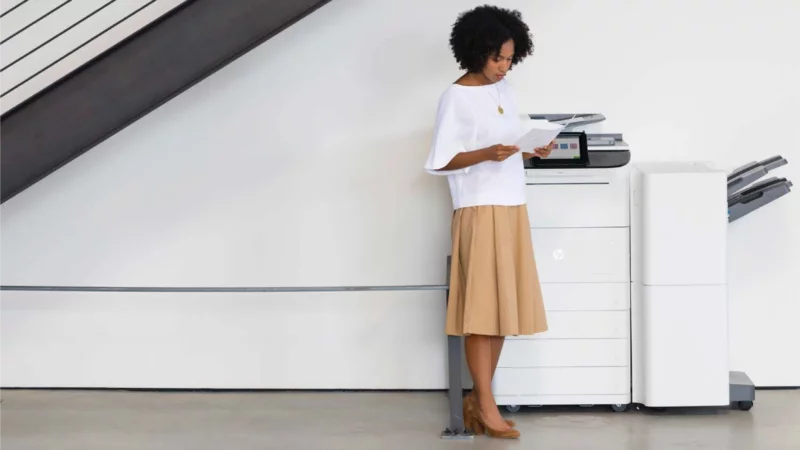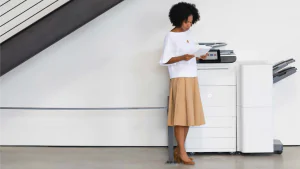 One of the weakest links in the IT infrastructure is the multifunction printer (MFP), an integral document processing hub that has brought increased convenience and improved productivity to the office environment. However, its ability to monitor usage and collect data, as well as network connectivity significantly increases the potential for exploitation by hackers, making it a security risk businesses can no longer afford to be complacent about.
Although many IT departments rigorously apply security measures to individual computers and the business network, printing and imaging devices are often overlooked and left exposed. As printers become increasingly sophisticated, they offer greater opportunities for attackers to compromise the device, the data, or the entire network.
Unsecured Devices Can Be Vulnerable in Many Ways
Management – There are more than 250 possible security settings on an Enterprise MFP. Unless print environments are actively managed a day in and day out, it's possible that some security risks are not being addressed.
Network – Printing and imaging jobs can be intercepted as they travel to or from a device over the network. Without proper firewalls and security certificates in place, printers can actually provide an entry to your network.
Control panel – Many MFPs are placed where anyone can access all the features like print, copy, or scan. Without proper access controls, users can manipulate device settings and functions, and even disable the device.
Ports and protocols – Unauthorized users can access the device or the network via unsecured ports (such as USB or network ports). Using certain protocols can put your device and data at risk—such as FTP or Telnet.
BIOS and firmware – Firmware that becomes compromised during startup or while running could open a device and the network to attack.
Storage media – Imaging and printing devices store sensitive information on internal drives or hard disks, which can be accessed if not protected.
Capture – MFPs can easily capture and route jobs to many destinations, potentially exposing sensitive data. Without access controls, someone could send an email from a company account without any way to track who it is from.
Input tray – Special media for printing checks, prescriptions, and other sensitive documents can be tampered with or stolen from an unsecured tray.
Output tray – The output tray is the most common place for sensitive documents – like financial statements, proprietary data, or customer information – to get into the wrong hands.
Mobile printing – Employees who print on-the-go may inadvertently expose data, or leave printouts unsecured.
Security Assessments Expose Vulnerabilities in Security
Organizations need to take steps to include effective print security as part of their overall information security strategy. Conducting security assessments is the first step to get started with blocking security threats across the 10 main points of vulnerability.
It's critical that security assessments cover device, data and documents and require the expertise of both print and IT security experts. With so many security vulnerabilities, having the correct security tools is absolutely critical, so you can both evaluate your environment and then take steps to secure it.
Operate Print and Imaging Environments Securely
For maximum security businesses need to consider print and imaging solutions that have built-in security monitoring and protection in addition to a managed print solution (MPS) that can provide an added layer of security. Securing print environments is the #2 driver for adoption of a MPS.
ARC offers an MPS solution that includes a document workflow and print management software with advanced security features. Hewlett Packard (HP) printers are designed to help reduce risk, improve compliance, and protect your network from end to end. When ARC MPS is integrated with HP small format MFPs, print and imaging security risks can be significantly reduced.
HP and ARC partner to deliver improved printer security
To learn more about how to identify and solve these 10 print and imaging security vulnerabilities.