You've probably heard the common wisdom that the construction industry is notoriously slow to adopt technology. Yet when it comes to drones, nothing could be further from the truth.
In fact, the construction industry is one of the primary growth drivers of commercial drone use.
There are two simple reasons for this. The first is the value that drones can provide, including improved safety, better communication, and much more. The second is the ease with which construction firms can extract that value by outsourcing the work to drone service providers.
Still, drones as a service is a relatively new concept. So it's worthwhile to review the 5 reasons outsourcing drone photography and videos are becoming increasingly popular in the construction industry.
1. Less Upfront Investment Risk
To fly a drone commercially and use it on a construction site, you'll need to go through the process of applying for an exemption under the Special Authority for Certain Unmanned Systems. This means you'll need to develop procedures for pre-flight inspections, maintenance, and repair. You'll also need policies that govern the qualifications of the drone pilots you employ. You'll need to hire new staff or train existing staff, purchase a drone, and software, among other things.
In short, you'll need to make a big investment, both in time and money, to get your drone program off the ground. But if you outsource drone photography and data processing, that's all off your hands. In this way, you get the opportunity to see the value of drones to your operation without taking a significant risk.
2. On-demand Service Options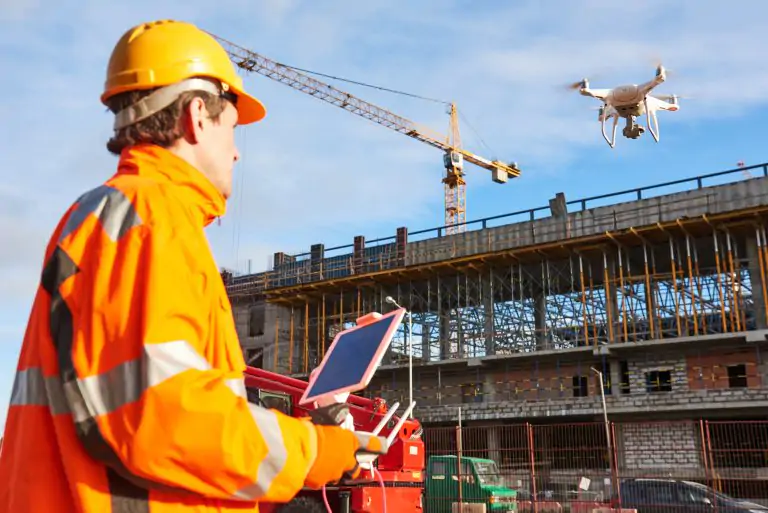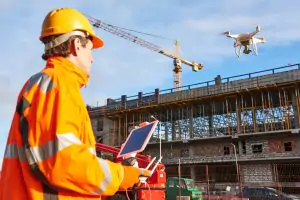 Every construction project is truly unique. And while every project can benefit in some way from drone photography, you may find—particularly on smaller projects—that there isn't sufficient budget to justify drones. If you have your own in-house drone service, this means you're absorbing the cost of overhead without earning a return to justify that overhead.
Whether you need to outsource drone services for photography or video, you can schedule recurring flights for some projects and one-time flights as needed on others. That way, you only pay for what you use and you're always drawing a return on your investment.
3. Easy to Scale the Service Company-Wide
As mentioned earlier under the first reason to outsource drone photography, setting up a drone program in-house requires significant time and resources. If you're a regional, national, or international AEC firm, that time and resource commitment will multiply exponentially when you try to roll out drone services company-wide.
Outsourcing, so long as you choose a service provider with a national or international footprint, gives companies the ability to easily scale drone services company-wide.
4. Enjoy a Shorter Learning Curve
Some enterprising contractors are willing to endure the time and inefficiency of learning to safely and effectively use drones themselves. But that takes valuable time away from core capabilities because construction drone photography isn't just about buying a drone.
As the Construction Dive explains—at a minimum—you'll have to:
Familiarize yourself with the laws that govern drones and show that you know them with a knowledge test.
Stay up to date on the changing FAA regulations as well as relevant city and state laws on UAVs.
Obtain liability insurance to cover any damage to property or people.
Establish and document training and processes for the drone program
Of course, you'll also need the expertise to choose the right drones and software for the specific task you need them for. All this to say, construction drone photography has a steep learning curve, but with a 3rd party provider, that learning curve is significantly short-circuited.
5. Avoid the Complication of Applying for BVLOS Waivers
Many experts have written about the opportunity presented by the ability to fly drones Beyond the Visual Line of Sight (BVLOS). They say that BVLOS is where the greatest business potential is for drones.
But obtaining a waiver from the Federal Aviation Administration (FAA) to fly BVLOS drone missions is very difficult. In fact, 99 percent of waiver applications submitted have not been approved.
With a drone service provider who has obtained approval to fly BVLOS drone missions, you can gain quick and easy access to the ability to fly BVLOS. And that's significant because, in many cases, BVLOS missions are more cost-efficient and safer.
For example, having a BVLOS waiver makes it possible to fly just one mission to capture all the necessary video of even a very large site. Without a BVLOS waiver, capturing video of everything on a large site might take several flights which means extra expense.
Need Another Reason?
With almost 200 service locations throughout the United States and a vast network of certified, insured expert drone pilots, ARC's Drone Services provide yet another reason to outsource construction drone photography and video. Learn more about how you can gain aerial intelligence for smarter construction with drone services or request a quote today.
Related
How Drones are Making the Modern Construction Site a Safer Place to Work
The 7 Hot Products Saving Time and Money on Jobsites Everywhere
5 Practical Benefits of Drones in Construction
Partners in Flight: Drones Deliver Progress Tracking for Major Construction Site